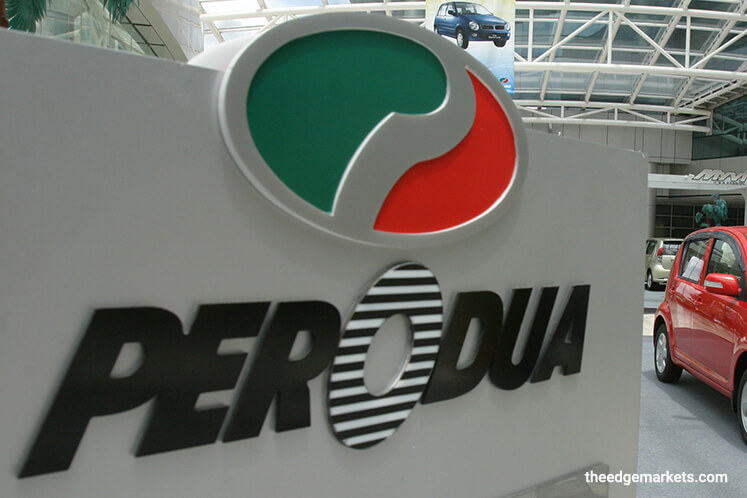 KUALA TERENGGANU (May 19): Perusahaan Otomobil Kedua Sdn Bhd (Perodua), the country's largest car maker by volume, is keeping its target to sell 202,000 units in 2017, which is 2.5% fewer than the 207,110 units it sold last year.
"At this point, we are not revising our sales target as the market continues to be very challenging," its president and chief executive officer Datuk Dr Aminar Rashid Salleh told a media briefing here today.
This was despite total industry volume (TIV) of new vehicles for the first four months of 2017 rising 5.4% to 182,800 units from 173,400 units a year ago, based on Perodua's internal estimates. Perodua sold 64,700 vehicles during the period under review, up 4.1% from 62,100 vehicles a year ago.
"One of the factors contributing to the 5% growth in TIV [for the first four months] was that original equipment manufactures (OEMs) were trying to minimise their carryover stock, which was relatively high, which explained the surge in sales," Aminar said.
He said whether this growth is a reflection of the auto industry the strength, remains to be seen, which is why the group remains cautious.
The industry sold 580,124 units last year, down 13% from a record 666,677 units in 2015, according to the Malaysian Automotive Association (MAA). In January, MAA had said it was expecting 2017 to be yet another difficult year for the local auto industry, but the association was still hopeful there will be a modest improvement in new vehicle sales.
Going forward, Aminar said Perodua will continue to focus on timely delivery of its cars to its customers and further improve its after sales capabilities.
On a possible collaboration with financially-troubled Proton Holdings Bhd which is currently seeking a foreign strategic partner (FSP), Aminar said he hopes the car maker will make a turnaround quickly.
"We know that Proton is in the midst of selecting their FSP and we wish them all the best. We hope they can turnaround as quickly as possible to improve the [auto] ecosystem," he adds.
Earlier, Perodua announced the first giveback for its 'Muhibah di Jalan Raya' road safety campaign, which is aimed at promoting a safer and friendlier road usage by encouraging users to upload their individual pledges as their commitment and contribution for better road safety.
The campaign welcomes road users to pledge by uploading a picture or video of themselves with the "OK" sign; their Instagram or/and Facebook with the hashtag #muhibahdijalanraya.
"As Muhibah Di Jalan Raya campaign is a long term road safety campaign to reduce the accident rates in our country, we welcome the general public to help make this positive change by uploading their pledge to drive safe and courteous on the road, and also to spread the words to their friends and family members," Aminar said.