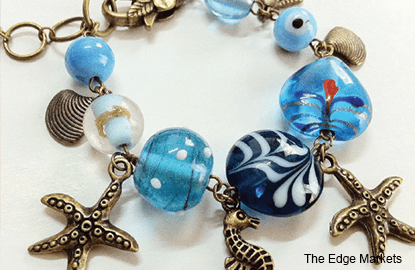 This article first appeared in The Edge Financial Daily, on December 8, 2015.
Although Aisyah Razin thoroughly enjoyed her career as an architect, she knew she needed a creative outlet of some kind as a means to de-stress. Jewellery design, which she always loved, was her first port of call, especially since she had noticed how commercially available accessories were often badly made. "I would trawl all these online websites just to check out what was available — all I remember thinking is that 'gosh, I could do better'. That's when I started tinkering with different things to make my own stuff."
She began designing jewellery for herself first, spending the hours after work making charm bracelets. After she started making them for friends and family as presents, she started to get more and more orders for them. "Turning it into a business seemed like a good idea, because I was going to be making jewellery anyway, so I might as well make money while doing it," she said with a laugh. SheDazzles was established in 2011 as an online store selling both ready-made accessories and custom-made pieces that were fun, feminine and beautifully made. 
"My aesthetic, if you will, is quirky and funky," she says. "I wear a lot of black and my accessories need to stand out. However, I design my jewellery like an architect — I pay a lot of attention to balance, form and proportion. You see, architecture is a process, and not an end product. I drew many parallels from my design process at work to designing my jewellery, and what's remained constant is the way I put things together — it's just the way architects are trained to think."
You'll have to see her jewellery close-up to understand what she means. Charm bracelets, statement necklaces and earrings are made with breathtaking balance, both in terms of proportion and colour. Subscribing to a dramatic and intense look and feel that's a combination of gypsy, punk glamour and grunge, her pieces feel complete in an unusual way. An outstanding feature of her jewellery is also that they are not silent — moving pieces on chains and necklaces tinkle merrily, because, "I like that multi-sensory appeal of texture and sound."
SheDazzles' full portfolio of products has grown to jangly charm bracelets to statement necklaces, long chains with unique pendants made of resin, and even phone and tablet cases with embellishments that have the same aesthetic.
"Charm bracelets was how I started, but I don't restrict myself to using the usual stuff for jewellery — I've made a bracelet with household stuff like safety pins too," she shares. "Even though I don't wear earrings, I've started designing them too, using natural stones. The business has grown quite gradually and organically, which is good for me because I am still working full time."
As her customer base grew, Aisyah expanded into custom-orders — many people who liked her chunky, bold and eclectic aesthetic had product ideas in mind that she wasn't yet making. "My regular customers know how long custom orders take and are willing to wait — but new clients tend to not know how long jewellery making can take, especially since I make everything by hand. So that's been quite a challenge, because I make jewellery on the side — this isn't my full-time job." 
Aisyah is proud to say she doesn't buy jewellery anymore, because she actually loves everything she makes enough to want to wear them every day. "Designing jewellery balances my love for architecture," she smiles. "I love the joy that comes from creating something beautiful. That satisfaction is something I have craved for a long time, and it's been so gratifying to be able to make a business out of it."
---
View SheDazzles' full collection and make your purchase on she-dazzles.blogspot.my.