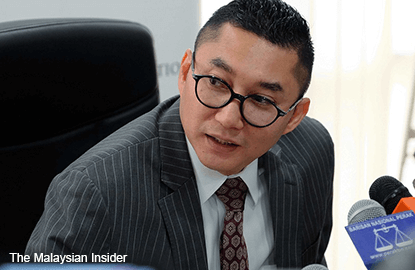 (Nov 16): Perak Menteri Besar Incorporated (MB Inc) today has dismissed allegations that it was given more than 4,000 hectares of state land since its revival in 2012.
Its chief executive officer Datuk Aminuddin Hashim said the claim by DAP's Sitiawan assemblyman Datuk Ngeh Koo Ham last week appeared to have been released to put MB Inc in a bad light.
"The total parcel of land owned by MB Inc is some 890 hectares. It was obtained through normal procedures, as any government agency, via applications to the state government.
"We are dismayed by the wrongful statement by Ngeh, which are full of inaccuracies, mischievousness and some downright falsehoods that are malicious and defamatory," he told reporters in Ipoh today.
"As Ngeh's statements, which was widely reported in the media, caused much confusion to the public and harmed the reputation of MB Inc as well as the office of Perak Menteri Besar, Datuk Seri Zambry Abd Kadir, we are consulting our lawyers to take the appropriate legal action."
Aminuddin also defended the formation of MB Inc, which was first set up in 1951, under the Menteri Besar Incorporated Enactment 1951 and passed by the state assembly.
"It is not a an entity owned by the menteri besar, not political and not newly set up.
He denied that MB Inc had not furnished reports to the state assembly, saying it had cooperated in answering numerous questions raised in the state assembly since being reactivated in 2012.
He said MB Inc's aim was to help the state government generate additional income through sustainable mining, responsible property development and viable strategic industries.
"The state government can then channel the additional income to various beneficial programmes for the people.
"Our 'true north' is to increase income and reduce leakage, but not to the extent that we crowd the market but instead, to improve the industry."
He said 594 hectares of Bandar Tasik Amanjaya, a township project being developed near the Ipoh-Lumut Highway was among land parcels owned by MB Inc.
He added that the enactment in which MB Inc was set up did not require its accounts to be made public, however, it did submit reports to a specially set up board of management.
Ngeh, last week, alleged that large parcels of state land in seven of the 10 state districts, were awarded to MB Inc in deals that were not transparent.
He demanded for Zambry to release the list of land and terms of agreement that MB Inc had entered into since three years ago. – The Malaysian Insider