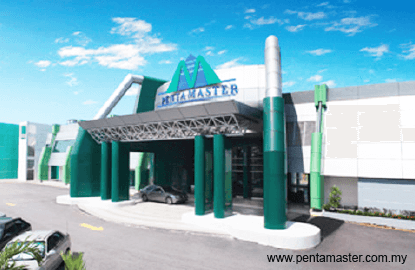 This article first appeared in The Edge Financial Daily, on February 2, 2016.
GEORGE TOWN: Pentamaster Corp Bhd, a developer and manufacturer of automated equipment, is not only expecting its recently concluded financial year ended Dec 31, 2015's (FY15) earnings to be more than double that of the previous year, it is also bullish about its earnings and revenue growth for FY16.
It is forecasting up to a 20% rise in both its top line and bottom line, underpinned by expectations of favourable exchange rates and higher orders, said the group's executive chairman Chuah Choon Bin, in an interview with The Edge Financial Daily last week.
In fact, Chuah said Pentamaster's first quarter ending March 31, 2016 (1QFY16) may see a double-digit growth in revenue, when compared against the preceding quarter, due to a sales order deferment.
"We are very bullish about the first and second quarters for FY16 due to increased orders as well as an order deferment from a multinational smartphone maker last year, which was downsizing its production by 30%. Therefore, its orders were pushed from 4QFY15 to 1QFY16," he said.
As for its nine months ended Sept 30, 2015 (9MFY15), Pentamaster's net profit was up over four times to RM10.47 million from RM2.5 million in 9MFY14, while revenue grew 9.52% to RM64.3 million from RM58.75 million, after the group moved into the production of higher margin value-added goods.
This means its 9MFY15 earnings are already more than double the full year's RM4.65 million it achieved in FY14, which is a remarkable recovery for a group that slipped into the red with a net loss of RM2.13 million in FY12, when it was wholly focused on the semiconductor sector, which suffered a slump then.
The lesson learnt, said Chuah, was diversification from that single-sector focus, which has enabled the group to stave off stiff competition due to its focus realignment, and allowed it to cater to glove manufacturers, which have been one of its key revenue contributors since FY15.
"The glove industry requires a lot of automation and is always on an upward trend. We expect revenue contribution from them to rise in FY16," he said.
Chuah said Pentamaster's order book now stands at RM45 million, which will keep it busy until end-2QFY16, and it expects more orders in the offing for the remaining quarters.
Pentamaster's optimism about its outlook, regardless of the current global and domestic economic slowdowns, stems from the fact that its business strategy focuses on providing a complete ecosystem of automated products and testing solutions.
"Most people said recession could happen in 2016, but I do not see it in the value-added semiconductor sector. We are involved in smart devices such as microphones, light sensors, pressure sensors, and MEMS gyros (a sensor put into smart devices), on top of automation handlers.
"We provide the complete ecosystem, meaning the handling plus testing. We write test programmes by understanding their products. There is no cost involved. Our customer base is of the high-end value-added tier, where they want the total ecosystem. Hence, our profit margin has grown. We used to sell machines for RM300,000, but now we can sell for more than RM1 million," he said.
As at Dec 31, 2015, its cash and cash equivalents stood at RM8.38 million, up 71.3% from FY13. The group has zero gearing.
Meanwhile, Pentamaster wants to continue reducing its reliance on the semiconductor sector by trimming it down to 50% from 60% now, in terms of revenue contribution, in the next three years.
This follows its diversification into the property sector with the acquisition of property manager Origo Ventures (M) Sdn Bhd last year for RM5.78 million.
"We are not reducing production but merely [trimming] the focus on one segment alone, as the semiconductor sector is cyclical. We must diversify, otherwise we may feel the impact of the [slowing] economy.
"As such, we target a 10% contribution from [the property sector compared with] 5% last year, through Origo, in FY16, and 30% in the next five years. We hope to capture industrial smart building projects," he said.
Chuah said Origo currently manages a mixed development in Kelantan, which comprises smart building automation for lighting, air-conditioning and security. It also has a few more projects in the pipeline this year, valued at some RM20 million to RM30 million.
"We hope to derive contributions from the semiconductor, glove testing, and smart building sectors, among others. This is our strategy moving ahead," he concluded.
Pentamaster closed half sen lower at 66.5 sen last Friday, giving it a market capitalisation of RM90.6 million.