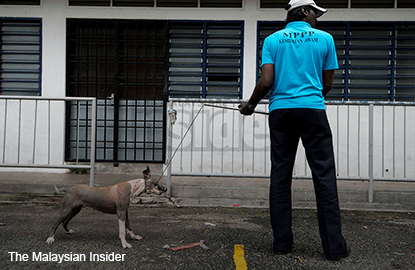 This article first appeared in The Edge Financial Daily, on September 23, 2015.
GEORGE TOWN: Penang is waiting for the Worldwide Veterinary Services (WVS) to present its proposal and layout plan for mass vaccination as the state government comes under pressure for mass culling stray dogs in its bid to stem the spread of rabies.
State exco member for health Dr Afif Bahardin said WVS, an international non-governmental organisation, is proposing mass vaccination instead of culling strays, which has Chief Minister Lim Guan Eng under heavy criticism.
Guan Eng is continuing to face backlash from animal welfare groups and animal lovers, including in social media, for stating that the killing will continue in the interest of public health and safety of pets.
"We will have a follow-up meeting with WVS again. We had a fruitful discussion. The state also gave WVS geographical data like where rabies had been detected.
"We are talking to everyone; we want to listen ... it is not that we are just ignoring anyone who says there are alternatives," Dr Afif told a press conference yesterday at Lim's office in George Town.
Afif and other representatives from the state government held a teleconference with WVS on Monday.
In Penang, only three cases of dog bites tested positive for rabies.
The WVS is ready to supply 50,000 vaccines to Penang and can do so by the end of the year, a coalition of animal welfare groups — Stop Killing, Start Vaccinating — said in a statement yesterday.
The coalition said WVS chief executive officer Dr Luke Gamble, an internationally-known British veterinary surgeon, had affirmed that the WVS could immediately arrange for the delivery of 50,000 vaccines and necessary manpower to conduct a mass vaccination programme in Penang at the end of the year.
The group said the WVS would also train local veterinary personnel and volunteers on conducting the programme as well as awareness campaigns to educate the public.
"However, even though they have the vaccines ready and the manpower, they expect that they can only arrive in Penang at the end of the year because of the paperwork and applications that needed to be sorted out beforehand with the federal authorities, especially the Department of Veterinary Services (DVS), the Health Ministry and the Immigration Department.
The DVS has killed 342 strays so far, at a cost of RM60 per dog, but none of them has been confirmed to have rabies yet. The department has also vaccinated 292 dogs so far.
The DVS in Penang also received reports of 36 dog bite cases (with 15 cases involving pets) as of Monday, but state health director Datuk Dr Zailan Adnan said the number had gone up to 41 cases by midnight. — The Malaysian Insider