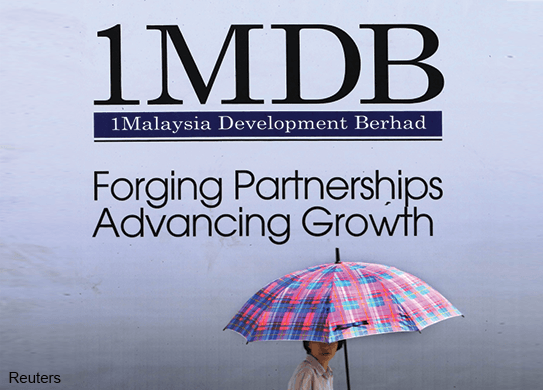 KUALA LUMPUR (Apr 15): Kepala Batas MP Datuk Seri Reezal Merican Naina Merican has issued a challenge to tycoon Low Taek Jho to return to Malaysia and come clean on his relationship with debt-ridden 1Malaysia Development Berhad (1MDB).
This comes after the businessman, also known as Jho Low, accused Umno leaders of being "spin masters" in matters relating to 1MDB in an interview with business monthly, Euromoney.
"If Jho Low is so brave as to issue such stupid statement accusing Umno, we would like to see him back in Malaysia and face the Public Accounts Committee (PAC) and the media openly.
"Do not be a coward. Come out and defend yourself. Do not make Umno leaders appear like fools for defending this 1MDB issues," said Reezal in a statement yesterday.
Low, who was accused of using his links with Prime Minister Datuk Seri Najib Razak to profit from the fund, had denied the allegation, saying that he only advised 1MDB on certain matters and had no official role in it.
Low also said that he was under attack because there were attempts to divert attention away from the company's bad performance and decisions which led to some RM42 billion in debts.
"It's so frustrating... I've never faced this kind of attack from all directions. It's just crazy, and these Umno guys are spin masters, they know all this sort of nonsense," he was quoted as saying.
Reezal, in the statement, also warned Low not to make sweeping accusation and shifting the blame on others because of the controversy.
"(I) would like to remind Jho Low, don't be a loud mouth and simply associate others.
"Umno have no time to 'spin' (the issue) like he had claimed," he said.
Reezal said Jho Low needed to come clean on the controversy and explain his role and relationship with the company.
Following his interview with Euromoney, Umno Youth had yesterday urged authorities to investigate and take action against Jho Low if there was proof that he was involved in the misappropriation of 1MDB funds.
Umno Youth exco Ibdillah Ishak also questioned why Low had accused Umno of twisting the issues and even labelled the party as "spin masters" in the report.
Criticism has been mounting over the wholly-owned Finance Ministry investment vehicle, established in 2009, which has chalked up debts of up to RM42 billion.
Whistleblower site Sarawak Report, in a series of exposes, had published leaked email correspondence between the company and PetroSaudi International, which Low was part of.
It also alleged that PetroSaudi was used as a front where Good Star, a company controlled by Low, received US$160 million (RM589 million).
This led to Najib ordering the Auditor-General to "independently verify 1MDB's accounts", with the findings to be passed to the Public Accounts Committee (PAC).