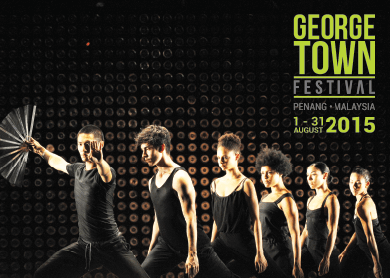 The sixth George Town Festival is back this year — bigger and better!
THE sixth annual George Town Festival (GTF) will make its return to Penang from August 1 to 31 this year, featuring a brilliant selection of critically acclaimed performances around the world in addition to several local initiatives that showcase the city and its people. The festival will bring a global flavour to the heritage city while keeping the spotlight firmly fixed on the local community and the vibrant spaces of George Town.
Although the festival had a slow start in its early days — they had trouble with funding and support — it has now grown in epic proportions. Last year, the George Town Festival was featured on dozens of media outlets worldwide, including The New York Times and al-Jazeera, making it one of the premiere arts festivals in the region.  
"We're thrilled to be bringing in a number of Asian, Asean and Malaysian premieres from internationally renowned performers which include Spain's Titanium and Australia's Am I," said festival director Joe Sidek at the press conference two days ago.
The George Town Festival is supported by the Jabatan Kebudayaan & Kesenian Negara (JKKN) as well as the Balai Seni Visual Negara (BVSN), all of whom will be collaborating with the festival by bringing various programmes in.
"100% Penang, one of our most anticipated shows this year, will feature 100 local citizens — each representing 1% of the population coming together to form a human pie chart of Penang. They'll share their stories, opinions and personalities with the audience, giving us a tangible insight into what makes Penang such a special place," Joe continued.
"We often get asked why we don't feature exclusively local acts and arts, and the reason is that we do not want to limit ourselves. We bring in whatever is the best, regardless of where they are from," he explained.
This year, performers hailing all the way from London, Spain, Poland, Australia and Iran will take to the stage with inspirational, over-the-top and unique acts that will blow you away. Throughout the festival, a total of 93 programmes, 156 events of which 108 are completely free, 53 are international while three Asian premieres will be showcased.
The George Town Festival has grown to become one of the most anticipated highlights of Penang, an event which Joe claims is larger than life itself, and not just a "sad, younger sibling" of an event whose heartland is in Kuala Lumpur. It's a festival that makes local and international participants feel that "having GTF is what makes Penang special". This is reflected in that each year, over 100 volunteers commit their time, efforts and energy into making this event a success.
In tandem with the GTF, the Butterworth Fringe Festival will be running in Butterworth, showcasing a myriad of fine foods, shows, art installations, fashion shows and music brought here by France, Belgium, Taiwan and Japan.
The Alliance Francaise in particular, will be bringing in delicious French cuisine, films, fashion, dance and pop-up shops — the very essence of what makes France so special.
For one month starting May 18, GTF will be offering an early bird promotion of 20% off all regular ticket prices. For information on ticketing, sponsorship or partnership opportunities as well as shows coming to GTF this year, check out www.georgetownfestival.com.
Must-see acts at the George Town Festival
Rimini Protokoll: 100% Penang
Berlin-based theatre troupe Rimini Protokoll will bring their enormously popular 100% City to Southeast Asia for the first time at GTF 2015. In 100% Penang, the city's demographics will be brought to life in a uniquely interactive performance featuring 100 local inhabitants chosen according to their age, gender, household type, geography and ethnicity to each represent 1% of the population. The Rimini Protokoll's 100% City project has received worldwide acclaim for its showcases in London, Melbourne, Tokyo, Paris, Amsterdam and San Diego.
Titanium
Titanium is an all-male dance troupe hailing from Spain — the act transcends boundaries by fusing together elements of flamenco, hip hop and break dance, creating a passionate and highly innovative production. Improvisation and exploration of movement defines this original take on street dance. Brought to you by Angel Rojas and Carlos Rodrigues, the award-winning creators of Titanium have directed, choreographed and designed 14 unique shows.
Broken Nails
Broken Nails: A Marlene Dietrich Dialogue uses puppetry to depict the legendary movie star's last days living as a recluse in her Paris apartment. Acclaimed Polish artist Anna Skubik masterfully performs as both a puppet master of a life-sized doll in Dietrich's image, and as an actress playing Dietrich's faithful nurse in this one-woman play. The show has toured Europe and has won various awards, including the Most Innovative Puppeteer Award at the International Puppet Festival of Prague in 2009.
Robot Theatre
Japan's Robot Theatre project presents a creative reimagining of Franz Kafka's
Metamorphosis, in which the leading characters morphs into an android rather than a bug. This thoroughly modern play asks audiences to reconsider what it means to be human in an era of growing technology. The production has received rave reviews from UK's The Telegraph, which placed Robot Theatre in the wall of fame alongside unforgettable robots of history — R2-D2, C-3PO and the Terminator.
Slow Sound of Snow
A work of art created by Iranian experimental theatre, the Slow sound of Snow transports audience members to a small household in the midst of a midnight snowstorm. Any little sound coming from within could cause an avalanche, but with one woman quickly going into labour and being difficult to keep silent, mayhem ensues.
Am I
Award-winning Australian collaboration Am I seeks to answer the most important question of human existence: Who am I? Performers explore the concept of "I" through explosive choreography, beating drums and spoken word in a thrillingly unique and inspiring theatrical display.
SK!N
Local performing arts company TerryandTheCuz's avant-premiere of SK!N will showcase a cutting-edge contemporary dance performance based on true stories around human trafficking. The show will give audiences a brutal and unforgiving insight into the plight of the victims of human smuggling and trafficking as they are squashed into a 12m custom shipping container. The audience will watch as two dancers poetically embody the traumatic cycle of forced migration, detention, and finally, deportation.
This article first appeared in The Edge Financial Daily, on May 21, 2015.