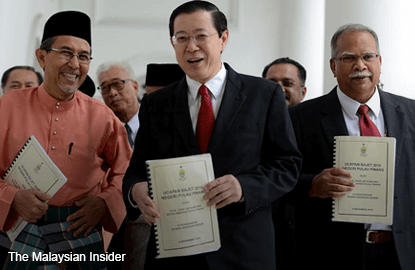 GEORGE TOWN (Nov 6): The Penang government has tabled its seventh deficit fiscal budget of RM1.1.billion for 2016, which is 11.36% higher than this year.
The budget, themed 'inclusive growth and sustainable development', is made up of a 10.4% increase in operating expenditure at M979.53 million and 53.44% hike in development expenditure at RM346.12 million.
In tabling the budget, Chief Minister Lim Guan Eng pointed out that the operating expenditure comprised supply expenses of RM952.7 million and RM26.8 million liability expenses under the state consolidated funds.
"Under our supply expenditure, RM163.5 million goes to emolument, RM145.5 million for services and supply, RM7.3 million for asset acquisition and RM5.15 million for other expenses," he said.
Lim said the largest component or 66.25% within the grants and fixed payments under the operating expenditure, which amounts to RM220 million, has been allocated to the consolidated development fund.
"The increase in the development fund is to support development projects next year. The allocation also takes into consideration, the RM100 million set aside for housing and economic reserves," he said.
Meanwhile, Lim who presented the budget for the final state assembly sitting for the year, said the state expects RM687.4 million revenue in 2016, up by RM30.47 million or 4.63% from this year.
"The increase is attributed to Bayan Mutiara land premiums, profits from state investment and others. Thus, taking into consideration the expected revenue of RM687.4 million, compared to the operating expenditure of RM979.5 million, the Budget 2016 would be a deficit budget," he said.
On that note, he said although the state had been recording a deficit budget for the past seven years, it has ended with annual surpluses, which raised the state's reserve to RM880.75 million in 2014, from RM373.6 million in 2007.
Lim said Penang is expected to achieve gross domestic product (GDP) per capita of RM42,251, based on a 1.68 million population and a GDP of RM71 billion in 2015.
On both foreign and domestic investment, he said the state saw an increase of 93% or RM48.2 billion, between 2008 and 2014.
"Penang has attracted RM4.33 billion in the first half of 2015, through 67 projects, with 13,199 jobs created. Thus, mergers and acquisitions among multinational corporations did not cause any negative impact, as we are still short of 20,000 workers," he said.
He added that the construction sector contributed 2.2% to Penang's gross domestic product (GDP) this year, as compared to 2.1% in 2010; and was expected to turn robust, with the implementation of the RM27 billion Transport Master Plan.