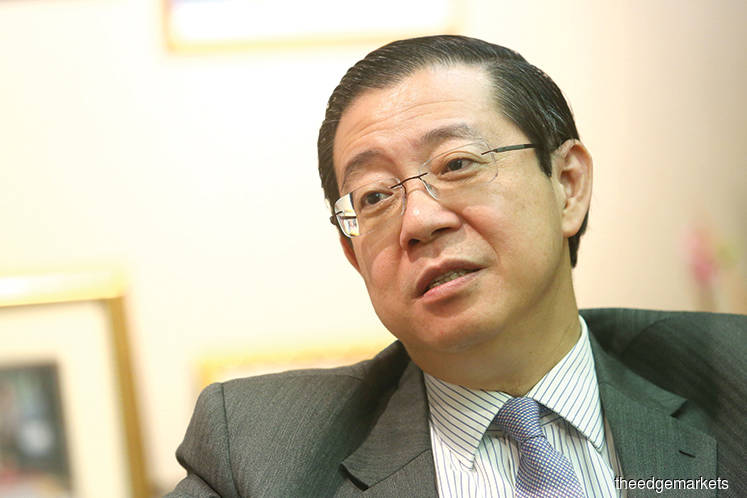 GEORGE TOWN (April 9): The Penang state assembly would be dissolved effective tomorrow, said Chief Minister Lim Guan Eng, shortly after obtaining consent from Yang-diPertua Tun Abdul Rahman Abbas.
"Beginning tomorrow, we would be the caretaker government, and would only attend to administrative matters, and not policy issues," Lim told a media conference. 
He said the state executive councillor conducted the last of 215 meetings today, since coming to power in May 2013. 
In the past five years, the state has achieved several unique records that include an annual budget surplus, with an accumulated revenue of RM719.3 million over the 10 years under the DAP-led rule, Lim added.
This compares with RM373 million over 50 years under the Barisan Nasional, he said.
 
The state reduced its debt by 90% and has one of the lowest debts in the country at RM62.06 million in 2017, Lim added. 
"Investment in the state rose by 90%. We have also seen additional flights and increased direct flights from Doha (Qatar), Hanoi and Ho Chi Minh (Vietnam) and Hainan (China), which saw tourist arrivals grow 100%," Lim said.
Penangites pay the lowest water tariffs in Malaysia at 32 sen per 1,000 litres for the first 35,000 litres, Lim said. Penang will continue to ensure water rationing does not happen in the next 10 years, he added.
Lim also said 25,555 low-cost houses valued at RM42,000 and low-medium cost houses at RM72,000 have been built in the past five years.
He said the state also turned around alleged 'failed' projects such as Penang Hill, SPICE Convention Centre, and the 68-floor Komtar building, and previously-abandoned Majestic Heights housing project.
"The state recorded 38% of recycling rate compared to an average of 22% in the country, and spent RM412.6 million on cash aid for people since 2013," Lim added.
Meanwhile, Lim said official cars used by state leaders would be handed back to the state secretary on Wednesday.
In 2013, the Pakatan Rakyat coalition comprising DAP, PKR and PAS won 29 out of 40 state seats, after securing the same number of seats in 2008.