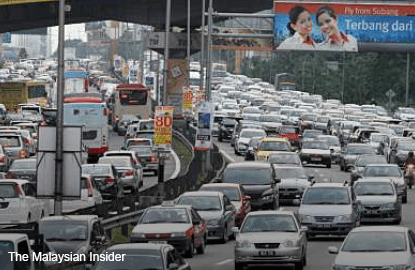 GEORGE TOWN: Penang's Transport Master Plan (TMP) played a vital role in the Malaysian Secondary Property Exhibition (Maspex) 2015, showcasing the vital link between infrastructure and the property sector.
The four-day exhibition, which started on last Thursday and ended yesterday, was organised by the Malaysian Institute of Estate Agents (MIEA).
Penang State executive councillor Chow Kon Yeow, who was the guest of honour at the event, said the implementation of the TMP will provide a modern and balanced transportation system for Penang which future generations can enjoy.
The state government had on last Wednesday appointed SRS Consortium, which comprises Gamuda Bhd with its 60% majority stake and Penang-based companies Loh Phoy Yen Holdings Sdn Bhd (20%) and Ideal Property Development Sdn Bhd (20%) as the project delivery partner for the TMP, which aims to mitigate traffic congestion in the state by 2030.
Among the highlights of the TMP were a 17.5km light rail transit (LRT) linking Komtar to the Penang International Airport and a 25-km expressway linking Bayan Lepas and Tanjung Bungah.
In his session at Maspex 2015 on the impact of Penang infrastructure projects on property hotspots, Ho Chin Soon Research Sdn Bhd founder and chairman Ho Chin Soon outlined a few "corridors of growth" on the island, such as Gurney Drive, Tanjung Tokong and Tanjung Bungah.
"The time has also come for development in Penang Hill, as last year alone there were over a million visitors to Penang Hill," said Ho, whose firm specialises in maps describing land use and ownership.
 MIEA Penang Branch chairman and Maspex 2015 organising chairman Mark Saw said that the four-day event was very relevant with the developments of the TMP.
"In Penang the biggest worry for everyone is traffic congestion, so knowing that there is an effective plan in place to ease that, and that it is progressing, brings comfort.
"This actually helps the secondary property market, especially in those areas which will be the focus of the TMP. Basically the TMP will open up a different chapter for Penang," he told theedgeproperty.com.
On whether the weak ringgit would entice foreign investors to buy into Penang properties, Saw said it is expected due to ongoing developments in the state.
"Taking Batu Kawan as an example, it is up and coming with Ikea, the University of Hull and the development of Penang International Technology Park, which are all efforts driven by the state government. Foreign investors will take note of this and they will have a sense of comfort in their investment," said Saw.
Maspex 2015 featured over 6,000 properties worth RM3 billion and 30 booths, one of them being theedgeproperty.com, a one-stop property portal by The Edge Media Group.
According to The Edge Communciations Sdn Bhd and The Edge Property Sdn Bhd managing director Au Foong Yee, the response to the portal was very encouraging.
"There were visitors who had heard about theedgeproperty.com but did not realise how they can benefit from the portal which offers — for free — comprehensive data, research, analytics, exclusive property news and listings of property on the secondary market," she said.
"Those who initially appeared a tad skeptical over the portal's unique selling point — especially the free-to-use property data and tools — were all smiles once they were given a live tour of the portal."
She added that real estate agents were also pleased to be able to list their properties for free on theedgeproperty.com.
This article first appeared in digitaledge Daily, on August 17, 2015.