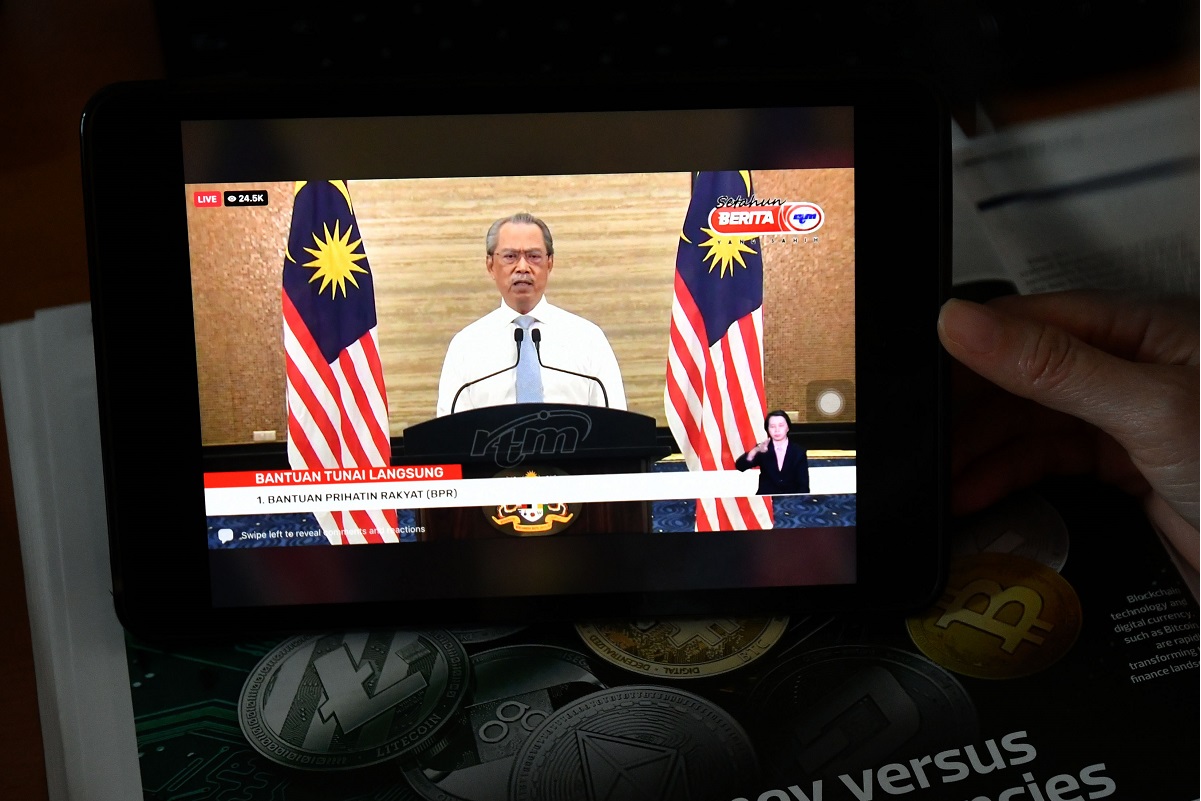 KUALA LUMPUR (June 28): Prime Minister Tan Sri Muhyiddin Yassin today unveiled Pakej Perlindungan Rakyat dan Pemulihan Ekonomi (PEMULIH) worth RM150 billion, inclusive of a fiscal injection of RM10 billion. 
To date, the government has introduced various economic stimulus packages worth RM380 billion to support the domestic economy and protect livelihoods amid the Covid-19 pandemic. 
The PEMULIH package outlines three main focuses, namely to continue upholding the public's agenda, supporting businesses and expediting the national vaccination programme. 
The assistance provided under the first focus (upholding the public's agenda) includes: 
BPR and BKC cash assistance
The government will channel cash assistance directly to the people until the end of 2021, amounting to RM10 billion. 
The cash assistance will include Bantuan Prihatin Rakyat (BPR), with an additional RM500 payment in July to be paid in stages starting tomorrow (June 29). 
Meanwhile, the BPR Phase Three cash assistance ranging from RM100 to RM1,400 will be paid in September. Cumulatively, the BPR cash assistance provided until the end of the year is worth RM4.9 billion. 
The government also has introduced Bantuan Khas Covid-19 (BKC), under which hardcore poor households will be receiving cash assistance of RM500 in August, RM500 in November and RM300 in December. 
Meanwhile, single people in the hardcore poor group will be receiving RM200 in August, and RM300 in November. 
For the B40 households, the government will be providing cash assistance of RM500 in August and RM300 in December. For B40 single people, RM200 will be channelled in August. 
For the M40 households, a RM250 cash assistance will be given in August, while RM100 will be paid to single people in this category.
In total, the BKC financial assistance worth RM4.6 billion will benefit 11 million households, elderly people and singles in Malaysia. 
Employment and income loss assistance schemes
The government also has unveiled income loss assistance schemes. 
Based on data provided by the Employees Provident Fund (EPF) and SOCSO, RM500 will be given to those who have lost their jobs in 2021. The RM500 assistance scheme is expected to benefit one million individuals. 
The government has also expanded the employment allowance to non-SOCSO contributors, especially to fresh graduates, school leavers and informal sector workers. These categories will receive an allowance of RM300 once they register themselves in the MYFuturejobs platform. 
The government also will be allocating RM125 million through HRD Corp to implement "Place and Train" initiatives under the Janapreneur programme to school leavers and graduates. 
The Malaysian Digital Economy Corporation (MDEC) will improvise the existing programmes such as eRezeki and GLOW to assist more than 20,000 job seekers in the gig economy. 
Food basket programme and price control mechanism
Putrajaya will set aside RM300,000 for each member of Parliament (MP) to implement a food basket programme for affected people in their respective constituencies. 
In addition, RM10 million will be allocated to implement a specific food basket programme for the indigenous communities in the country.
Amid rising commodity prices around the world, the government will also continue to maintain the ceiling price for RON95 petrol, diesel and liquified petroleum gas. 
The government also will be introducing a price control programme for cooking oil products based on the threshold value of crude palm oil.
"Through this programme, the price of a five kg bottle of cooking oil, for example, can be controlled to not exceed RM30," Muhyiddin said. 
As part of mental health and emotional awareness, the government has agreed to earmark RM15 million to non-governmental organisations in assisting the government in addressing social issues such as mental health, homelessness, and other social issues. 
Electricity bill discounts and mobile internet data
On the utilities front, the government has agreed to provide electricity bills at a discount, ranging from 5% to 40% according to electricity usage with a maximum limit of 900 kilowatt hours a month. 
"A discount of 40% will be given to electricity consumption below 200 kilowatt hours per month and 15%  for consumption between 201 to 300 kilowatt hours per month. 
"Overall, the people will get a discount of RM346 million and this discount will be effective for a period of three months beginning with the July bill," Muhyiddin added. 
Affected economic sectors such as hotels, theme parks, convention centres as well as travel agencies will be enjoying a 10% discount in their electricity bills from October to December. 
Muhyiddin also highlighted that the telecommunication service providers in the country have agreed to extend the free provision of 1GB of internet data per day to all users until December. 
"To make it easier for more people to get banking services, the government will allocate RM18 million for local banks to provide about 30 units of mobile banks in Peninsular Malaysia, Sabah and Sarawak, which will comprise 250 rural areas and mukims," he said. 
Read also:
Highlights of the PEMULIH package