This article first appeared in Personal Wealth, The Edge Malaysia Weekly, on April 15, 2019 - April 21, 2019.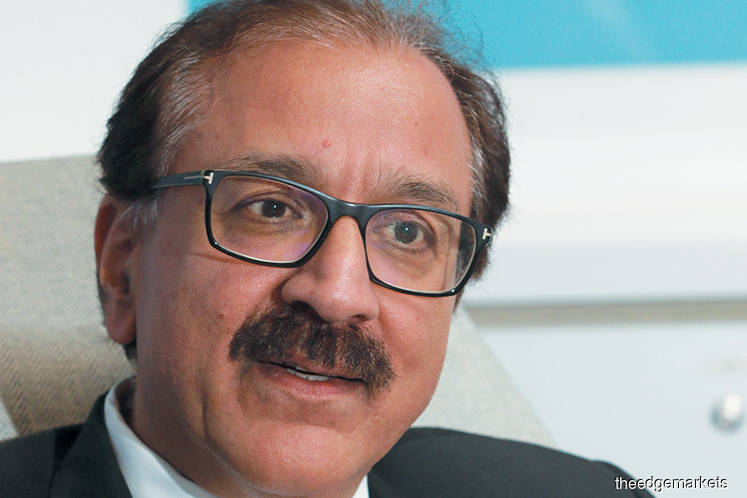 We have always been at the forefront of the ever-evolving financial technology. Of course, it is now evolving faster. - Malhotra
Malaysians' spending patterns have evolved over the years. Today, they would prefer to spend money on meaningful experiences than on material goods, says Sanjiv Malhotra, vice-president of global network services for Southeast Asia and South Pacific at American Express (Amex).
"In the past, success was defined the things we owned and the way we lived. Today, it is no longer about material possessions such as cars and condominiums," he points out.
"Success today, redefined the millennial generation and their evolving aspirations, is rooted in experiential moments. Now, it is more about going to new and uncommon travel destinations, achieving their dreams and spending time with people who are important to them."
The company anticipates budget air travel, online shopping and mobile and contactless transactions to be the key growth drivers this year. It also expects the mass affluent segment to lead in these spending habits.
"This is aligned with Amex's growth strategy to start new partnerships and build on existing relationships in the food and beverage and retail sectors — areas in which we can tap the potential growth due to the increase in consumer spending," says Malhotra.
Significant growth so far
Founded in 1850, Amex is no stranger to new technologies that lead to changes in consumer behaviour. In fact, the company was involved in a pilot project with IBM Corp and American Airlines Inc in 1970 to validate the use case of magnetic stripe technology (the stripe of magnetic media at the back of most credit and debit cards).
Amex is also an early adopter of EMV technology (an open-standard set of payment industry specifications for integrated-circuit, chip-based payment and acceptance devices). Today, its global network is EMV-enabled and processes millions of transactions annually.
"We have always been at the forefront of the ever-evolving financial technology. Of course, it is now evolving faster," says Malhotra.
"To keep up, we have our own labs and innovation centres. Sometimes, we partner others or even buy new technologies. We have acquired a few companies over the last few years to help us make transactions more secure so that consumers do not have to worry about the safety of their
digital transactions."
In Malaysia, Amex has managed to stay ahead of the curve, thanks to the exclusive partnership it forged with Malayan Banking Bhd (Maybank) since 2006. It is encouraging to see how nimble the largest bank in the country is when it comes to technology innovation and adaptation, says Malhotra.
"Maybank has done more experiments and shelved them to make way for more new things than any other bank in the country. So, it is good for us to partner them exclusively. They are always striving to provide better service to their customers. This pushes us to do the same," he adds.
Amex is seeing significant user growth in Malaysia. It recently tripled its market share here, says Malhotra. "We have been reaching out to a wider audience with products and services that are curated for Malaysians. They can use these not only for everyday purchases but also to make tax payments via the Inland Revenue Board's portal.
"Our partnership with Maybank and the 13 products that we have launched with them have been key to helping us achieve this growth. We will continue to leverage this strong relationship to expand our leadership position here, especially in the mass-affluent and affluent segments."
According to Maybank2u.com, Amex's partnership with the bank has resulted in the offering of credit cards, charge cards and a prepaid card for customers.
For years, Amex has been viewed as a premium brand whose service is too expensive for small everyday transactions. To debunk this perception, the company will focus on increasing merchant acceptance.
According to Malhotra, Amex will ramp up its efforts this year to ensure that its cards get as much acceptance as possible among merchants in Malaysia, including those in rural areas. "We want to come as close as we can to the 100% acceptance mark even if it means going from merchant to merchant to convince them of the value of accepting payments via the Amex card. Of course, we cannot do this on our own. We are working with various parties to make this happen," he says.