This article first appeared in Digital Edge, The Edge Malaysia Weekly, on October 26, 2020 - November 01, 2020.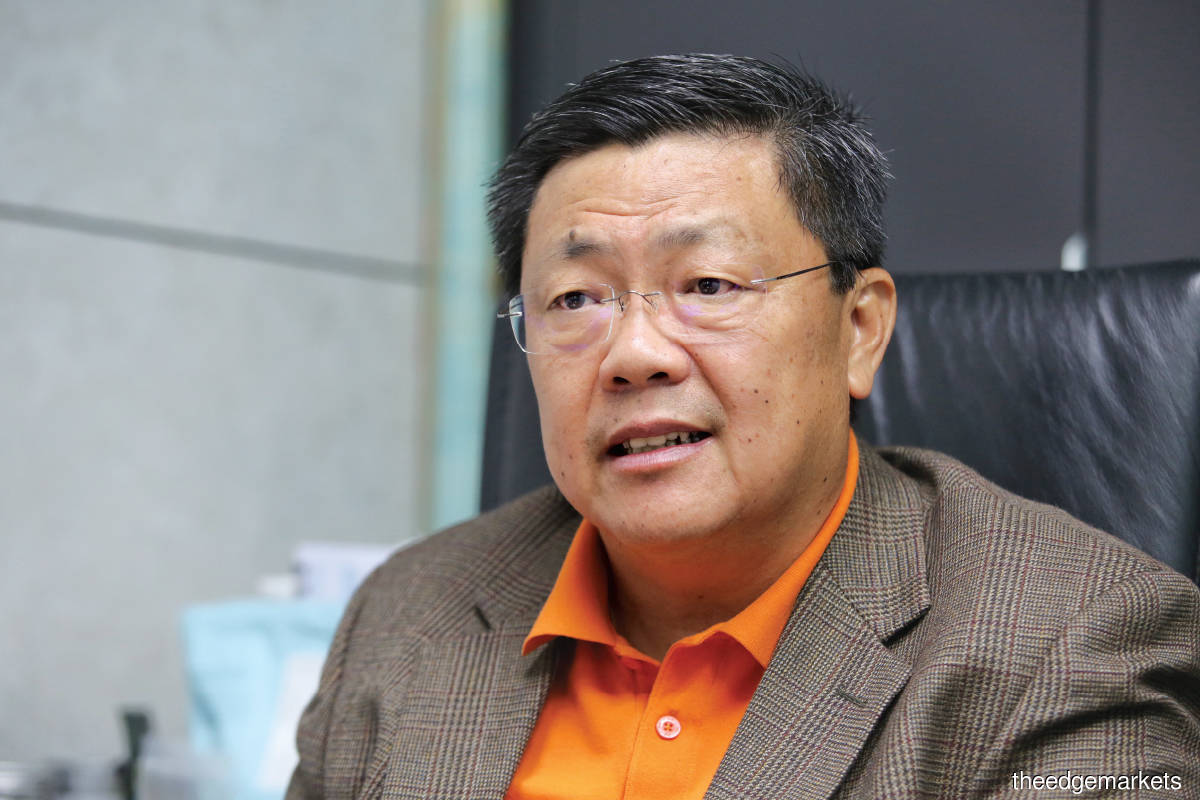 When iPay88 Sdn Bhd co-founder and executive director Chan Kok Long was 13, his form teacher Mrs Tan caned him in front of his co-ed class for failing his mathematics examination. Utterly humiliated, he returned home to an empty house, where there was no food in sight. His family was poor and his widowed mother struggled to provide for him and his siblings.
Chan searched the whole house and managed to scrape together 15 sen, with which he bought a packet of instant noodles. He ate the noodles and fell asleep under a tree because it was too hot to remain inside the squatter's dwelling that served as his family home.
"When I woke up, I started to wonder, 'Why was I in such bad shape? Why was even finding our next meal such a struggle?'" he tells Digital Edge.
Chan made a decision that day, the first in what was to be a series of life-altering decisions. He decided that he would stop being poor. "The moment I decided not to be poor, I realised that the only way out was to get a good job. And for that, I needed to study hard and get into a university."
He would start by improving his score in mathematics. His humiliation still fresh, he started to do the exercises in his textbooks. By the start of the next school year, he had caught up with his classmates and soon pulled ahead, becoming the top student at San Peng Road School in his Sijil Rendah Pelajaran examination.
Chan transferred to the Cochrane Road School, where he continued to be one of the top students. He eventually qualifed for a place in Universiti Kebangsaan Malaysia (UKM) and won a British Petroleum (BP) scholarship to help pay for it.
When it was time to choose a major in his third year, he knew he wanted to go into business. However, like all top students, he had been slated for a degree in mathematics. Not wanting to be a lecturer, he thought this would be a waste of time.
The dean of his faculty thought otherwise and politely informed him that if he did not want to do a mathematics degree, he could drop out. "I thought, 'Are you kidding me?' I worked so hard to get into university and now you're telling me to drop out?" says Chan.
Fortunately, he had already acquired a mentor by this time, a Dr Lai Yeng Chai of the Genting Group, who was teaching some units for a professional qualification he was working on at the same time as his degree. Dr Lai pointed out that it didn't matter what degree he took; his time at university was actually to teach him how to work with other people and solve problems.
So, following the advice of his mentor, Chan spent his last two years at university solving problems. "In fact, I became a busybody and started to go to other faculties and try to contribute. That was how I built my ability to identify problems and come up with creative solutions. It's not about thinking outside the box. It's about solving problems from a completely new box."
Chan graduated with a degree in mathematics and a string of professional qualifications and immediately started looking for a job in sales. He was supposed to have been bonded to BP for two years, but he had a word with the human resources director there to say that, although they could have his body for two years, they would not have his heart — unless, that is, they gave him a sales job.
"The reason was simple. I wanted to earn money. And with sales, the sky's the limit in terms of earning capacity," he says. BP listened and Chan was able to get out of the bond.
He started out with an IT company, MCSB Systems (M) Bhd. After a week of training, he pounded the pavement for close to eight hours only to sell one printer — the cheapest at that — for just over RM500. But his native determination won through and very soon, he was the top salesman in the company, and a product specialist in Uninterrupted Power Supply equipment as well as Local Area Network (LAN) products.
But with success, a sense of self-complacency crept in. "I forgot the advice I received from a lot of people, which is, if you want to be a success in life, you must learn the rules of the game. I started to invest in the stock market without learning the rules of the game," says Chan.
And when the stock market tanked two years later during the Asian financial crisis, he found himself in hot soup. His salary was about RM5,000 a month, but he owed the bank RM200,000 to RM300,000 for the margin financing he took to buy the stocks. He also had two mortgages and two car loans to service. Added to that, his second child was on the way. After doing some calculations, Chan realised he would never be able to cover his debts with his salary. "Things were as bad as they could be."
And this is where Chan made the second major decision in his life. "I decided that I didn't want to work for anybody else. I had no choice. I calculated my debt and realised that no matter how hard I worked, with a fixed salary, I would never be able to repay it."
The business bug
By this time, he had taken a job at what was then known as Time Telekom Sdn Bhd. Time had acquired Uniphone, which owned a public payphone network throughout the country, from Sapura and started distributing IDD (international direct dialling) cards for people to make international calls.
Chan saw an opportunity to start his own business. "During those times, it cost RM15 per minute to make a call to Indonesia. But with these cards, you saved 50%." Naturally, there was great demand for these call cards.
He asked his boss to let him have the distributorship of the IDD cards. "I resigned from Time and set up a company called Grand Dynamic Resources with Lim Kok Hing, who is now my partner at iPay88 as well."
They built up an admirable network ranging from photo shops to convenience shops and newsstands. And after just one year of doing business, Chan had cleared all his debts. Then, Celcom launched its first prepaid mobile card and he secured the distributorship for that as well. That was when he started to make "big money".
That was because there were "good" numbers in every batch of prepaid cards that people were willing to pay twice or three times as much to obtain. "We bought in bulk, say, 10,000 pieces at a time and the numbers were in sequence. Of those, there were a few hundred pieces we could sell for double or triple the recommended retail price of RM200," he says.
Things could not have been better. And then, once again, everything fell apart. "The CEO at the time wanted me to surrender my distributorship, my whole network, which I had worked so hard to build, without giving me anything. I refused, and he terminated me."
The whole thing was so blatantly unfair that Chan made his third major decision: never to go into any business where he did not have control. "I knew I had to create my own brand, my own product."
Actually, he and his partner had already established another company, Mobile88.com, a few years earlier to take advantage of the internet boom. He had seen the potential of the internet but had yet to figure a way to tap into it. In the meantime, they invited the person who would become the third co-founder of iPay88, Chong Lee Kean, to start an e-zine focusing on tech gadgets and run the company.
A bend in the road
While the prepaid distributorship business had been booming, the company decided to sell its cards online. "A prepaid card is simply a set of numbers, and I could deliver those numbers electronically via messaging or email. But for this, we would need a payment gateway."
At the time, most Malaysian banks were clueless about what a payment gateway was and Chan knocked on many doors to no avail. Then, he met the one banker in Malaysia who understood exactly what he was talking about — a Mr See of Alliance Bank, who had just returned from the US and was sporting a ponytail.
"I remember we were having lunch at Dynasty Restaurant in Renaissance and I said, 'Mr See, I want a payment gateway so I can collect money from my customers'. And he said, 'I know exactly what you want: something like PayPal.'"
And so, Mobile88 had one of the earliest payment gateways in Malaysia. "The bank had only two other customers for this service — AirAsia and Cari.com, one of the top search engines in Penang," says Chan.
Because Mobile88 had its own payment gateway, Fujifilm came a-calling. "They wanted to use our gateway. We tried to direct them to a bank, but they said none of the banks understood what they wanted."
Chan and his partners scented an opportunity. If a multinational corporation such as Fujifilm had difficulty getting help with this issue, what about small and medium enterprises (SMEs)?
They registered iPay88 Sdn Bhd in 2006, and what was supposed to have been their worst year turned out to be their best. "We became the pioneer payment gateway in Malaysia and, in 2010, we captured almost 75% of the market share. Competitors came in only after we had been in the market for about seven years," he says.
Of course, it was a struggle building the business. In the first three years of its operation, nobody seemed to want a payment gateway. But business picked up. "Even today, with so many players in the market, we still command more than 50% of the market share."
At the time, the only form of digital payments was through credit cards, so the company started with that. Being the pioneer, it managed to sign up almost all the banks and offer the most comprehensive internet banking services. "So, if you are a merchant and you work with iPay88, you get all the services. You don't even need to talk to other banks or e-wallet or credit card companies," says Chan.
"When FPX came in, we became its No 1 Third Party Acquirer for this service. And we have won this award for 11 years consecutively."
Alternative payment methods
When smartphones came into the picture, there was a mini-explosion in innovation around payments. "The moment you could make use of your phone to make payments, there started to be many creative and innovative payment methods," says Chan.
For instance, he said, you could buy something now and pay later or buy through instalments or through loans, all using your phone. When buying a big-ticket item, say, an iPhone that could cost about RM7,000, you could get a loan and pay for it gradually. Or you could buy something online and pay for it at a nearby convenience store, say, KK Mart.
"Our advantage is that we are able to provide all the different payment methods and that's why we have maintained our No 1 position in Malaysia. And of course, being the pioneer as well as the No 1 player, we have created a lot of unique selling features. We have also add a lot of value through our payment ecosystem," says Chan.
In 2015, Japanese conglomerate NTT Data Corp acquired a 51% stake in iPay88. Today, the company is looking to go for an initial public offering (IPO) on the ACE Market, he says. However, things are a little uncertain right now because of the pandemic, but he and his partners know they can ride it out. After all, they have faced worse before and come out on top.
Pivoting the payment landscape
Being the pioneer payment gateway service provider in Malaysia, iPay88 Sdn Bhd is sitting on a lot of data that can be used to identify gaps in the financing market and it can fill them.
iPay88 co-founder and executive director Chan Kok Leong tells Digital Edge that according to its data, the company can provide services such as loans and insurance in the digital space, with little risk.
"When merchants start using our payment gateway, we do a very comprehensive KYC (know your customer) process. The KYC is even more detailed than a loan application because we are governed by three acts — the Financial Services Act, the Anti-Money Laundering Act and the PDPA (Personal Data Protection Act)," he says.
Chan points out that a loan application is only a subset of the application for a merchant ID, so the company already has all the information it needs before granting a short-term loan.
Does that mean iPay88 is going into direct competition with the banks? He doesn't think so. "This is a segment that traditional banks cannot do. For example, if a supermarket or grocery store wants an extra RM10,000 to RM20,000 for the three months of a festive season to buy extra stock, it is not easy for a bank to provide this," he says.
"That's where we come in. We know who you are because you have been using our payment gateway. And we know that for certain months of the year, you will have a spike in transactions. This is the time you will need some extra money to do more business, and we are more than happy to lend it to you."
Because iPay88 already has so much information about the merchant, the approval process takes just days. "And that's where the disruption is, although this is not a segment that is commercially viable for traditional banks," says Chan.
How so? "Ours is not just a short-term loan but more of a working capital one. We don't give you a loan if you want to buy or extend your warehouse. We give you a loan as working capital during your festive season."
The loan has to be short term to keep the cost of funds low. "During the festive season, people want to buy a lot of festive groceries such as dates during Hari Raya. Dates are not cheap and one package can cost you RM20 to RM30. So, during this time, you need additional working capital so you can buy more packets of dates to sell," he says.
"During Ramadan, people buy dates every day. And the more stock you have, the more you can sell. If you don't have extra working capital, you cannot buy extra stock.
"So, if we charge you a financing fee of 1.5% a month, and you manage to roll this over every week and you sell out your stock of dates, your 1.5% is now divided by four. So, your cost of funds for that particular packet of dates is 0.4% to 0.5%. And if your margin is 10%, imagine how much you will be making.
"We process your loan within days, bank it in for you and you can use it to buy your extra dates. Then, after three months, we just collect the money from the system itself because we are the ones processing your payments."
Chan says this product was introduced at the beginning of this year and did very well in the first two to three months before the Movement Control Order was announced. "In the first three months, we already gave out more than RM5 million in loans to SMEs who wanted RM10,000, RM20,00 or even RM5,000. And we will continue to help SMEs, and even go beyond SMEs to entrepreneurs, sole proprietors and those looking for working capital."
He says if SMEs ask for a loan to buy a shop, the loan will not be approved.
"At 1.5% a month, it would work out to 18% a year. The cost of funds would be too high. They may as well get a loan from the bank."
Chan reiterates that iPay88 is not interested in competing with the banks. "We are complementing them. That's why, after some time in the business, the banks are starting to work with us. They will provide the funding and tap into our reach as well as our existing base to cater for this gap."
But that is not all. It wants to use its bulk buying power to help SMEs acquire finance-related services such as insurance or loyalty programme vouchers, at a lower cost.
"We have over 40,000 merchants in Malaysia, so we can negotiate in bulk. Our selling proposition is that we can bring down your cost of doing business, so you are more competitive and have a bigger margin," says Chan.