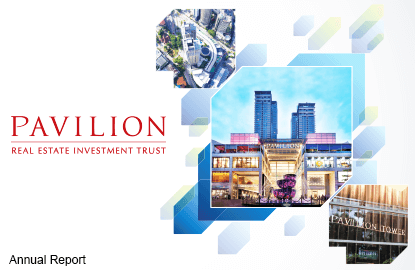 This article first appeared in The Edge Financial Daily, on April 6, 2016.
SHAH ALAM: Fresh from completing two major asset purchases recently for RM646.84 million, Pavilion Real Estate Investment Trust (Pavilion REIT) still has appetite for more acquisitions, provided they are quality or lucrative assets.
"Yes, we will evaluate all opportunities both locally and internationally, as long as it is a yield-accretive acquisition for Pavilion REIT," said its chief executive officer Phillip Ho Yew Hong in an email reply to media inquiries yesterday.
Besides external assets, the trust is also eyeing those to which it has the rights of first refusal, including sister company Malton Bhd's Pavilion Bukit Jalil, Pavilion Damansara Heights, as well as Pavilion Extension. Both Malton and Pavilion REIT are controlled by billionaire Desmond Lim Siew Choon.
"For the upcoming Pavilion Bukit Jalil and Pavilion Damansara Heights, when the offer is made by the owners of these developments, an assessment will be made [on] whether it is a yield-accretive acquisition," he added.
Last year, Pavilion REIT announced that it was buying the Da:men Mall in Subang Jaya for RM486.84 million, and the Intermark Mall in Kuala Lumpur for RM160 million.
On completion, the proposed acquisitions will enlarge Pavilion REIT's portfolio of investment properties from RM4.6 billion as at Sept 30 to RM4.8 billion. Ho said the trust is expecting 8% to 10% of gross income growth with the acquisition of both Da:men Mall and Intermark Mall.
For the financial year ended Dec 31, 2015 (FY15), Pavilion REIT's net property income rose 3.11% to RM291.54 million, while its revenue gained 2.94% to RM413.93 million from RM402.09 million.
"The achievement was mainly contributed by rentals from 2014 asset enhancement areas, such as Beauty Precinct, extensions of 'Couture Pavilion' on Level 2 and Dining Loft on Level 7, as well as the increase in service charge in May 2014," the trust said in its results filing in February.
According to the trust's annual report 2015, 68% of its tenancy at Pavilion Kuala Lumpur (Pavilion KL), its main earnings driver, is up for renewal this year.
"Pavilion REIT achieved 5% average rental reversion for 2015. In 2016; we hope to have a positive rental reversion despite the challenging economic situation," Ho said.
On the outlook, Ho is unfazed by the challenging economic situation and the weak consumer sentiment, and is hopeful that its portfolio of assets will continue to perform well.
For Pavilion KL, he said the mall has established itself as a preferred shopping destination for locals and tourists.
"In 2015, Pavilion KL successfully introduced new luxury brands to the mall and will continue to deliver newness and vibrancy to its retail mix along with aggressive marketing support," he said, adding that the trust will continue to enhance Pavilion KL's facilities for the comfort and convenience of shoppers.
For Da:men Mall and Intermark Mall, Ho is confident the trust's management team will be able to capitalise on the mall's good location and target market, together with the use of appropriate leasing and marketing strategies, to chart growth in both their occupancy rate and foot traffic.
"Pavilion REIT will look into improving its tenant mix, occupancy level, marketing strategies and enhancing the operational standards for Da:men Mall and Intermark Mall," he added.
In terms of dividend yield, Pavilion REIT has been offering about 4.5%, markedly lower than its peers' average of above 5%, but Ho said there is still strong confidence in the trust among local and international funds.
This, according to Ho, was because its core asset, Pavilion KL, is a brand name that is recognised regionally.
"With the plans we have in place for our assets, we hope to grow [that] confidence and inject more foreign investments into our REIT," he added.
Shares in Pavilion REIT closed unchanged at RM1.71 yesterday with 1.02 million shares traded, giving it a market value of RM5.13 billion. Year to date, its share price has gained 20 sen or 13.2%.