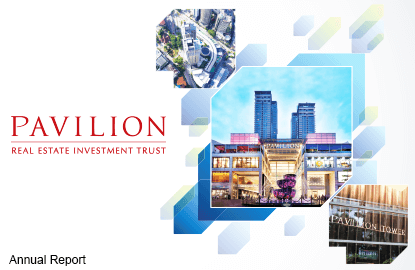 This article first appeared in
The Edge Malaysia Weekly
, on October 31 - November 6, 2016.
PAVILION Real Estate Investment Trust (PavREIT) may be looking at buying developmental projects, possibly Pavilion Bukit Jalil and Pavilion Damansara Heights, taking advantage of the new guidelines proposed by the Securities Commission Malaysia (SC), which will allow the participation of REITs in greenfield projects.
The Edge also understands that a valuer has been hired to look at the soon-to-open Pavilion Extension in Jalan Bukit Bintang with a view to injecting the asset into PavREIT, which is controlled by Tan Sri Desmond Lim Siew Choon.
While it is an open secret that the retail assets that are being developed by Lim's related companies may eventually be injected into the trust, The Edge has learnt that PavREIT intends to acquire three assets next year.
Apart from the Pavilion Extension, industry sources say PavREIT could be looking at retail mall Fahrenheit 88 as a prospect as well.
PavREIT CEO Philip Ho did not respond to queries sent by The Edge. In April this year, Ho told The Edge Financial Daily that for the upcoming Pavilion Bukit Jalil and Pavilion Damansara Heights developments "when the offer is made by the owners of these developments, an assessment will be made on whether it is a yield-accretive acquisition".
Typically, REITs acquire a completed project that can provide an instant income stream for its unitholders. But in July this year, the SC presented a public consultation paper proposing changes to the guidelines.
The new proposal would allow Malaysian REITs to have up to 15% of total asset value in developmental projects and vacant land, provided the REITs continue to hold the property for at least two years after completion to boost the future income-generation capacity for the benefit of unitholders.
Based on PavREIT's assets, worth RM5.45 billion as at Sept 30, as much as RM817 million can be considered for developmental projects.
Market observers say that a REIT's role in a greenfield project is as an investor. In the case of PavReit, if it is not buying the entire project, a likely scenario is the setting up of a joint venture with the developer.
"Pavilion is a good mall manager and Malton is a good developer. The two would be a perfect fit," an observer says. "It would be an early entry for the REIT with potential upside for the unitholders. The capital value of the investment will jump on completion," he says of PavREIT's possible participation in greenfield projects.
"It is clear that the sponsor's [Lim's] development assets will eventually be part of the trust. It is highly likely that, in the current market, the sponsor may want to spread his risk. This investment path would be a win-win situation for both the sponsor and PavREIT as the latter would receive additional return on investment from the completed asset."
The feedback period for the SC's consultation paper is over and the market is currently awaiting the regulator's response. In the interim, REITs can apply for waivers and approval will be granted on a case-by-case basis.
Malton is the master developer of Pavilion Bukit Jalil. The mall, with two million sq ft in net lettable area (NLA), is expected to open its doors in the fourth quarter of 2019.
Pavilion Damansara Heights, meanwhile, is a two-phase mixed-use development in Kuala Lumpur, with a gross development value of RM7 billion,  being undertaken by Lim in partnership with the Canada Pension Plan Investment Board (CPPIB).  Phase 1 is being undertaken by Impian Ekspresi Sdn Bhd on a 9.5-acre tract and will house the shopping component.
Meanwhile, PavREIT has the first right of refusal for the Pavilion Extension. Slated for opening at end-November, it offers 250,000 sq ft in NLA.
A valuer contacted by The Edge estimates the Pavilion Extension at RM625 million. The valuer reckons Pavilion Bukit Jalil will be worth RM1.7 billion upon completion and Pavilion Damansara Heights will be worth around RM1.2 billion on completion.
As for Fahrenheit 88, which is housed under Makna Mujur Sdn Bhd, it remains uncertain if this asset would be injected into PavREIT given its unexciting financial performance.
Based on the latest available numbers with the Companies Commision of Malaysia, in the financial year ended Dec 31, 2014, it posted a net loss of RM29 million on revenue of RM36.58 million. It has accumulated losses of RM125.05 million and total liabilities of RM562.31 million.
PavREIT can raise at least RM2.3 billion through debt and equity. Its current gearing is around 26%, which will enable it to borrow another RM1.3 billion based on a 50% cap on gearing.  At the same time, PavREIT can raise at least RM1 billion more from equity, assuming a discounted price of around RM1.65 per unit. PavREIT's closing price last Thursday was  RM1.74 per unit.
PavREIT, which was listed with a portfolio of just two assets — Pavilion Mall and Pavilion Tower —increased its assets under management in September last year, through the purchase of da:men USJ, a mall with 420,920 sq ft in NLA, for RM488 million. Today, the mall is 85% tenanted.
On Dec 29, PavREIT purchased Intermark Mall, a six-storey retail building with 337,427 sq ft in retail space for RM160 million. The mall is expected to enjoy 90% occupancy by the end of this year.