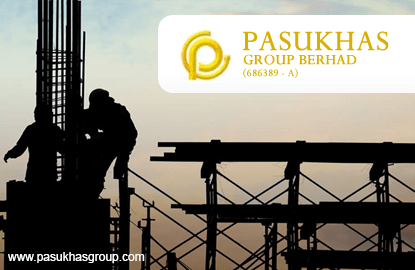 KUALA LUMPUR (Aug 2): Pasukhas Group Bhd has proposed a series corporate exercises, including issuing shares to acquire a 70% stake in Pasukan Khas Construction Sdn Bhd (PKC) and I.S. Energy Sdn Bhd (ISE) for RM31.5 million, to consolidate and diversify its business to energy utilities services and power generation.
The group said in bourse filings today, it has entered into two conditional share sale agreements to effect the acquisition.
The first is with thre PKC shareholders, namely Datuk Seri Teng Ah Kiong, Wee Hiang Chyn and Ong Mei Lee, to buy a 70% stake in PKC for RM17.2 million. The second is via its fully-owned unit Pasukhas Energy Sdn Bhd (PESB) to buy ISE from Maser (M) Sdn Bhd (Maser) for RM14.3 million.
Upon completion of its proposed acquisition of PKC, PKC will be a 70%-owned subsidiary of Pasukhas, while ISE will be a wholly-owned subsidiary of PESB.
The PKC purchase will be satisfied by a cash sum of RM7.87 million, and the issuance of 45.61 million Pasukhas shares, at an issue price of 20.5 sen per share.
The ISE purchase, on the other hand, will be fully satisfied by cash, comprising RM1 million for ISE shares and a sum of RM13.30 million to settle all inter-company advances owed by ISE to Maser.
ISE is principally involved in developing, maintaining and operating mini hydro plants and distribution of electricity. It has secured Feed-in Tariff approval from Sustainable Energy Development Authority (SEDA) for its Sungai Rek site, with a declared annual availability of 2.8MW.
ISE has been operating the hydro power plant for over 3 years, since November 2012. On Nov 7, 2012, ISE signed a Renewable Energy Power Purchase Agreement (RePPA) with Tenaga Nasional Bhd for a 21 year concession period at a rate of 24 sen per kilowatt hour (kWh).
Meanwhile, Pasukhas also proposed private placement of up to 37 million new Pasukhas Shares, representing 10% of its issued and paid-up share capital, together with a rights issue of up to 407.1 million Pasukhas shares, on the basis of 1 rights share for every one existing Pasukhas share held, to raise at least RM30 million — or as much as RM48.8 million — to fund its acquisitions.
Furthermore, it proposed for Tara Temasek Sdn Bhd and persons acting-in-concert with Tara Temasek, to be exempted from being obliged to undertake a mandatory take-over offer for the remaining Pasukhas shares not already held by Tara Temasek.
Tara Temasek's stake in the company will rise from approximately 17.26% to over 33% of Pasukhas' enlarged, issued and paid-up share base, assuming the proposed rights issue is implemented based on the minimum subscription level and all minority shareholders do not take up their rights shares, said Pasukhas.
Pasukhas shares fell one sen or 4.88% to settle at 20 sen today, for a market capitalisation of RM63.28 million.