This article first appeared in Enterprise, The Edge Malaysia Weekly, on May 13, 2019 - May 19, 2019.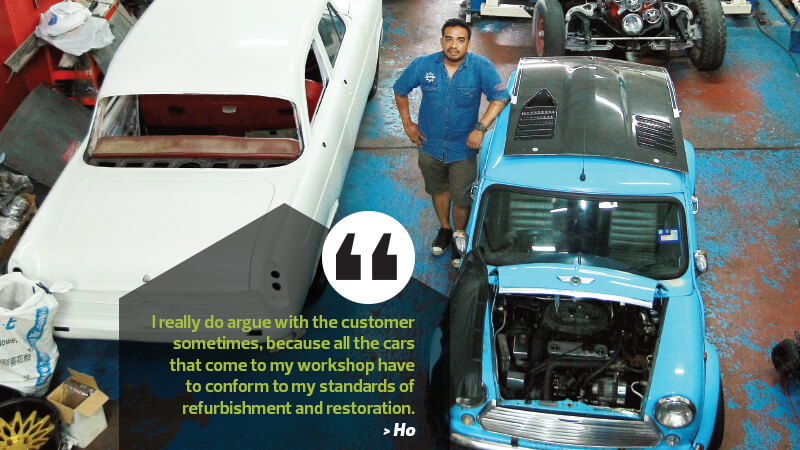 Dwayne Ho is a rare breed as business owners go. He readily tells Enterprise that he gets into "robust debates" with his clients. Curiously though, they never take it to heart or take their business elsewhere.
In fact, more often than not, they become repeat customers. It seems that some people are happy to pay for the privilege of being scolded and schooled.
Ho, 37, is proprietor of Johor Baru-based R-Tune Garage — a car workshop in a nondescript, industrialised section of Taman Mount Austin. Ordinarily, his place of work would not warrant a second look. It is not located anywhere particularly memorable. In fact, it is quite possible that the only people who would end up in this part of town are those who work in the area or who have taken a wrong turn.
Take a slow drive past the workshop, however, and an eagle-eyed enthusiast may spot a lovingly restored Mercedes Benz SL convertible from the 1980s. Or, perhaps, the blacked-out, angry-looking track-only Datsun 280ZX sports car that would pique any petrolhead's interest. And these are just the cars sitting outside the workshop.
Step into this seemingly unremarkable workshop and you will first see a rare, four-door version of the 1977 Nissan Skyline. It is not certain if there is another like it in the country.
"I bought the car from someone in Sabah, who previously had it imported from Japan. The car belongs to me now, although I have had no shortage of offers from people wanting to buy it," says Ho.
Labour of love
One thing he does offer is to fire it up. The driver's door opens with a kind of heavy metallic authority that modern vehicles simply do not possess. The imposing L24ET straight-six cylinder motor is entirely stock, except for the obviously new high tension leads and a couple of new hoses. The 42-year-old engine roars to life within the first two cranks. The car looks, and certainly sounds, like it rolled off the production line last year.
Just ahead of the vintage Skyline lies a half-finished client project. The vast majority of local enthusiasts will never get to see a car like this in their lifetime. It is more likely that most will not even know what it is. The casual observer would, very reasonably, mistake it for the famous Grease Lightning — the car whose silver screen namesake shot John Travolta and Olivia Newton-John to global superstardom. Avid lovers of vintage Americana would have a field day with this beast.
It is a 1950s' Ford Mercury, which a wealthy local client had shipped to Malaysia for Ho to assemble and modify. The client had also purchased a brand-new engine to go into the car — a massive six-litre Chevrolet V8. This particular individual has a very specific taste and very exacting requirements.
"Everything literally came in pieces, even the engine. We unboxed the bare chassis and engine and are putting it together in-house, almost from the first screw to the last bolt," says Ho.
His list of active projects reads something like a car museum brochure. "Right now, the guys and I are working on the Ford Mercury, a Ford Consul, the Datsun 280ZX, a classic Mini Cooper, a Mazda Carol and the convertible Mercedes Benz SL," he says.
Ho and his five-man team of specialists from India are equally comfortable restoring a rust bucket to its former glory, or tastefully modifying and retrofitting a client's car into entirely unique, high-performance works of art. These are two distinct challenges, each with its own demands and professional requirements.
It is a curious thing, the process of restoring a car from the ground up. These are projects that fathers undertake with their sons, sometimes over a period of years. Friends may pool a bit of money to buy an old beater, flush with the optimism of the uninitiated. But as it turns out, a few hours' worth of how-to videos and trawling through automotive forums do not necessarily grant one special knowledge and experience to bring a project to life. Sadly, more often than not, these projects are abandoned well before they ever truly begin.
If you are really unlucky though, you and your friends may actually end up finishing the project. That is when the real problems begin. Mysterious breakdowns, suspicious noises, temperature spikes and untraceable fluid leaks will easily force enthusiasts into budget overruns. A cheap, unoriginal component here, the odd catastrophic engine failure there, and just like that, friends become former friends and an old car that deserved better remains a distant pipe dream.
Restoring or modifying a car is one of those things that is easy enough to learn, but exceptionally difficult to master. Almost anyone can get an engine to sputter to life with enough reading and brute force troubleshooting. But getting a more than 40-year-old car to perform like new, well, that requires an artisan.
At its heart, R-Tune Garage specialises in both practices. Ho is a specialist in the "restomod" scene. An amalgamation of the words "restore" and "modify", it is a relatively new phenomena on the auto restoration scene. It denotes the practice of restoring old cars using modern techniques, technologies and components.
These restomod projects often require a deft hand and a horologist's eye for detail. There are multiple complex layers of work that need to be done, one after the other, before a vintage sportscar feels and handles like a modern day grand tourer.
For Ho, every project is equally important. There are no low-priority jobs at R-Tune Garage. The average customer may not notice a slight dent to the body underneath a bumper fitting. But he would, and that in itself would be bad enough for him. The customers' cars get the same care and attention as his own personal projects.
Talk to the client
"I would never let a car leave my workshop unless it looks and feels as good as it possibly can be. The only way to achieve this level of detail is for the customer to be actively involved in the process. I work and communicate with all my customers on a regular basis," says Ho.
"Although projects can last two to eight months, I am constantly updating my clients, suggesting workarounds to the problems we have discovered and advising them on how to move forward with their project."
He readily admits that his is an expensive endeavour. People do not send their cars to him for a simple oil change, obviously. But he is adamant that the money he charges is fully reflected in the final product.
"We charge a premium because of how specialised we are, as well as how detail-oriented and labour-intensive the entire process is. But we do not cut corners and we certainly do not outsource jobs to other workshops without first informing the customer," says Ho.
His is one of a select few workshops in the country that are able to work on just about every aspect of the car. He has the experience, personnel and equipment to handle engine works, transmission and suspension works as well as electrical, body, interior and detailing works. He even has a separate garage behind the main workshop that serves as a painting facility.
That said, Ho's hands-on nature and end-to-end involvement with a project means that sometimes, he and the customer clash over technical specs and creative direction. Ultimately though, the difference of opinion and honest exchange of ideas lead to a much improved final result. "I really do argue with the customer sometimes, because all the cars that come to my workshop have to conform to my standards of refurbishment and restoration," he says.
Customers can sometimes be a bit too eager to get the car on the road. "The customer may feel that it is okay to overlook, say, some minor warping to the car's bonnet or door panels. But I show them exact measurements, the degree of offset and explain as best as I can how these warps will contribute to increased rattling when on the road. It is a big contributor to wear and tear, up and over the usual road wear that one expects to take place. This is what leads to structural weaknesses or unexpected breakdowns," says Ho.
Nowhere is his attention to detail and obsession with perfection better displayed than on the third car in his workshop. Unsurprisingly, this is another personal project of his. But again, one for which he has received plenty of buying interest. This car — a 1973 Datsun 240Z — is truly one-of-a-kind. It skirts that fine line between a classic restorative project and mad scientist levels of creativity and out-of-the-box thinking.
Much of the car's exterior — the bonnet, roof, door panels and such — are fashioned out of carbon fibre, a lightweight, highly durable polymer. The tyres are modern, the suspension system, custom-made. So, too, is the beating heart of the Datsun 240Z. Ho ditched its original 2.4-litre engine in favour of a higher displacement Datsun 2.8-litre engine, which he then promptly bored and stroked out to 3.4 litres.
"I am a power junkie and I take great pleasure in trying to squeeze as much performance out of these old engines as I can. That is exactly what I set out to do with the Datsun 240Z. Right now, I would say the engine probably puts out nearly 300hp, which is insane when you consider how light and compact the car is."  
Racing to the bottom
For all the great work Ho has done over the years — R-Tune Garage has been up in operation for nearly 10 years now — he laments the current state of the auto restoring and modification industry in Malaysia. "The industry is on a race to the bottom in terms of price. And while that sounds good for the client's wallet, I worry that it is because there is not enough differentiation and creativity in the market right now. I think auto workshops, by and large, offer the same kinds of services, in which case the only way to attract customers is to undercut the market."
This, Ho argues, is to the detriment of the overall market and ultimately, the customer. As prices continue to find new lows, workshops increasingly resort to cheaper, untested components and spare parts. This has created the demand for major components (turbocharger kits, race-spec spark plugs and high-end air filters, for example) that are produced cheaply and sometimes, poorly.
Workshops are beginning to notice an influx of cheaply made components and have started offering modification and restorative services, without necessarily having the experience and track record. Customers, eager for their own slice of The Fast and The Furious in their driveway, are sending their cars in for upgrading works.
In the end, the enthusiasts are left bitterly disappointed as their dream cars are struck down with huge repair bills. More often than not, it is due to modifications that break down or fail to complement the vehicle's technical specifications.
"Of course, I am not referring to the industry at large, or that most of the workshops resort to practices like these. But really, it only takes one bad experience for a customer to badmouth the entire industry. I cannot really blame the customer either because who would not be upset being taken for a ride and ending up with thousands of ringgit in repair works?" says Ho.
He knows a thing or two about using untested products. "A couple of years ago, my team and I got curious about some high-end components coming out of China. We bought a bolt-on turbocharger kit to play around with and test for a few days. If it turned out as good as anything from the Japanese, Europeans or Americans, we would start using it regularly. But the device failed within just a few sessions of track racing. We were very lucky that the turbocharger failure did not cascade into catastrophic engine failure. So, the engine was still in good working order."
Ho has an ambition to take his passion for client education to the next level. He has the know-how and he has certainly built a reputation for himself, with projects of his having made waves at various local and international car shows. "I am not really sure how, but I would love to bring my knowledge of restoration and modification to a wider audience. There are many enthusiasts out there who are hungry to learn stuff like this," he says.
Ho believes that workshops should try to collaborate with one another and pursue more restomod projects together. "Sharing information will eventually increase the industry's overall body of knowledge and that can only be a good thing for everyone involved — the businesses, fans and, of course, the cars," he says.
With much of the world actively going into the direction of hybrid and even fully electric vehicles, R-Tune Garage is steadfast in its preference for the internal combustion engine. Its gloriously unabashed love for gas-guzzling classics sets it apart in an increasingly sterile world of remote infotainment software updates and computerised vehicle diagnostics.