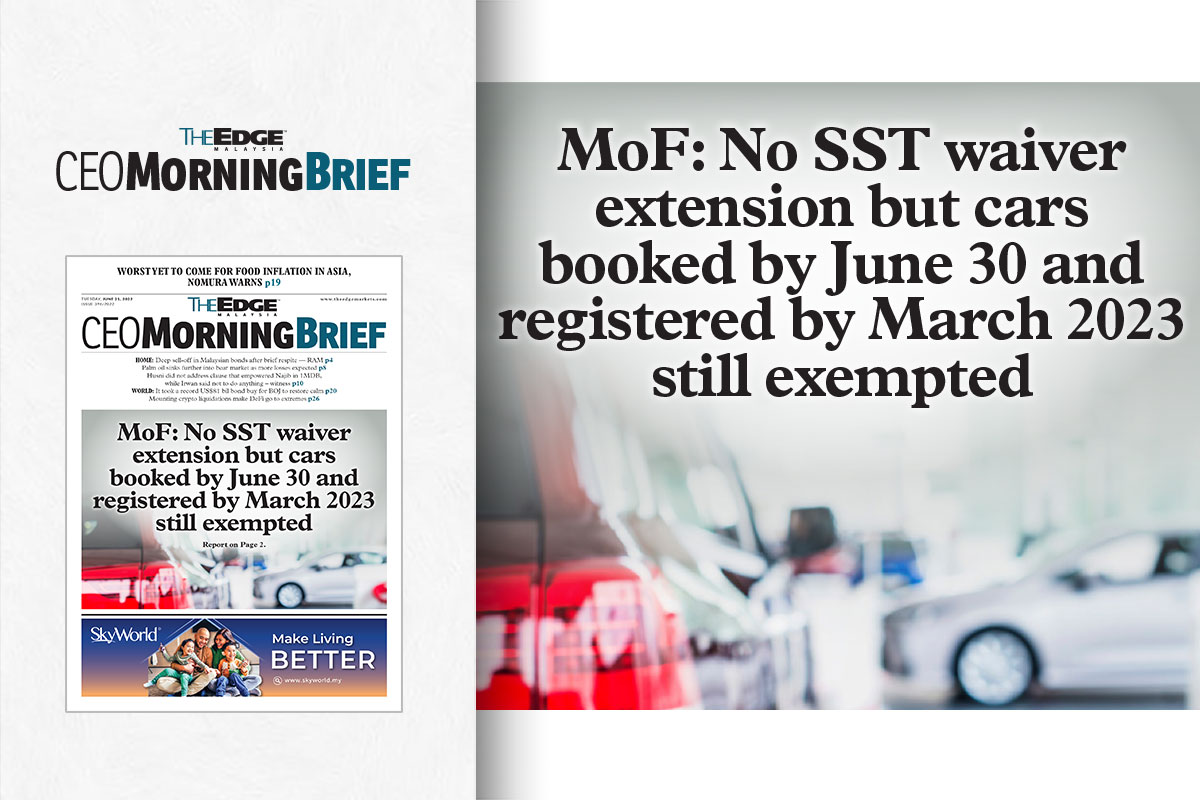 KUALA LUMPUR (June 20): The deadline for the passenger vehicle sales tax exemption remains on June 30, 2022, announced the Ministry of Finance (MoF) on Monday (June 20).
Finance Minister Tengku Datuk Seri Zafrul Tengku Abdul Aziz, however, said buyers who make reservations for vehicles until the aforementioned date (June 30) will continue to enjoy the sales tax exemption incentives after the registration period of the vehicles at the Road Transport Department (JPJ) that has now been extended until March 31, 2023.
In a statement on Monday, Tengku Zafrul explained that a total of 264,000 vehicles booked during the exemption period have not yet completed installation and cannot be supplied to the buyers in the wake of disruptions to the global supply chain.
According to Tengku Zafrul, in line with the opening of the economy, the automotive sector has returned to operations but at the same time, the whole world is also facing a shortage of semiconductor microchips which are widely used across several industries, including the automotive industry.
"The extension of the vehicle registration period is a midpoint solution to balance the interests of consumers and national tax revenue which needs to be re-enhanced post-pandemic to ensure the welfare of the people and the economic well-being of the country continue to be preserved," he said.
Tengku Zafrul added the government had introduced the full sales tax exemption on passenger vehicles including multi-purpose vehicles (MPVs) and sport utility vehicles (SUVs) which are locally assembled and a 50% sales tax exemption on imported passenger vehicles or completely built-up (CBU) from June 15, 2020, and will end on June 30, 2022.
This was to maintain and increase the momentum of demand and sales of passenger vehicles affected by the Covid-19 pandemic.
To date, a total of 868,422 vehicles have been sold and citizens have benefited from the sales tax exemption amounting to RM4.7 billion, said the finance minister.
Prior to the announcement, Tengku Zafrul said last Thursday that the government — which was studying whether there is a need to extend the exemption for the tax it granted for the purchase of new vehicles — has lost RM4.8 billion worth of tax collection to date from the waiver.
He said the tax loss was considered "big" and was money that the government could have used to help the rakyat in the current challenging economic situation.
The exemption, first granted for six months in June 2020 to mitigate the effects of the first movement control order, had been extended twice to June 30, 2021 and then Dec 31, 2021.
Automotive players previously appealed to the government to again extend the exemption.
Read also:
MoF says SST waiver for cars cost the govt RM4.8b tax loss as decision on extension looms
Carmakers seek further extension of SST exemption
Automotive players seek further extension of SST exemption to end-2022
Penjana economic package: No sales tax on locally-assembled cars purchased between June and end-December