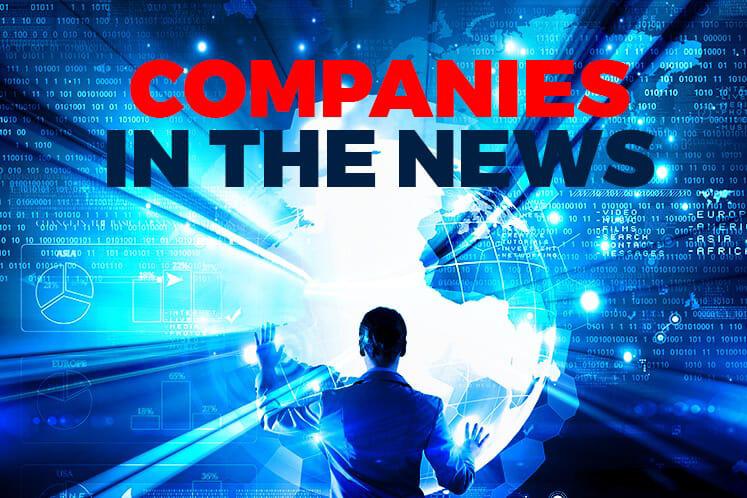 KUALA LUMPUR (Oct 11): Based on corporate announcements and news flow today, stocks in focus on Friday (Oct 12) may include Pasdec Holdings Bhd, Barakah Offshore Petroleum Bhd, Top Glove Corp Bhd, Revenue Group Bhd, Ta Win Holdings Bhd, Cuscapi Bhd, Supermax Corp Bhd, Orion IXL Bhd and Kerjaya Prospek Group Bhd.
Pasdec Holdings Bhd's unit has bagged a contract from Nissan South Africa (Pty) Ltd (Nissan SA) to manufacture and supply electrical wiring harness sets, which is expected to generate revenue of RM380 million.
In a filing with Bursa Malaysia today, Pasdec said its indirect 70%-owned subsidiary Pasdec Automotive Technologies (Botswana) (Pty) Ltd has been selected by Nissan SA to manufacture and supply electrical wiring harness set for its 3G-200 H60A vehicles for a period of seven years commencing from June 2019.
Barakah Offshore Petroleum Bhd has secured a five-year contract to provide maintenance, construction and modification work for structures and facilities in oil and gas fields offshore Peninsular Malaysia.
Barakah said its wholly-owned subsidiary PBJV Group Sdn Bhd was awarded the contract by Hess Exploration and Production Malaysia BV to provide such services until 2023.
The group said the total value of the contract is not fixed and will depend on the actual scope agreed in work orders, to be issued by the client from time to time throughout the duration of the contract.
Top Glove Corp Bhd's net profit grew 7.5% to RM101.59 million in the fourth quarter ended Aug 31, 2018 (4QFY18) from RM94.49 million a year ago, on higher sales volume.
This resulted in a higher earnings per share of 7.95 sen for 4QFY18 compared with 7.54 sen for 4QFY17.
Quarterly revenue hit a record RM1.22 billion, up 34.8% from RM902.42 million a year ago.
The group is proposing a final dividend of 10 sen per share for FY18, subject to shareholders' approval at the forthcoming annual general meeting. This would bring the total dividend payout for the year to 17 sen per share.
For the full year ended Aug 31, 2018 (FY18), Top Glove posted a record net profit of RM433.62 million, a 32% increase from RM328.57 million in the previous year, while revenue grew 23.6% to RM4.21 billion, also a record, in FY18 from RM3.41 billion in FY17.
Revenue Group Bhd proposed to undertake a bonus issue of 111.42 million five-year warrants on the basis of one warrant for every two existing shares to reward shareholders.
Revenue Group said its board of directors will determine the exercise price at a later date by taking into consideration the five-day volume weighted average price (5D-VWAP) of the group's shares.
The corporate exercise is expected to be completed by the first quarter of 2019.
Ta Win Holdings Bhd is partnering a Chinese copper manufacturer and a HongKong-based metal trading company to jointly operate a new copper rod manufacturing line in Malaysia.
Ta Win said the joint venture with China-based Full Dragon Electric (Guang Dong) Co Ltd and Hong Kong firm Wing Ying Non-Ferrous Trading Ltd is meant to expand into higher-margin business lines".
The business venture aims to expand in all three markets in Malaysia, mainland China and Hong Kong, and to "enhance fund-raising prospects from overseas capital markets" for future expansions.
Ta Win said recently-incorporated Ta Win Copper Sdn Bhd will act as the special purpose vehicle (SPV) for the joint venture.
Ta Win will own a 65% stake in the SPV whereas Full Dragon and Wing Ying will own 10% and 25% respectively.
The initial arrangement of capital contribution will see Ta Win contributing up to US$1.86 million via internal funds, followed by US$1 million each from Full Dragon and Wing Ying.
From the total US$3.86 million, some US$1.75 million will be capitalised as paid-up equity in the SPV, while the balance will be treated as long-term debt, said Ta Win.
Any additional funding will be arranged and injected by Ta Win in the form of debt at local market financing rate not exceeding 7%, or any other rate agreed by the joint venture partners.
Cuscapi Bhd, which is currently operating from leased premises, is acquiring a commercial space at Empire City in Damansara Perdana for RM20 million.
The group said it is buying the space, located within the podium level below MyEG Tower, from Cosmopolitan Avenue Sdn Bhd, a unit of Mammoth Empire Holdings Sdn Bhd.
Cuscapi said the 33,340 sq ft space will be ready for occupation in 18 months.
Cuscapi has entered into a put option agreement with Cosmopolitan to obtain an option at Cuscapi's sole discretion to sell the commercial space back to Cosmopolitan at a sum equal to 66.67% of the purchase consideration within six months from delivery of vacant possession.
Cuscapi said it intends to finance the acquisition through a mixture of internally-generated funds and bank borrowings.
Supermax Corp Bhd has appointed an Australian, Albert Saychuan Cheok, as its new independent and non-executive chairman effective Oct 19.
Cheok, 68, assumes the position after it was left vacant following the resignation of Tan Sri Rafidah Aziz six months ago.
Supermax said Cheok has extensive experience in the Australian government, having been the chief manager at the Reserve Bank of Australia from October 1988 to September 1989. He also served as chairman of Bangkok Bank Bhd in Malaysia from September 1995 to November 2005.
Orion IXL Bhd has inked a 15-year agreement to develop and operate an online end-to-end loan application system.
Orion's wholly-owned unit, Ganda Integrasi Sdn Bhd, signed the technical services agreement with the group's 10%-owned affiliate, Sukaniaga Sdn Bhd, for the job, the group said in a filing with Bursa Malaysia today.
This followed a service level agreement between Sukaniaga and MyAngkasa Holdings Sdn Bhd for the development of the fintech system, dubbed Angkasa Az-Zahara.
The move, said Orion, is an expansionary strategy to establish a new customer base as a tech company.
Kerjaya Prospek Group Bhd is buying a 90% stake in Yakin Land Sdn Bhd (YLSB), which has a 36-storey condominium project in Batu, Kuala Lumpur, for RM10.8 million.
Kerjaya Prospek's wholly-owned unit Bazarbayu Sdn Bhd acquired the 90% stake in YLSB for RM1.35 million, while also agreeing to pay RM9.45 million owed by YLSB to its previous shareholders.