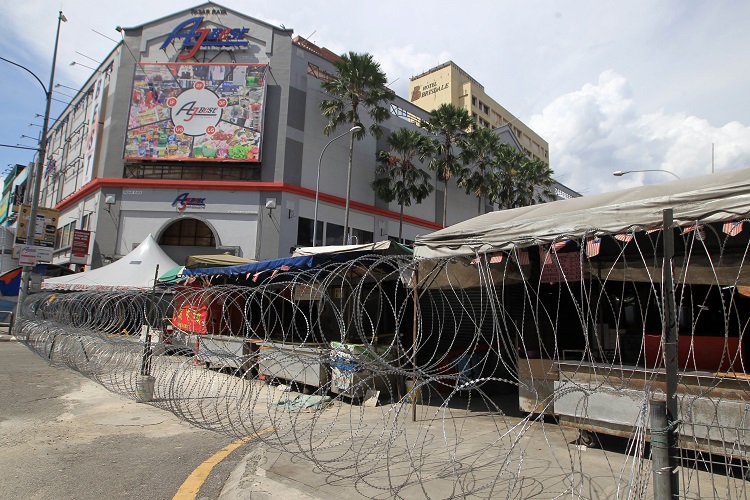 KUALA LUMPUR (May 6): The government has coined the term semi-enhanced movement control order (SEMCO) for areas where Covid-19 tests need to be stepped up and traffic within a given area limited while still allowing other activities to continue, according to reports.
In a Free Malaysia Today report, Deputy Federal Territories Minister Edmund Santhara said the SEMCO was imposed to enable testing of residents – comprising locals and foreign nationals – in the areas.
While the SEMCO shares the hallmarks of the stricter enhanced movement control order (EMCO) — barbed wire fencing, police, soldiers and checkpoints — residents are still allowed to leave the area with valid reasons and food will not be distributed as businesses, including grocery stores, will be allowed to open.
So far, the areas put under the SEMCO are Pasar Raja Bot in Chow Kit in downtown Kuala Lumpur, and Taman Wilayah and Taman Desa Bakti in Selayang.
Pasar Raja Bot was closed last week for disinfection and sanitisation by Dewan Bandaraya Kuala Lumpur.
Meanwhile, the Ministry of Health has already begun testing traders, workers and residents around the market area for the disease.
The areas in Selayang, namely Taman Wilayah and Taman Desa Bakti, also closed up earlier today, are close to Covid-19 hotspots currently under the EMCO — namely parts of Pusat Bandar Utara and Selayang Baru.
Below are photos of Pasar Raja Bot, Taman Wilayah and Taman Desa Bakti taken by Shahrin Yahya and Sam Fong.