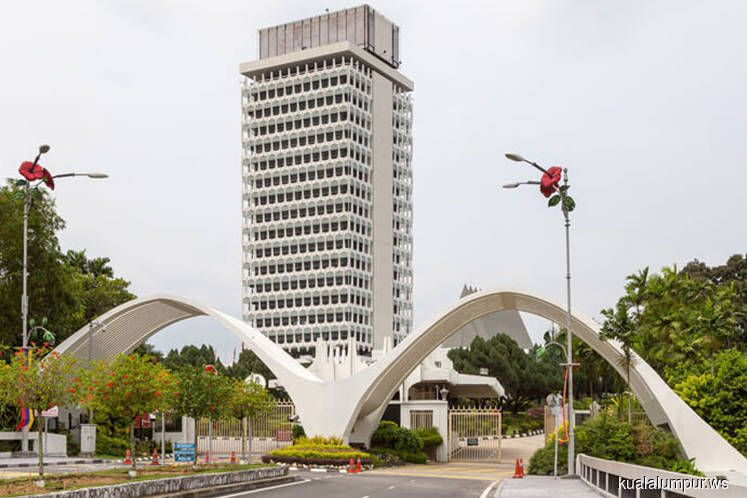 KUALA LUMPUR (March 12): PAS members of Parliament staged a commotion in Dewan Rakyat today when Akmal Nasrullah Mohd Nasir (PH-Johor Bahru) brought up a news report about leaders from the Islamic political party allegedly receiving RM90 million from Umno.
In his speech as part of his motion to support the King's Royal Address, Akmal Nasrullah challenged leaders from PAS and Umno to declare their assets openly to debunk news articles regarding investigations into the wealth they own.
"I have some concerns that fund misappropriation may not only occur among leaders from Umno, as I read a news report stating that there were PAS leaders whose bank accounts were frozen because of receiving funds amounted to RM1 million. Not only that, there were luxury vehicles like Porsche and Range Rover, with a collective value of RM2.3 million, being confiscated.
"Therefore, I urge the minister in charge to verify whether there are leaders from PAS being investigated under Anti-Money Laundering, Anti-Terrorism Financing and Proceeds of Unlawful Activities Act 2001. I want to challenge Umno and PAS leaders to declare their assets openly," he said.
This was met with shouts from PAS leaders in the Dewan Rakyat, who demanded that Akmal Nasrullah withdraw his statement.
Ahmad Amzad Mohamed @ Hashim (PAS-Kuala Terengganu) stood up and slammed Akmal Nasrullah for bringing up the news reports, saying it was inappropriate as they were unproven.
"Name the leaders! This news has circulated for so long, but none of the leaders have been named for owning luxury cars, whose accounts have been frozen. Show us the evidence," Ahmad challenged.
Che Alias Hamid (PAS-Kemaman), Datuk Che Abdullah Mat Nawi (PAS-Tumpat), and Ahmad Fadhli Shaari (PAS-Pasir Mas) followed suit and stood up without permission to protest, leading Speaker Datuk Mohamad Ariff Md Yusof to instruct all PAS leaders to stop their commotion.
Che Abdullah, who subsequently got Akmal Nasrullah's permission to speak, said the latter had made accusations against PAS leaders with his statement.
"Johor Bahru should be mindful that he is now part of the government, [so] he is not supposed to make up stories by just citing news article. If he senses anything wrong with PAS, he should let the government take action," he said.
Akmal Nasrullah, however, said his statement contained no accusations. Instead, he said he was merely challenging Umno and PAS leaders to declare their assets to the public.
But this was met with further shouted demands from PAS leaders to withdraw his statement.
To control the situation, Mohamad Ariff muted all the microphones. "I can sit here for hours and wait for everyone to calm down," he said.
In response, Ahmad Marzuk Shaary (PAS-Pengkalan Chepa) said he could also stand for hours unless Akmal Nasrullah withdraws his earlier statement.
As the commotion ensued, Mohamad Ariff gave in and instructed Akmal Nasrullah to withdraw his statement and conclude his motion, which the latter eventually did.
"Datuk Speaker, I hereby withdraw my statement, but I reiterate my stance that I challenge all Umno and Pas leaders to declare their assets openly," he said.
PAS leaders were quick to praise Akmal Nasrullah's withdrawal, but none indicated any intention to declare their assets openly.
Last month, local media wrote that a report had been filed with the Malaysian Anti-Corruption Commission (MACC) over allegations that PAS leaders had received RM90 million from Umno, and that the fund was allegedly used for "a list of expensive cars", properties, high-powered motorcycles and "the purchase of number plates at exorbitant prices".