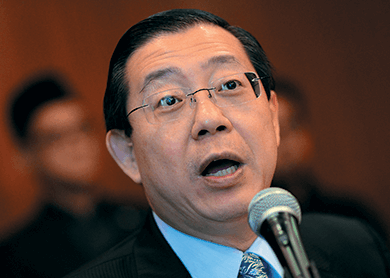 GEORGE TOWN: Following conflicting remarks by the new PAS leadership about severing ties with DAP, Lim Guan Eng said the ball is now in PAS' court to explain what is actually going on.
The DAP secretary-general said his party is now taking things a step at a time when dealing with the Pakatan Rakyat crisis, as PAS said the motion adopted at its recent annual general assembly to cut ties with DAP is still to be finalised by its Shura Council and central committee.
"We are taking this step by step, but I am not the one who should answer. The response must come from the new PAS leadership," he said.
Guan Eng said things are in limbo now because the PAS leadership, which last week accepted a motion to sever ties with DAP without debate, now says the decision is not final.
"The term used was 'usul diterima tanpa bahas' (motion accepted without debate), but now they say 'dirujuk tanpa bahas' (referred to without debate). You cannot do a U-turn now and say [the motion] can [be] discussed.
"You also cannot say you are breaking off with DAP, but still work with the Penang chief minister, who is the DAP secretary-general. It does not make sense at all," he told reporters yesterday.
Guan Eng, who heads the Penang state government, said even PKR de facto leader Datuk Seri Anwar Ibrahim, former PAS deputy president Mohamad Sabu and former PAS central committee member Datuk Dr Mujahid Yusof Rawa had all understood that the motion was passed to simply mean that PAS had cut ties with DAP.
Penang PAS commissioner Mohamad, better known as Mat Sabu, and his deputy Mujahid, lost their party positions at the muktamar (general assembly) to the ulama faction, and have since resigned from all their politically-appointed posts in state-linked agencies and organisations, following the PAS leadership's decision to accept the motion without debate last weekend. — The Malaysian Insider
This article first appeared in The Edge Financial Daily, on June 10, 2015.