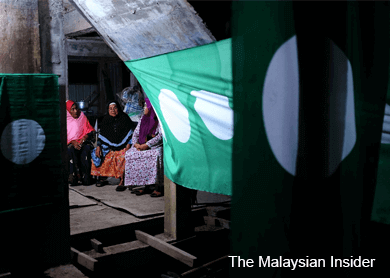 KUALA LUMPUR: Ahmad Hairy, now in his 60s, has been an active PAS member for close to three decades and he was never happier than in 2008, when the Islamist party formed an alliance called Pakatan Rakyat with PKR and DAP.
But as PAS begins the annual general meetings of its wings today, and holds elections for office-bearers on June 4, Ahmad and his fellow PAS activists in Shah Alam are steeling themselves for utter dejection.
This is since the elections will determine whether the Islamist party will stay with a national coalition that has a chance of grabbing federal power or receding to its rural stronghold of Kelantan.
"We've come very far in the past few years. It's been proven that when we ally ourselves with others, we reap a lot of benefits," said Ahmad, who requested a pseudonym as he did not want to slight party seniors.
"When we go it alone, we lose. We really like being with Pakatan."
Labelling and name-calling have tarred the two factions competing for control of the party in the run up to the elections and show how high the stakes are and their possible consequences.
The labels centre on dividing camps in the party into either "pro-Pakatan"or "suspicious of Pakatan", said another active member, Abdul Rahman Othman of Subang Jaya.
The campaigning this time has been especially vicious, said PAS central committee member Dr Dzulkefly Ahmad, who was assaulted in an incident believed to be related to the factional feud.
Leaders like him in the central committee have been accused by their rivals of being more loyal to Pakatan than to the party, the president and to the Shura Council, a body of elder scholars known as ulama or clerics, who guide the party's direction.
For a party like PAS, the only member of the opposition pact to have religion as its party ideology, these are heretical charges.
Members are frequently reminded that unlike conventional political parties, PAS is first and foremost a movement that uses electoral politics to promote and implement its Islamist agenda.
But this cohesiveness began to fall apart last year, over the choice of candidate for the Selangor menteri besar's post, with the Shura Council and PAS president Datuk Seri Abdul Hadi Awang both against the choice of PKR president Datuk Seri Dr Wan Azizah Wan Ismail who had the support of PKR, DAP and PAS' own central committee members.
That imbroglio brought out into the open the differences between Hadi and other conservative ulama leaders on the one hand, and on the other, those in the party who felt that PAS, as a member of a coalition, should honour agreements made collectively.
Similarly, the controversy over Kelantan's hudud bill in March this year, heightened infighting within Pakatan, especially between PAS and DAP, and has seen some PAS leaders accused of ignoring the party's stance in order to please PKR and DAP.
"The campaign is not against certain individuals any more but against all like-minded people," said Dzulkefly, who heads the PAS research department.
The counter sentiment to PAS staying on as part of Pakatan is that the Islamist party can survive on its own.
For his part, Hadi has said the party would stay with Pakatan, for now. The conservative leader is defending his presidency against Perak Pas commissioner Ahmad Awang, a party veteran and more crucially, the architect of the Perak Pakatan government in 2008 and a staunch supporter of PAS remaining with the opposition alliance.
If the faction that is less keen on continued collaboration with Pakatan gains control of the party, there will likely be three more years of strained ties in the opposition pact, which would affect its performance in the 14th general election (GE14), due by early 2018.
It could also see PAS leave Pakatan, with severe ramifications for the opposition.
Even PAS activists like Ahmad Hairi predict that his party would lose all the territories it gained in the west coast, such as in Perak, Selangor and Johor. Merdeka Center executive director Ibrahim Suffian said all these seats were won when PAS discarded its messages against moral policing, to subscribe to a more pluralist platform that was similar to the other Pakatan parties.
"So PAS has to decide whether it wants to be a national political party or a missionary movement, which are two different things," said Ibrahim.
But equally important is the possibility that if it leaves Pakatan, PAS would face its former partners in GE14, which has historically been disastrous for Pakatan.
This was seen in three-cornered fights among PAS, PKR and Barisan Nasional in two seats — in Kota Damansara, Selangor and Sungai Aceh, Penang, in GE13 in 2013.
In those contests, the total vote share of the PAS and PKR candidates was more than that of BN.
Such contests would also be catastrophic for PAS as its incumbent legislators would have to face off against challengers from PKR and BN. This shows how valuable the coalition is to each of its three partners, said analyst Wan Saiful Wan Jan.
"Every party benefits equally from the cooperation, just as every party will suffer equally if the coalition breaks up," said Wan Saiful of the Institute of Democracy and Economic Affairs.
The PAS elections on Thursday will be held during the party's 61st muktamar or annual general assembly, Pakataneceded by the meetings of its Ulama wing, and Youth and Women's wings which begin today. —  The Malaysian Insider
This article first appeared in The Edge Financial Daily, on June 2, 2015.