This article first appeared in The Edge Financial Daily, on June 28, 2018.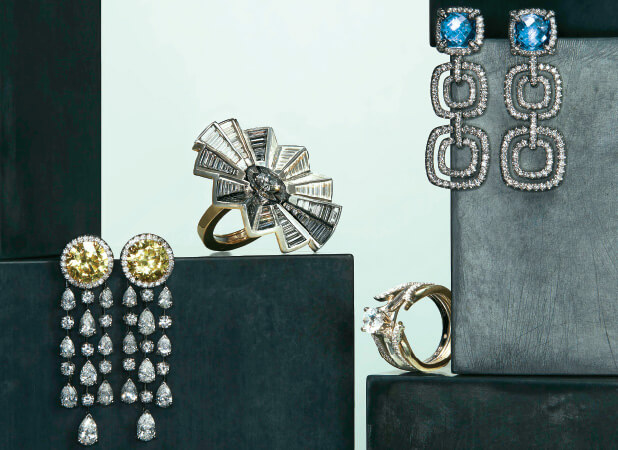 (From left) Asprey's brilliant-cut yellow diamond earrings with detachable white diamond drops, US$915,000 (RM3.69 billion), asprey.com; McCormack's diamond-fan party jacket, US$133,643, jessicamccormack.com; Gabriel's round enhancer diamond anniversary band, US$1,580, gabrielny.com; and David Yurman's Châtelaine pavé bezel triple-drop earrings with tanzanite and diamonds, US$20,000, davidyurman.com . Photo by Bloomberg
For London-based jeweller Jessica McCormack, the inspiration to make elaborate, attachable shells for solitaire rings came from her own jewellery box.
"It all started with the ring from my husband's great-grandmother," she said. McCormack set to work on making what she now calls a "party jacket" for the formal diamond solitaire ring so it could be worn in a wider variety of situations. The piece was important to her family, but it did not see a lot of use. "I also had many clients who had old diamond rings sitting unworn, but not unloved, in their safe," she said.
"Women love the idea of dressing up their rings, and it's amazing just how many have a solitaire in their jewellery box that they do not wear or would love to enhance a little — or a lot," McCormack said. "The idea was to breathe new life into these pieces by creating a new ring to surround the existing one, altering the look but preserving the essence of the original piece. My diamond party jacket is about having fun, being creative and playful with forgotten jewels."
McCormack will take an existing ring and create an outer shell that snaps easily over it, with additional stones, intricate metalwork, or even moving pieces to catch the light. Bigger brands, such as Jared the Galleria of Jewelry or Kay Jewelers, sell rings that combine two pieces in one — a solitaire for everyday wear and a matching shell for when the wearer wants to spice things up. The same trend exists in earrings: A pair of studs can be augmented with tassels, bangles or even a frame of smaller stones.
The concept of double-duty jewellery is not new. "During the Edwardian and art deco periods, precious jewellery was often convertible," said Marion Fasel, editorial director of the fine jewellery website, the Adventurine. "It's great how modern jewellers are once again creating pieces that can be worn more than one way." Add-ons for a diamond solitaire ring or stud earring add tremendous value to a piece, she said, giving women permission to spend money on themselves. "They want a dash of practicality with their glamour."
The creations from Gabriel, Kay, Jared, and other brands range from classic styles to edgier settings with a variety of precious metals. "We are seeing a significant uptick in sales of ring jackets," said Dominick Gabriel, co-owner and chief design officer of Gabriel & Co. "If you can't bear to part with your original ring, ring jackets are the perfect solution."
Party jackets or insert rings "add a personal sense to classic designs," said Greg Kwiat, chief executive officer (CEO) of Kwiat Enterprises LLC. Most of that brand's insert rings are made to order to align with a customer's taste. "Women who have inherited solitaire rings like the sentimentality of the existing ring and then enhance the look of it to fit their unique style," he said. "Rings and earrings lend themselves best for add-ons, because they sit still on the body."
Double-duty earrings are a mainstay in the collection of London jeweller Kiki McDonough. The designer was inspired by situations that kept coming up in her own life. "I was at my son's soccer game and had to very quickly change into evening wear," she said. "I wanted earrings I could wear with my jeans and dress them up to go out to dinner." McDonough, whose family has been in the jewellery business for four generations and whose creations are favourites of the Duchess of Cambridge, makes more than 35 drops that can be attached to three styles of hoop earrings. "You can literally carry the drops in your bag and then pop them on when you are leaving the office," she said.
Asprey's take on the earring jacket includes yellow diamond studs with an attachable "waterfall" of white diamonds. "These earrings represent a clear departure from jackets of past decades, which tended to be shaped like a wreath," said Robert O'Connell, CEO of Asprey USA. "They're whimsical and add a touch of movement for [the] evening."
Diamond purveyor Forevermark is getting in on the trend, too. It has collaborated with jewellry designer Jade Trau to create its Alchemy collection of detachable drops for both round- and emerald-cut diamond studs.
Kwiat advises women to take time to consider an add-on jewellery purchase. "Make sure you are able to wear it and enjoy it — and it fits your lifestyle," he said. And then once you have added it to your collection, above all, "wear it regularly and enjoy it often." — Bloomberg