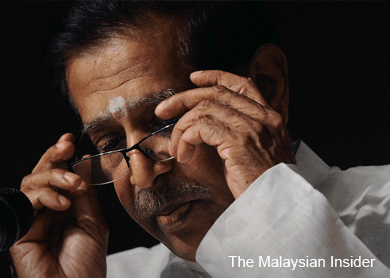 KUALA LUMPUR: MIC president Datuk Seri G Palanivel (pic) has suspended 14 party members, including his deputy Datuk Seri Dr S Subramaniam, for trying to proceed with a central working committee (CWC) meeting yesterday.
Palanivel said the meeting scheduled at 12.30pm yesterday was illegal as the notice for the meeting was not issued by the party's secretary-general.
Other top leaders suspended were vice-president Datuk M Saravanan, Perak Speaker Datuk Seri S K Devamany and MIC Wanita chief Mohana Muniandy.
The MIC has been in a leadership tussle, following the Registrar of Societies' (RoS) order for it to hold fresh elections. On Monday, the High Court dismissed two applications by Palanivel for judicial review of the RoS order to hold fresh elections.
In a statement yesterday, Palanivel said he was using his powers as president to enforce the 12-month suspension. He said he had instructed all CWC members and other leaders to cancel yesterday's meeting, but they failed to do so, and he called their action "detrimental" to MIC's interests.
The elections held in November 2013 during the party's annual general assembly are being disputed, and Palanivel had been seeking a declaration from the court that the election results were valid and enforceable.
He said the notice for yesterday's meeting was issued by the CWC members of the 2009 to 2013 term.
Others suspended with immediate effect are N Rawisandran, Datuk R Ganesan, Datuk M Davendran, Datuk KRA Naidu, Datuk VM Panjamothy, P Manivasagam, S Ananthan, M Mathuraiveran, Datuk M Asojan and P Shanmugan. — The Malaysian Insider
This article first appeared in The Edge Financial Daily, on June 17, 2015.