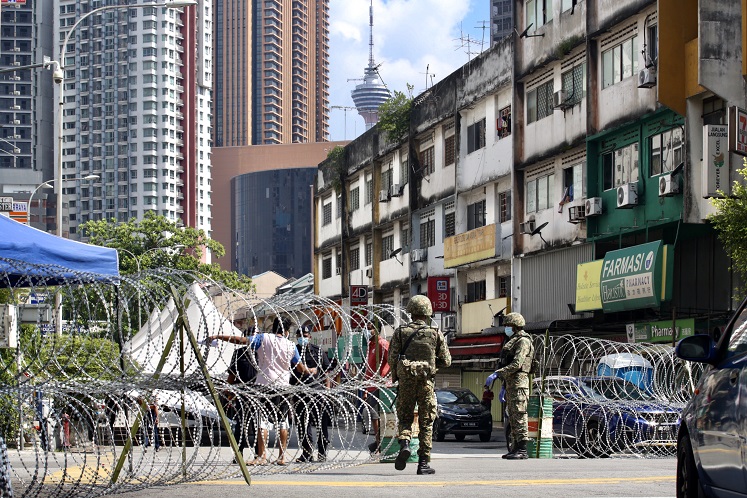 KUALA LUMPUR (May 15): Parts of Pudu were put under the semi-enhanced movement control order (SEMCO) at midnight yesterday to enable the authorities to step up screening and treatment of its residents after 18 new Covid-19 cases were detected there, bringing total active cases to 30.
According to reports, trucks carrying soldiers and rolls of barbed wire began to appear at around 11pm to cordon off the area, leading concerned residents to believe that they were being placed under the enhanced movement control order (EMCO) — during which businesses would be closed and residents would be confined to their homes to enable door-to-door testing.
However, Federal Territories Minister Tan Sri Annuar Musa later clarified that these areas were in fact put under SEMCO — where businesses would still be allowed to open and residents allowed to enter and leave the area, albeit through limited and tightly-controlled checkpoints, and with valid reasons.
It is unclear how long the authorities plan to impose the order here, but it comes as 18 new cases of Covid-19 were detected among those living near and frequenting the Pudu market.
So far, around 500 traders and workers at the market have been screened for Covid-19, and 30 positive cases have emerged from what is now known as the Pudu cluster, and all are receiving treatment.
The government has said it would impose SEMCO and EMCO on areas that are at risk of a Covid-19 outbreak, or have seen a spike in new cases.
These photos of the areas under SEMCO were taken by Sam Fong, Shahrin Yahya and Suhaimi Mohd Yusuf.