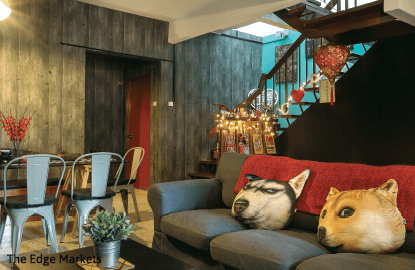 This article first appeared in haven, The Edge Malaysia, on Issue #78 April + May 2016.
A young couple paint their Subang Jaya home with abundant personality
There is nothing more horrific than a room with plain white walls, says graphic designers Victor Chia and Lim Fern Fern. "They're too blank — you would literally be looking at a blank wall," says Chia. "It would be like sitting in an accountant's office," quips his wife.
So, the interior of their cosy terraced house has dark hues and features wood panelling wallpaper. "We wanted to do everything our parents wouldn't allow us to do when we lived with them," smiles Lim mischievously. "Dark walls, things on the floor … everything."
The aesthetic they are describing might resemble that of an angsty teenager but the overall effect is intimate, rustic and relaxed. 
Facing a turn off from a main road, the double-storey house had stood empty for years before the couple moved in. "Our neighbours said the location was unlucky according to feng shui principles — money would flow out," explains Chia. "We don't especially subscribe to feng shui, so we don't mind. Fern grew up in this neighbourhood and apparently, once you live in Subang, you rarely leave."
The laidback and creative couple moved in a year ago as newlyweds following a Pokemon-meets-Gundam themed wedding. Their interest in anime and fantasy are evident throughout the house, in the form of cut-outs and gundam or mobile anime figurines. While the areas are rather constrained, clever delineation creates clear and comfortable spaces. For instance, the open layout on the ground floor, which typically hosts just a living room and a dining area in most houses, also incorporates a lepak zone by the stairs. 
At a corner of the living area, highlighted by a green shag rug, is an eclectic collection of keepsakes, including Lim's skateboard and Chia's old Mac computer. A dog figurine stands guard amid the relics. "We had our old dog stuffed," Chia teases with a straight face before revealing that it was a papier-mâché project they had done together for the Society for the Prevention of Cruelty to Animals. 
In contrast, the dining area is distinctly minimalist. A glass table top rests on easel stands, surrounded by chairs and cushioned benches. On the wall, an assembled deer head from Typo watches their goings-on.   
Between the living room sofa and the stairs, the lepak corner is an exercise in DIY projects and charmingly reflects the couple's personalities. The low-slung coffee table was built from crates, so there is plenty of storage space. A display rack boasting metal plates picked up in Thailand "was a coffee table that never happened", explains Lim. "Victor got lazy halfway, so he stuck castor wheels on it and turned it into a rack." She adds that she had insisted that Chia's old rattan chairs, arranged in this cosy area, had to be painted a nice shade of red before they were allowed into the house. 
"I like to assemble things and Fern likes to paint," says Chia. "I assemble something, tell her I'm done and she says, 'Just like that ah'. Then, she goes to work on it with her paints."
The kitchen is tiny but homely. "He wanted it to be comfortable so I would be inspired to cook. It works, I bake him cookies every week," says Lim. The expansive cemented backyard is home to their three spirited dogs, Vanilla, Coca and Cola. 
At the back of the house is the study where two computers sit side by side, suggesting many a happy hour spent working and playing video games together. Pokemon cut-outs, framed vinyl records and a map of the fantasy world of Game of Thrones further affirm their varied interests. 
Even the staircase landings are interesting, where natural wood stumps and logs are used to prop up photo frames and Coca-Cola prints hang on the wall. "I like Coca-Cola's vintage aesthetic in their older publicity materials and advertisements," says Chia, who has a collection of the brand's paraphernalia. 
Upstairs in the master bedroom, the dark wallpaper is repeated but its masculinity is relieved by a soft bedspread, coloured bedside lamps and beautiful framed wedding photographs on the wall. Propped on the headboard is a wooden signboard proclaiming, "Always kiss me goodnight." 
Though the house is small, Chia and Lim have done a wonderful job of infusing it with character and a sense of cosy spaciousness. "My dad says the key to a nice house is ample storage space," says Lim as she reveals the compartments beneath the benches at the dining table and a concealed closet under the stairs. "Designing the interior was quite a spontaneous process and we are lucky that we share the same tastes in a lot of things," she adds. 
Photo-sharing website Pinterest proved to be a great source of ideas but their home is ultimately shaped by two key elements — a willingness to experiment and a keen sense of humour.