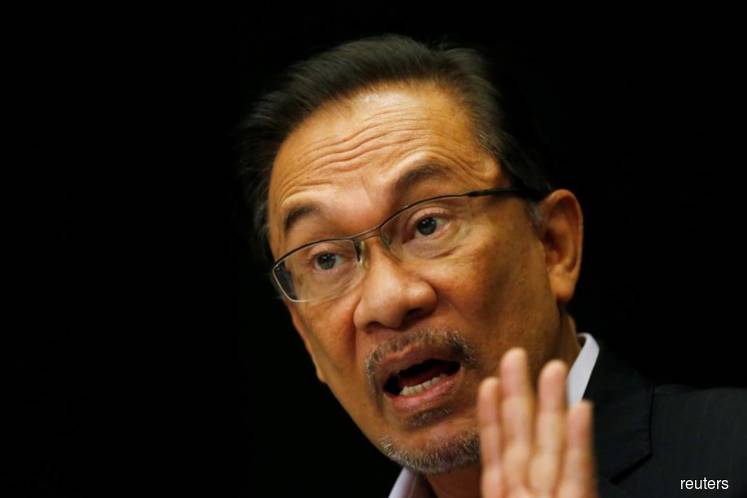 KUALA LUMPUR (March 27): The parliamentary caucus on reform and governance, headed by PKR president Datuk Seri Anwar Ibrahim, is planning to table a motion to introduce the position of a parliamentary draftsman in the next Parliament session in July.
"We want to raise the issue in Parliament as soon as possible. We have to deal with the Cabinet and the Parliament, before getting the draftsman. (So) we are looking at the next parliamentary sitting," Anwar told reporters after chairing the caucus' meeting today. 
He highlighted that the position of a draftsman is crucial in order to facilitate a direct communication between the MPs and the parliamentary select committees. 
Anwar (PH-Port Dickson) added that recruiting the draftsman would be part of the reformed Dewan Rakyat format.
"This is to ensure that the draftsman can coordinate with the speaker and the MPs about his role," he said.
Together with the introduction of the draftsman, the caucus had also decided to revive the Parliamentary Services Act 1963, which was repealed in 1992. This, Anwar said, will restore the integrity of the Parliament as an independent body.
He said the caucus will meet the speaker of the Dewan Rakyat tomorrow to address the proposal.
Once the act is enforced, it is expected to restore the autonomy of the legislative, in line with Pakatan Harapan's manifesto to uphold the principle of separation of powers. 
There will also no longer be a minister in charge of parliamentary affairs, as the speaker will be head of the house. 
Formed in December last year, the caucus consists of 12 parliamentarians from both sides of the political divide, with Lim Kit Siang (PH-Iskandar Puteri) as its deputy chairman. 
The caucus was mandated to look into empowering Parliament as a branch of government responsible for instituting reforms in all aspects of the administration.