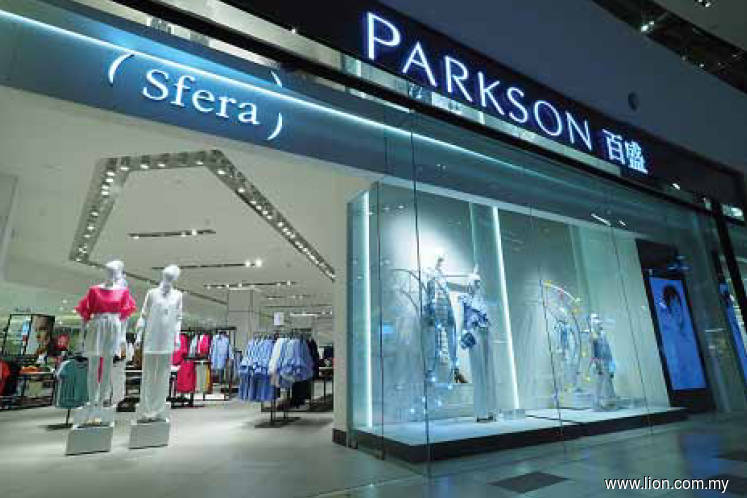 KUALA LUMPUR (May 29): Parkson Holdings Bhd dipped into losses for the third financial quarter ended March 31, 2019 (3QFY19). The retailer posted net loss of RM6.48 million, a contrast to net profit of RM25.3 million in the previous corresponding quarter, due to poorer performance from its Indonesia, and Vietnam and Myanmar operations.
In a bourse filing, the retail group said quarterly revenue rose 3.68% to RM1.1 billion, from RM1.06 billion registered in the previous year. Loss per share (LPS) was at 0.61 sen compared with earnings per share of 2.37 sen in 3QFY18.
The group attributed the higher revenue to stronger customer spending in its stores during the Chinese New Year festive period.
For the nine months ended March 31 (9MFY19), the group's net loss widened to RM87.06 million from RM32.1 million a year ago.
Revenue for the period increased 1.18% to RM3.08 billion from RM3.04 billion in 9MFY18.
LPS for the period widened to 8.16 sen from 3.01 sen in the corresponding period last year.
On its Malaysian operations, the group saw a 5% growth in same store sales (SSS) for 9MFY19. However, there was a 2% decline in the group's 9MFY19 revenue to RM788 million due to the closure of underperforming stores. The Malaysian operations achieved RM1 million profit as a result of cost savings from the rationalisation and improved operations. Parkson Holdings has 44 stores in Malaysia.
Its operation in China generated RM2.1 billion revenue in 9MFY19 due to the contribution of beauty speciality stores launched last year, with operating profit standing at RM93 million. As of 9MFY19, the retail group has 44 stores in 30 Chinese cities, following the closure of three underperforming stores.
For its Vietnam and Myanmar operations, the group said SSS growth declined 19% in 9MFY19 due to a competitive retail scene — with the group's sole Myanmar store closing down in December 2018, leading to revenue falling to RM51 million and an operating loss of RM15 million. Following the closure of one store in Vietnam and Myanmar respectively, the group has five stores in Vietnam as of 9MFY19.
Meanwhile, its Indonesian segment did not do well following soft consumer sentiment and competition, with the segment's downsizing efforts and lower tourist arrivals contributing to a lower revenue of RM100 million. Despite the decrease in 9MFY19 revenue, losses narrowed to RM14 million from RM20 million previously due to greater operational efficiency. The group owns 15 stores in Indonesia.
The group said its Parkson credit operations posted considerable progress in increasing revenue and profitability, while its Hogan Bakery operations saw revenue growth following improving operating efficiencies.
On its prospects, the group said its Malaysia and Indonesia operations are expected to benefit from the end of Ramadan and ensuing festive period.
"For the final quarter of the financial year, the group's retailing operations in Malaysia and Indonesia are expected to benefit from the Muslims' festive buying, while other regions will experience seasonal lower performance in the absence of major festivities," said the group.
The counter closed 2.08% or 0.5 sen higher at 24.5 sen, with 588,700 shares traded. Its market capitalisation stood at RM268.01 million.