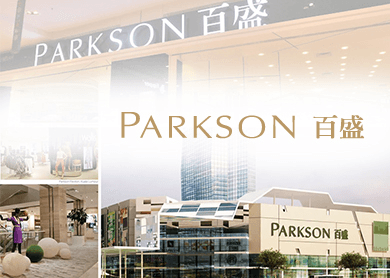 KUALA LUMPUR: Parkson Holdings Bhd's net profi t slumped to RM2.96 million for the third quarter ended March 31, 2015 (3QFY15), from RM55.06 million a year ago, after making an RM82.39 million provision for an arbitral award.
Parkson's subsidiary Parkson Retail Group Ltd (PRGL) was found to have occupied premises after the termination of the latter's tenancy agreement. PRGL was required to pay 140 million yuan (RM82.3 million) to Metro City Shopping Plaza in Beijing, after losing a property dispute with the latter.
Besides the provision for the award, Parkson's (fundamental: 1.8; valuation: 1.7) 3QFY15 results were not painting a rosy picture.
The lower net profit came on the back of a 9.4% increase in revenue to RM1.05 billion from RM957.95 million.
However, its operating profi t was noticeably lower at RM93.93 million, down 28.6% from RM131.53 million a year ago. Meanwhile, operating expenses soared to RM1.06 billion for 3QFY15, a 17.8% increase from
RM899.97 million a year ago.
Furthermore, Parkson saw its income tax expense fall by almost two-thirds from RM45.7 million to RM15.45 million. Th is helped to keep Parkson in the black despite the hefty provision.
Basic earnings per share (EPS) for 3QFY15 shrank to 0.29 sen from 5.25 sen a year ago. Th is brings EPS for the nine-month period to 12.63 sen, an increase from 10.43 sen a year ago.
For the nine-month cumulative period, Parkson's net profit was up 20% from RM111.39 million to RM133.76 million, while revenue was higher by 5.1% from RM2.74 billion to RM2.88 billion.
However,operating profit for the first nine months was 26.6% lower year-on-year (y-o-y), falling from RM274.8 million to RM201.75 million. It also saw its income tax more than halved this year, at RM66.71 million versus RM129.23 million last year.
Parkson said that for the ninemonth period, Malaysia saw a 8% growth in same-store sales (SSS) for 3QFY15, but was still weighed down by weak consumer sentiment.
However, contraction of SSS was registered in China and Vietnam. Th e Chinese market registered a 33% decline y-o-y in operating profi t, while Vietnam's operating loss grew. In Myanmar, Parkson only managed break-even sales, and losses were posted in Indonesia.
Th e retailer's share price  tumbled to a nine-year low of RM1.99 in March. It closed at RM2.02 yesterday.
Moving forward, Parkson warns of lower performance for 4QFY15, as the retail operations in China and Asean are anticipated to remain challenging for the near future, coupled with the absence of major festivities.
This article first appeared in The Edge Financial Daily, on May 28, 2015.