This article first appeared in City & Country, The Edge Malaysia Weekly, on October 3, 2022 - October 09, 2022.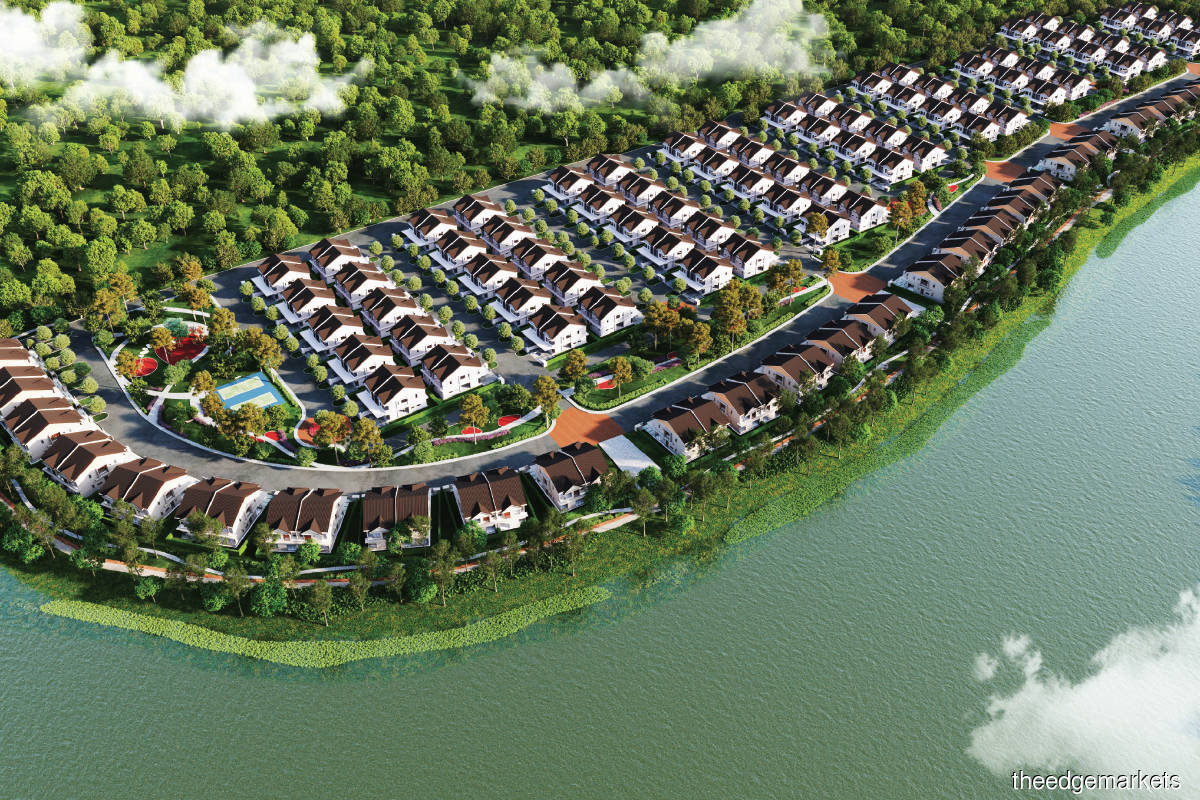 Paramount Property Development Sdn Bhd will launch Phase 1 of Sejati Lakeside 2 in Cyberjaya this month. The 32.74-acre 
lakeside residential enclave will be developed in two phases.
Phase 1, which will sit on a 17.07-acre freehold parcel and have a gross development value (GDV) of RM191.39 million, will comprise 122 two-storey semi-detached houses measuring 36ft by 75ft and with a built-up of 2,407 sq ft. Known as park homes, these units have land sizes of 2,702 to 5,823 sq ft and selling prices from RM1.48 million to RM2.34 million.
The 15.67-acre Phase 2, which will be launched much later, will have a GDV of RM191.57 million. This phase will feature 30 park homes and 82 two-storey semi-detached lake homes (because they front a lake) that measure 36ft by 80ft and have a built-up of 3,025 sq ft. The selling price has not been finalised yet.
In an exclusive interview with City & Country, Paramount Property's CEO of property division Chee Siew Pin says the larger layout of the homes is to cater for multigenerational families. "Based on the feedback we have received over the years, especially after the pandemic, we discovered that buyers want more space and perhaps even a small garden area," he adds.
"[We] learnt from and observed the trends of our previous [residential] developments and found that the corner and end units were the most sought after. Hence, we decided [to go with] 
2-storey semi-detached homes where buyers would be able to get what they want — larger sizes with sufficient outdoor space."
According to Chee, the semi-detached homes in the surrounding developments in Cyberjaya were priced at RM1.76 million to RM2.17 million between 2018 and 2022. "Based on data from other semi-detached units in Cyberjaya, it is safe to say that Sejati Lakeside 2 is competitively priced. We are not way above the maximum range because we did our research to see what the market was offering, and people generally prefer to buy primary launches as they don't have to renovate and pay additional legal fees."
Wellness-inspired lakeside living
Sejati Lakeside 2 is adjacent to Paramount Property's first lakeside residential development in Cyberjaya, called Sejati Lakeside, which was successfully launched over three phases from 2019 to 2021. As a result of the good take-up, the developer decided to push forward with its plans for Sejati Lakeside 2 to take advantage of the demand.
Chee says plans were already in place for a lakeside living concept. "We made sure the design and layouts of the units are practical. The buyers wanted very practical designs, with not too many corners and dead space, which we avoided during the planning stages. We provided a very squarish shape to make the open plan layouts larger, usable and functional, which will be very easy to maintain."
He highlights that all of Paramount Property's projects feature designs that are more or less the same, with added emphasis on functionality and sustainability. Similarly, the homes in Phase 1 of Sejati Lakeside 2 will have "the perfect balance of practical versatility and stylish sophistication".
The units in Phase 1 will have a north-south orientation to provide better ventilation and minimise heat from direct sunlight, he adds. Each unit will come with at least 14ft of land for an outdoor garden. Meanwhile, the bedroom on the ground floor can be used as a suite for senior citizens because it has a wide wheelchair-friendly walkway, a bathroom ramp and a seated shower area. 
To incorporate environmental, social and governance (ESG) principles in the development, the Phase 1 homes will be equipped with rainwater harvesting tanks and water-efficient fittings, says Chee. The developer will also plant more than 500 trees, featuring 10 species, to create green spaces and attract birds and butterflies to the vicinity.
For a safer neighbourhood, Paramount Property will introduce Crime Prevention Through Environmental Design (CPTED), which includes plants along walkways as a buffer between pedestrians and vehicles, a cul-de-sac design to reduce road traffic, street lights along pedestrian walkways and a single entry and exit point, with a designated guard house.
Facilities in the development will include a lakeside promenade, breezy lounge, hill and dale, panorama pavilion, cycling trail, jogging track, badminton court, hammock garden, children's playground, walkways, scented paths and parcourses. There will be three parks — the Community Park, Wellness Park and Active Park. 
The monthly maintenance fee is estimated at RM180. Chee says the monthly charges will be used for security services and maintenance of the facilities and landscaping. 
"After speaking to our previous purchasers, we became aware of the fact that they wanted more reasonable maintenance charges, which we took into consideration during the planning stage of Sejati Lakeside 2. We don't have a clubhouse because it will cost a lot of money just to maintain it. Furthermore, we only have 234 units [in total from two phases] and if we build too many facilities, the monthly maintenance fee will be very expensive," he adds.
"Although Sejati Lakeside 2 is an individual-titled development, residents will get to enjoy the landscape and plenty of facilities in the neighbourhood itself. Even when we [selected the] plants for the landscaping, we chose species that would need minimal maintenance. The maintenance fee is cheaper than strata-titled developments."
Chee says the residents will be informed about the maintenance fee and there will not be any hidden charges. With regard to the maintenance work, he says that once the development is completed, Majlis Perbandaran Sepang will be in charge of maintaining the roads, facilities and landscaping. 
Before a residents' association (RA) is formed, the developer will help to collect the maintenance fee. It will also assist the residents in forming an RA after the keys are handed over.
"Some investors may think landed strata [developments] will be maintained better. But I think it would ultimately depend on the location and what the people want. This is aligned with our philosophy and tagline that we are the People's Developer," says Chee.
"Paramount Property has been involved in individual-titled developments with gated and guarded communities since 2004, in our development in Kemuning Utama, Shah Alam. We assisted the residents when they formed the RA and helped them make sure the community and development worked, which is also a way to enhance the value of the property."
He adds that Paramount Property is very experienced in developing and helping to maintain individual-titled developments.
Despite the fact that the project is individual-titled, Chee is confident the community will be able to form a trusted RA. "Most of our purchasers are professionals and established, so naturally they would want better living conditions for their families. In that sense, we are quite positive that people will pay because our buyers are looking to live there for the long term. Some buyers are even looking to buy a home for when they retire."
Furthermore, the fee is not very high compared with other developments and would not burn a hole in the residents' pockets, he says. Buyers would also have to pay the monthly maintenance fee as it is clearly stated in one of the clauses of the development's house rules.
Location matters
Based on Paramount Property's market research, homebuyers nowadays do not mind relocating to anywhere within a 15km radius of their current residence. In fact, 80% of their previous purchasers were from within a 15km radius, primarily from Seri Kembangan, Bukit Jalil, Bangi, Bandar Saujana Putra, Puchong, Kemuning Utama, Jenjarum and Kota Warisan, among others.
Being located in Cyberjaya has its perks. Chee elaborates, "Only of late, more people are buying properties in Cyberjaya. Based on the census of 2020, which was just released early this year, the Sepang district has an overall population of 324,953. Cyberjaya has over 7,000 acres of the master plan and has a population of 144,000, which is half of the Sepang district. We witnessed a surge in demand due to more people coming to Cyberjaya from various locations."
A large majority of the buyers are aged 35 to 55, with many of them having multigenerational families and working at the Kuala Lumpur International Airport or at healthcare centres and multinational corporations in the vicinity. As a result, they bought for their own use and prioritise having educational institutions, healthcare facilities and other amenities within reach, he says.
The development is close to nurseries and pre-schools such as the San Lorenzo Montessori and Little Pearls Nursery as well as primary and secondary schools like SJK (C) Union, SK and SMK Cyberjaya and Korean School of Malaysia. Tertiary educational institutions include King Henry VIII College, Multimedia University, University of 
Cyberjaya, University Malaysia of Computer Science and Engineering, Asia Metropolitan University, Cyberjaya International College, Cyber Putra College and Limkokwing University.
There are five healthcare facilities within a 20km radius of the development, with the nearest being Cyberjaya Hospital, which is 1.1km away. Residents will have access to more than 10 malls and hypermarkets within a 25km radius of the development. The nearest ones are Gem In Mall (750m away), Tamarind Square (1.3km), Dpulze Shopping Centre (2.6km) and Malakat Mall (3km).
Apart from the parks in the neighbourhood, residents will also be able to access the public parks nearby, including Cyberjaya Lake Gardens, Perdana Lake Cyberjaya and Cyberjaya Lakeside.
Sejati Lakeside 2 is accessible via several highways such as the North-South Central Link (Elite), Damansara-Puchong Highway (LDP), Maju Expressway (MEX), South Klang Valley Expressway (SKVE), Kajang Dispersal Link Expressway (SILK) and Putrajaya-Cyberjaya Expressway (Federal Route 29).
The development is 7.4km from Putrajaya Sentral, where residents can commute to Kuala Lumpur in less than 20 minutes via the Express Rail Link (ERL). Upcoming MRT2 stations are the MRT Cyberjaya City Centre and MRT Cyberjaya Utara, which are 5.5km and 6.9km away from the development respectively. The stations are expected to be completed by January next year.
Demand to hold steady
In the light of the rising overnight policy rate (OPR), Chee says the sales for Sejati Lakeside 2 will not be affected as there has been a surge in demand for landed properties in Cyberjaya of late. "In 2019, there was a supply of 998 landed residential properties, compared to over 100 units this year. The demand for landed properties in Cyberjaya is about 500 units per year, but here we only have about 100 to 200 units. So, we're confident that they will be taken up quite quickly," he adds.
Chee appears pleased to share that there were many buyers interested in Sejati Lakeside 2 prior to its launch. "We entered Cyberjaya with Sejati Residences, a landed strata residential development. The final phase of the landed homes was completed in 2020 and is completely sold out."
According to him, Phases 1 and 2 of Sejati Lakeside were also fully taken up while Phase 3 is 98% sold. The two remaining units in Phase 3 are currently owned by the developer and are being used as show units.
"Success after success for each phase is what actually inspired us. And after spending nine years here, we have garnered enough knowledge about the place and its demand, so it was much easier to build homes that would naturally cater to buyers' needs. We are confident that Sejati Lakeside 2 will be positioned as one of the most desired addresses in Cyberjaya," says Chee.
Upcoming launches by Paramount Property include The Atera, a high-rise development in Petaling Jaya, as well as Seraya, which will comprise 260 townhouses, and P9A Idaman, which will feature 538 apartment units in Greenwoods in Salak Perdana, Sepang.