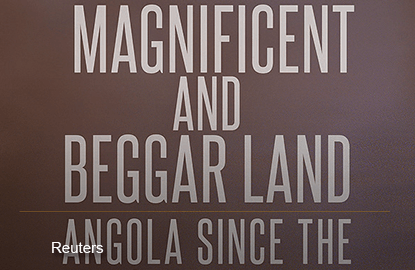 OXFORD academic Ricardo Soares de Oliveira contends Angola is a graft-ridden, petro state ruled by a party that has siphoned off or squandered oil dollars on a grand scale, while most Angolans live in abject poverty. The narrative is disputed and denied by Angolan officialdom.
In Magnificent and Beggar Land: Angola Since the Civil War, Soares de Oliveira peels away what he says are layers of secrecy around the president and the "parallel state" built with the ruling MPLA, to show how he says Jose Eduardo dos Santos, who has ruled since 1979, captured the oil revenue stream.
The MPLA's crushing battlefield victory over its arch foe Unita in 2002 brought one of Africa's most brutal civil wars to an end. Since then, however, a 2011 International Monetary Fund report found that $32 billion, or 25% of the country's gross domestic product, could not be accounted for between 2007 and 2010.
This in a country where the UN charity Unicef says child mortality rates are among the world's highest, with almost one Angolan in five not surviving to the age of five, and where the security budget is four times as big as the one for health.
Soares de Oliveira spoke to Reuters by phone from Britain about Angola and its oligarchs.
Q: You talk about Angola's "parallel state" — how does this differ from other autocratic petro states such as Equatorial Guinea's?
A: One is the degree of centralisation. The concentration of power on the president is very, very extraordinary. And it is not just decision-making powers. It is implementation powers. Essentially the whole structure of decision making and implementation revolves around him. And also the degree of sophistication of this parallel state in terms of its use of the foreign private sector and its relatively competent management of the oil economy over the years.
Q: Angola's urban elite seems very disdainful of the rural poor. Why is that?
A: The elite is quite narrowly based. It is sort of a coastal elite, Portuguese speaking, it has felt itself very different from the countryside. It is more extroverted, more turned to the outside world, than it is to its own hinterland.
Q: Can the Angolan elite survive low oil prices?
A: There are two dimensions here. The first one is popular expenditure. And there wasn't a lot of expenditure on social sectors to start with. But the more important and politically salient question is whether constituencies that matter for the regime are being hurt by the downturn. The civil servants, the armed forces, the elite constituencies that are important in keeping the status quo. And up until now they have been able to shelter those key constituencies. In the medium term, however, if these conditions and oil prices remain, all bets are off. — Reuters
This article first appeared in The Edge Financial Daily, on June 29, 2015.