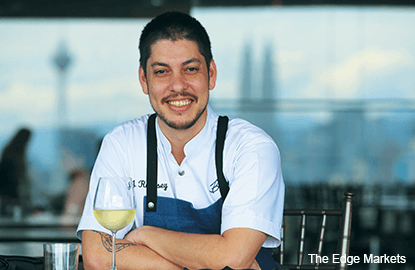 This article first appeared in The Edge Financial Daily, on January 28, 2016.
Translating the BMW experience — cool aesthetics, advanced technology and a luxuriant journey — onto a plate poses quite a challenge, but Jeff Ramsey is certainly the right man for the job. The Michelin-starred chef behind Babe — Malaysia's first restaurant by a chef of such credentials — has been bestowed the honour of preparing dinner in conjunction with the launch of the new BMW 7 Series tonight. 
Terming his progressive modernist cuisine "fun dining", Ramsey seeks to remove the stuffy formality of fine dining with a light-hearted approach to Japanese-accented tapas, or Japas, as he calls them. Modernist cuisine is based on the principles of technical mastery and exquisite presentation, the same tenets exemplified by BMW. The science behind modernist cuisine lies in the equipment techniques and tricky ingredients such as enzymes and emulsifiers, resulting in dishes of incredible finesse. 
Ramsey trained under Masayoshi Kazato, the official sushi ambassador of Japan, as well as José Andrés, protégé of elBullí's legendary Ferran Adrià. Japanese super chef Hide Yamamoto then handpicked Ramsey as the executive chef of Tapas Molecular Bar at the six-star Mandarin Oriental Tokyo, where the latter earned and then retained a Michelin star rating from 2009 to 2011. In Babe, he injects his own inclusive approachable and fun approach to food into a practiced prowess in Japanese cuisine.
"That's my specialty — what happens when you eat the food, not so much what it looks like on Instagram, though that's important too as you eat with your eyes first," says the Japanese-born American chef. "For the launch of the 7 Series, I will be preparing a cornucopia of elements. I find it more interesting to have numerous tastes occur over the night versus a large portion of monotonous flavours. An onslaught for the taste buds is exciting."
Innovation defines his menus, which comprise playful and creative medleys. Ramsey persists in mastering techniques that have wide applications. "For instance, we have this sashimi roll that looks like a fat cigar," he says. "We wrap a spring roll skin around an aluminium or steel rod then deep fry it until it's a crispy shell. We fill it with chopped sashimi mixed with soy sauce, scallions and wasabi. We've basically created this vessel that we can spin 20 ways — with, say, crab or chicken salads. 
"We've also learnt how to turn our freshly-baked baguettes into meringues by drying them out, soaking them in water and then squeezing out a 'juice' that tastes just like a baguette. We reduce it to concentrate the flavour then whip it into a meringue. So now we have these meringues that, when cut in half, look just like a hamburger which we can fill with anything really — Japanese chicken curry, for example."
In a kitchen where the creative juices are constantly flowing, experimentation is an ongoing process. "Every time we think of something, we ask ourselves, can we really do that? Should we do that?" laughs Ramsey. "Modern luxury is not about the trimmings — if you look around Babe, it isn't the most decked out restaurant. It's about a first-class memorable experience, something comfortable and customised. People try harder to seek out authentic experiences these days because they're hard to come by. And part of that experience is being able to interact with the creator of a work of art that moves you. I think that's why there's a spotlight on chefs — you are able to watch an artist at work. It's never about only the food — what makes a meal memorable is the service, the conversation, the people around you."
And Ramsey strives to deliver that tailored touch. While the conversation and company of his guests are beyond his control, the food and service are ever engaging. He is tight-lipped about the surprise in store at the BMW dinner, hinting only that it will parallel the exclusivity and sophistication of the new 7 Series. "Being a chef is in no way the most noble of careers," he muses. "But it brings joy to me and those who enjoy what I do. Isn't that something?"