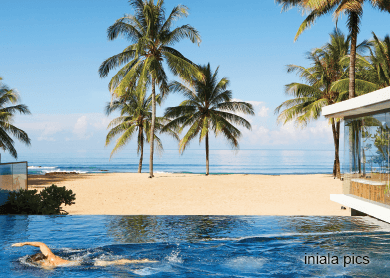 Along the coastline of Phang Nga, Thailand, lies a quiet spot of beach, sea and waves completely isolated from outside view, far from prying eyes. A decade ago, this stretch of pristine white sand was the summer home and playground of British entrepreneur Mark Weingard. Having made his fortune as a trader in London, Weingard found solitude in a home far away from the bustling streets of fast-paced city life.
Unbeknownst to him however, Dec 26, 2004 was about to become a turning point in his life. It was early in the morning when the Boxing Day Tsunami hit, and his lavish villa was turned into ruins within the blink of an eye. Weingard's life, on the other hand, was spared only thanks to his good fortune — he managed to escape the sweeping waves by climbing up onto the roof of his home.
It was this tragedy and the fact that he had managed to narrowly escape death twice before — his fiancé had been killed in the Bali Bombings in 2002, and he was due to have a meeting at the World Trade Center in New York on Sept 11, 2001 but defied fate as he was running late — prompted him to make a drastic change in his life.
That is why the Inspirasia Foundation was born. Over the past decade, the foundation has donated more than US$10 million to education, health and rehabilitation projects in Thailand, Indonesia and India.
Last year, Iniala Beach House, a partner oganisation of Inspirasa, opened its doors to the first visitors. The resort sits on the plot of land where Weingard's Phang Nga beachfront home used to be, now transformed into a six-villa resort that houses a fine dining restaurant called Aziamendi.
A generous of 10% of room revenues and 5% of other revenues from Iniala is funnelled into Inspirasia, making Weingard a Robin Hood of sorts — he provides a much sought-after service for the incredibly wealthy, and then channels the proceeds into helping the desperately poor.
Armed with talented designers and architects, Weingard managed to create three breathtaking villas (there are three suites per villa) and one penthouse suite, each showcasing its designer's artistic vision. The only requirement was that each room had to be "out of the ordinary", yet practical and comfortable. Amongst the renowned architects and designers involved in the project include the Campana brothers from Brazil, A-cero from Spain, Joseph Walsh from Ireland, Mark Brazier-Jones and Graham Lamb from Britain, and Thailand's own Eggarat Wongcharit.
A stay at Iniala requires one to not only have deep pockets, but to have a love for warm, crystalline beaches overlooking azure-coloured seas in addition to highly valuing impeccable hospitality and service. Each villa at Iniala is manned by a troupe of dedicated staff — a butler, spa therapist, personal trainer, driver, laundry, housekeeper, as well as 24-hour security.
Upon arrival, each guest is attentively looked after by the staff, all of whom speak fluent English, and almost every reasonable request will be met without delay. Spa sessions can be provided for every guest on a daily basis, and a wide selection of water sports and exercises such as yoga and kick-boxing is available for all guests to try out.
There is also a private pool overlooking the beach in every villa, and meals are served either in the rooms or the villas' dining areas, which are all equipped with tables and bars. Visitors who prefer to keep cool and stay in the shade can spend time in the air-conditioned common living areas of the villas, or relax on the lounge chairs located on the decks of each room, facing the beach.
In fact, just lazing around and relaxing in the rooms is also a great treat for weary travellers — the beds and sofas are plush and comfortable, and there are iPads as well as satellite TV for your amusement.
Nestled within the walls of Iniala lies Aziamendi, the Thai offshoot of 3-Star Michelin restaurant, Azurmendi, which is headed by chef Eneko Atxa. Azurmendi prides itself in providing guests with not just a meal, but an unforgettable dining experience that is successfully replicated in its "little brother", Aziamendi. Guests take a short tour around the grounds and are served several courses outside of the restaurant itself, and all the dishes and its ingredients and inspirations are thoroughly explained.
Aziamendi's chef de cuisine is Atxa's American protégé, Alex Burger, and serves traditional Basque cuisine, although there is another "modern" tasting menu which incorporates local flavours — seafood, in particular. Some of Azurmendi's award-winning dishes are also featured at Aziamendi, such as Truffled Eggs and Foie Gras Ashes.
For a relaxing, pampering holiday in the heart of paradise, Iniala is second to none in terms of exclusivity, top-notch service and quality of food. Room rates range from US$2,500 (RM15,850) to US$4,950 during the low season and from US$5,500 to US$11,500 during the peak season. The entire resort can also be booked out for groups of 20 people at the rate of US$10,000 during the low season and US$33,500 during the peak season. For information or reservations, visit www.iniala.com, call +66 (7) 6451 456 or email [email protected].
This article first appeared in The Edge Financial Daily, on May 28, 2015.