This article first appeared in The Edge Financial Daily, on November 27, 2017.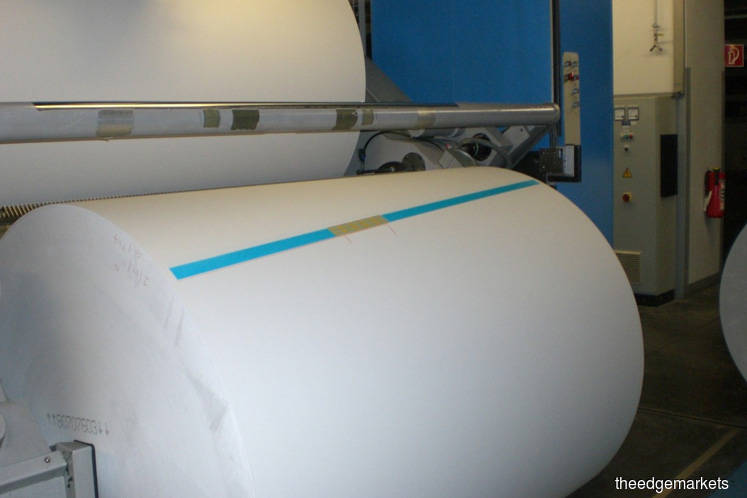 KUALA LUMPUR: The completion of a paper mill in the second half of next year (2H18) is expected to help lift BHS Industries Bhd out of the red.
Under the first phase of its Green Technology Park (GTP) project in Pekan, Pahang, BHS is building a pulp and paper mill factory with a production capacity of 10,000 tonnes of wood-free paper, as well as the 5,000 tonnes tissue paper factory.
The RM2 billion GTP project that spans 410 acres (165.9ha) will house industries that utilise green technology, underpinned by a zero-waste concept — converting oil palm empty fruit bunches into pulp and paper, box liner paper, corrugated paper and tissue paper. For example, BHS' wood-free paper will utilise a patented technology called Preconditioning Refiner Chemical-Recycle Bleached Mechanised Pulp. "The renewable paper pulp products produced in GTP Pekan such as wood-free paper, tissue paper, corrugated paper and box liner paper can be used for the packaging and printing industries," said managing director Datuk Lim Thiam Huat.  It (GTP Pekan Phase 1) will take off by 2H18. We are in the midst of construction, and have just completed the piling stage. The [overall] construction will be completed in 1H18, while we're on track to launch it by 2H18," he explained.
The land for the project was granted to BHS by the state government and is expected to take until 2020 to fully develop. But BHS is not going at it alone and is trying to rope in more partners to develop the subsequent four phases of the project.
"We will build the project and at the same time we will open up for investment for foreign investors to participate using our own home-grown technology to develop the pulp and paper industry," he said.
As it stands BHS earlier this month signed a memorandum of understanding with China Nuclear Industry Huaxing Construction Co Ltd to jointly develop the second and third phases of the project. Phase 2 involves a factory with the capacity to produce 100,000 tonnes of box liner paper as well as 120,000 tonnes of corrugated paper. Meanwhile, Phase 3 will involve another factory with a capacity to produce 65,000 tonnes of tissue paper. Interestingly, Lim added that, "We are targeting to give the award on the final negotiation to the Chinese party for the main building of the factory (Phase 1 for 10,000 tonnes wood-free pulp and paper plant)."
Against this backdrop, the group has been loss-making. For the financial year ended June 30, 2017 (FY17), the group's net loss widened to RM9.94 million from RM3.17 the previous year.  Revenue dipped 11% to RM25.2 million from RM28.32 million in the same period. However, Lim argued that the group may be able to return to profitability long before GTP's first phase begins operations. "I believe the losses will come to stop soon. Probably we will see by next [financial] quarter (second quarter of FY18) in December because we have [a] government order coming in and some overseas orders on the book printing side as well as our land sales for the development in GTP Pekan," Lim told The Edge Financial Daily.
Note that BHS has secured a five-year contract from the Malaysian government to publish past examination papers. It also disposed of a plot of land (from the 410-acre GTP project) for RM5.3 million to a third party to develop. The group is still looking for potential partners to jointly develop the project's fourth and fifth phases. Phase 4 will involve the construction and development of a feed mill with production capacity of 30,000 tonnes of agro-feed using the microbial fermentation technology, as well as a fertiliser plant with a production capacity of 50,000 tonnes of fertiliser using the by-products produced from the biogas plant.
Phase 5 has been earmarked for light industries involving the construction and development of packaging and printing factories. Additionally, BHS is also looking to expand the GTP model to other states. The group signed a memorandum of understanding with Sarawak Land Consolidation and Rehabilitation Authority subsidiary Bau Palm Oil Mill Sdn Bhd (Bapom) on Nov 10 to jointly develop, implement and finance a waste management project to convert the palm oil biomass, which is supplied by Bapom into commercially viable products. On top of that, BHS is actively looking to develop a third GTP in Johor in the near future; a first step before spinning off the concept to other states as well. "We are targeting Johor as there are many palm oil mills over there," explained Lim,  adding that in the next four years the group could be looking at Indonesia for expansion as well."
Printing and publishing remain the core business of the group, accounting for about 80% of its revenue in FY17. The remaining 20% came from park development and management activities. "[Revenue] contribution is mainly from our book printing and publishing [business] now, but you will soon see it overtaken by GTP Phase 1," said Lim. He expects the revenue contributions to invert, with 80% of the revenue coming from GTP Pekan and 20% from the existing printing and publishing business. As part of the transformation, Lim is looking to change the group's name to Nextgreen Global Bhd, pending shareholders' endorsements  at the group's upcoming annual general meeting.