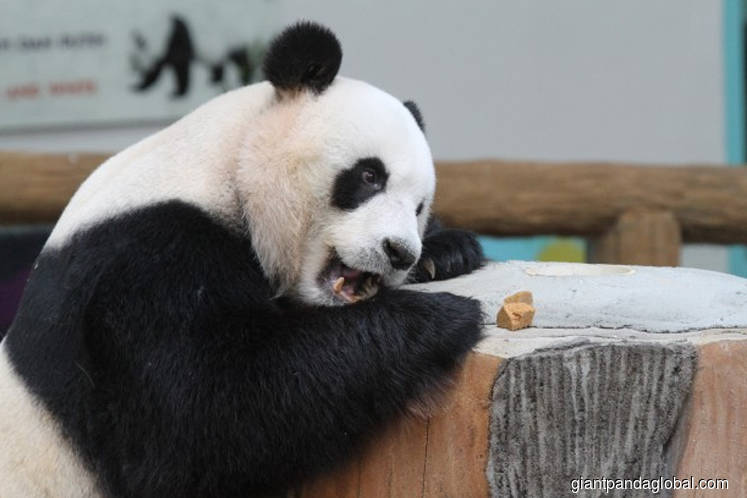 KUALA LUMPUR (Jan 2): Prime Minister Tun Dr Mahathir Mohamad said the Malaysian government cherished the two giants pandas, Xing Xing and Liang Liang, which were gifted by China, and promised to take good care of them.
He added Malaysia would not return them to China before the earlier agreed date.
"Giant pandas belong to China, they are not items for sale," Dr Mahathir said in an interview with Sin Chew Daily, adding that "the giant pandas were an offering from China and an important diplomatic symbol for Malaysia and China".
The giant pandas were loaned by China on May 21, 2014, to mark 40 years of diplomatic relations between Kuala Lumpur and Beijing. Under the agreement between the Malaysian and Chinese governments, the giant panda pair would remain in the country for 10 years.
Dr Mahathir revealed that the cabinet never discussed the issues about returning the pandas to China, thus he knew nothing about the statement made by the Water, Land and Natural Resources Minister Dr Xavier Jayakumar.
Xavier earlier said the government had come under heavy criticism for the high maintenance cost for the pandas. He then said he will bring up the matter to the cabinet and discuss about returning the pandas to China earlier because keeping them was too costly.
On Nov 29, 2018, Xavier said the government would discuss with the Chinese government over the status of the Giant Panda Conservation Programme in 2019.
He said the negotiations would have to be carried out with the China Wildlife Conservation Association (CWCA) on whether to continue keeping the giant pandas with the second cub.
Xavier added that the government had spent RM4.65 million in 2018 for the cost of managing the Giant Panda Conservation Centre in Zoo Negara, and the cost is expected to increase to RM7.38 million in 2019 as the government has to pay a 'one-off' conservation fee at an estimated RM2.38 million.
According to the agreement between the Malaysian government and CWCA, a pair of pandas was loaned for US$1 million (RM4.18 million) per annum and insurance to be paid for each panda costs RM50,000 annually. Meanwhile, the government has to pay a one-off payment of US$600,000 to keep the panda cub in Malaysia for two years.
The first cub for the panda pair was Nuan Nuan, born on Aug 18, 2015. It was sent home to China on Nov 14 last year, while the second cub, which was born on Jan 14, is still at the conservation centre in Zoo Negara.
Prior to this, the Malaysia government has made a special allocation of RM10 million and used state-investment funds from 1Malaysia Development Bhd amounting to RM15 million to build the giant pandas a conservation complex at Zoo Negara.