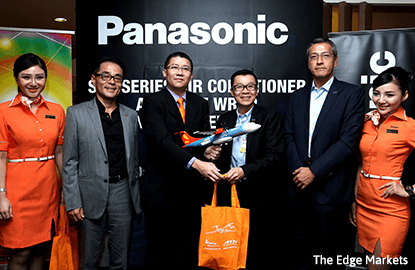 SUBANG (April 1): Japan's Panasonic Malaysia Sdn Bhd expects sales of its consumer electronic products to grow at a slower pace for the current financial year ending March 31, 2017 (FY17), due to weaker consumer sentiment.
It is forecasting sales growth of 5% in FY17, though at a slower pace than FY16's growth of 7%, said its managing director Cheng Chee Chung.
"There are lots of challenges and uncertainties in the economy this year. We expect consumer demand to remain soft (and thus, a lower growth target)," he told reporters after Panasonic Malaysia's Sky Series air conditioner plane wrap handover ceremony today.
"One of our strategies in this soft market environment is to target affluent customers who, regardless of the economic situation, will continue to spend. That is why we will launch a series of high-end products," Cheng added.
Panasonic Malaysia is 40%-owned by Bursa Malaysia-listed Panasonic Manufacturing Malaysia Bhd.
For FY16, Panasonic Malaysia's sales of consumer electronics products totaled RM1.6 billion, out of which air-conditioners formed the largest contribution, accounting for 27% of total revenue.
"We are targeting air-conditioner sales to grow 4% this year, but it will depend on the weather. If the current hot weather prolongs, we could surpass this target," said Cheng.
On Panasonic Malaysia's Sky Series air conditioner plane wrap, Cheng said the intention was to attract affluent customers who fly with Firefly. It is part of the company's advertising campaign to promote its latest line of air conditioners.
The company will advertise its products on Firefly's aircraft, as well as inside the aircraft's overhead cabin compartment and in-flight magazine to increase brand awareness.
Cheng said the company will also advertise on Malaysia Airlines Bhd's and AirAsia Bhd's in-flight magazines.
"We will be spending up to RM600,000 on this exercise alone. We believe with this move, we will be able to increase our Sky Series branding, targeting affluent businessmen.
"Apart from the traditional marketing activities that we have planned out, we believe that such a step is important to differentiate ourselves from the rest of the competition," he added.
Earlier at the ceremony, Firefly chief executive officer Ignatius Ong said the turboprop operator carried 2.3 million passengers last year, and is looking to grow its load factor further this year.
"Last year, our load factor hovered around 71% to 75%. For January and February, it was about 75%, but the past two weeks' load factor has gone up to 85%," he said.
Ong added that in view of the current marketplace, the airline will take on a consolidation strategy, where it will not take delivery of any new aircraft this year, but optimise its current fleet of 19 turboprops.