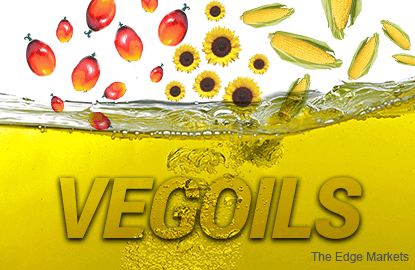 KUALA LUMPUR (Feb 7): Malaysian palm oil futures climbed on Tuesday, securing a second consecutive session of gains as the market remained buoyant on expectations of tighter supplies.
Benchmark palm oil futures for April delivery on the Bursa Malaysia Derivatives Exchange were up 0.46% at RM3,082 (US$695.08) per tonne. Traded volumes stood at 54,884 lots of 25 tonnes each.
A Kuala Lumpur-based trader pointed out that estimates from the Malaysian Palm Oil Association (MPOA) released on Tuesday suggested a wider fall in palm output than the market expected.
"MPOA update for the January production suggested 13% fall, (bigger) compared with market poll of 9% to 10% drop. This could lead to more drawdown in stocks," she said.
However, the decline in crude oil prices limited the upside in palm, the trader added. Benchmark Brent crude was 0.22% lower at US$55.60 on Tuesday evening.
Another trader said market sentiment has been supported by expectations of subdued production. Traders are looking forward to low stocks figures from the Malaysian Palm Oil Board (MPOB) at the end of this week.
"Market is expecting lower production, going down by at least 10%, ahead of the MPOB report," he said.
Earlier in the day, a dip on the Dalian Commodities Exchange led to some profit booking, although the weaker ringgit helped offset the sell-off, the trader said. The ringgit fell 0.16% to 4.4340 to the US dollar.
Weakness in the ringgit, which palm is traded in, makes the tropical oil more attractive to traders holding foreign currencies.
The May contract for Dalian soybean oil slipped 0.38%, while the palm olein contract fell 0.33%.   
Signals are mixed for palm, as the contract approaches a resistance at RM3,089 per tonne again, according to Reuters market analyst for commodities and energy technicals, Wang Tao.
"A break above the resistance could lead to a gain to RM3,169. Even though palm oil has briefly pierced above RM3,089, a valid break could possibly be confirmed when it stands firm above this level," he said.    
On the Chicago Board Of Trade, the March soybean oil contract gained 0.12%.   
Palm, soy and crude oil prices at 1035 GMT
| | | | | | | |
| --- | --- | --- | --- | --- | --- | --- |
| Contract                     | Month      | Last    | Change         | Low       | High       | Volume |
| MY PALM OIL   | FEB7          | 3275    | +13.00        | 3265       | 3286          | 192 |
| MY PALM OIL  | MAR7          | 3168    | +16.00        | 3144       | 3176         | 3387 |
| MY PALM OIL   | APR7          | 3078    | +10.00        | 3057       | 3094        | 25147 |
| CHINA PALM OLEIN    | MAY7          | 6124    | -20.00        | 6098       | 6188       | 378312 |
| CHINA SOYOIL    | MAY7          | 6844    | -26.00        | 6830       | 6906       | 271606 |
| CBOT SOY OIL    | MAR7         | 34.48     | +0.00       | 34.37      | 34.64         | 5473 |
| INDIA PALM OIL   | FEB7        | 578.50     | +0.00      | 577.50        | 580          | 579 |
| INDIA SOYOIL   | FEB7        | 702.85     | +0.35       | 702.7      | 705.5         | 5550 |
| NYMEX CRUDE      | MAR7         | 52.87     | -0.14       | 52.70      | 53.24        | 73707 |
(US$1 = RM4.4340)
(US$1 = 67.35 Indian rupees)
(US$1 = 6.8750 Chinese yuan)