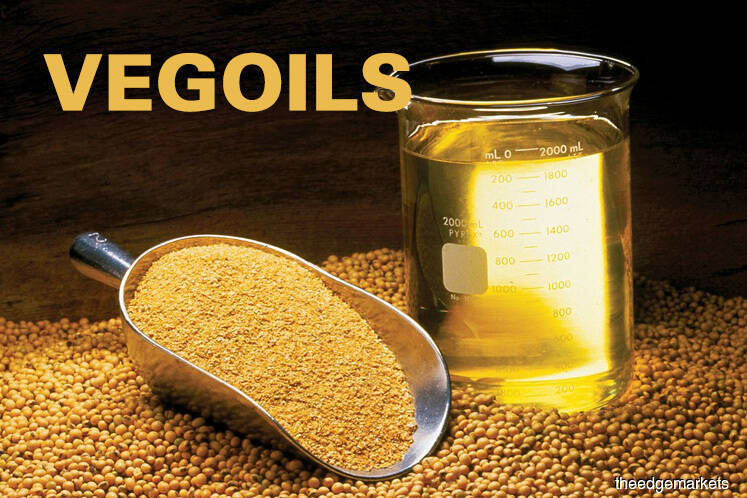 KUALA LUMPUR (June 4): Malaysian palm oil futures rose after three sessions of losses in early trade on Tuesday, tracking a recovery in soyoil on the U.S. Chicago Board of Trade.
Benchmark palm oil contract for August delivery on the Bursa Malaysia Derivatives Exchange was last up 1.3% at 2,055 ringgit (US$492.22) per tonne at noon.
The market will be closed from Tuesday afternoon until Thursday for Eid holidays, and will reopen for a full trading session on Friday.
"The market is up tracking soyoil, which gained on slow planting estimates from the U.S. Department of Agriculture," said a Kuala Lumpur based trader.
U.S. soyoil prices rose after the USDA reported that planting was well behind the average pace for this time of year.
The Chicago July soybean oil contract was last up 0.6% on Tuesday.
Wet weather had plagued U.S. farmers last week, especially in the Eastern Corn Belt, as planting progress for corn and soybeans likely failed to advance as much as needed given the already slow pace. The Crop Watch growers in Indiana and Ohio did not report that much progress had been made.
In related oils, the September soyoil contract on the Dalian Commodity Exchange edged down 0.04% and the Dalian September palm oil contract fell 0.1%.
Palm oil prices are affected by movements in soyoil, with which it competes for global market share.
A Reuters palm oil poll also showed that Malaysia's end-stocks in May are expected to fall 9.7% to 2.46 million tonnes, according to eight survey respondents.
Meanwhile, output is forecast to fall 2% to 1.61 million tonnes, while exports are seen rising 3.3% to 1.71 million tonnes.
Palm, soy and crude oil prices at 0520 GMT
| | | | | | | |
| --- | --- | --- | --- | --- | --- | --- |
| Contract | Month | Last | Change | Low | High | Volume |
| MY PALM OIL | JUN9 | 2030 | +36.00 | 2030 | 2030 | 5 |
| MY PALM OIL | JUL9 | 2044 | +26.00 | 2030 | 2049 | 1304 |
| MY PALM OIL | AUG9 | 2055 | +27.00 | 2032 | 2061 | 9167 |
| CHINA PALM OLEIN | SEP9 | 4404 | -6.00 | 4372 | 4410 | 401666 |
| CHINA SOYOIL | SEP9 | 5428 | -2.00 | 5390 | 5440 | 269878 |
| CBOT SOY OIL | JUL9 | 27.5 | +0.16 | 27.38 | 27.73 | 5514 |
| INDIA PALM OIL | JUN9 | 514.50 | +2.60 | 514.00 | 515.2 | 153 |
| INDIA SOYOIL | JUN9 | 751.5 | +1.15 | 751.05 | 752.6 | 670 |
| NYMEX CRUDE | JUL9 | 53.09 | -0.16 | 52.86 | 53.42 | 52251 |
Palm oil prices in Malaysian ringgit per tonne
CBOT soy oil in U.S. cents per pound
Dalian soy oil and RBD palm olein in Chinese yuan per tonne
India soy oil in Indian rupee per 10 kg
Crude in U.S. dollars per barrel
(US$1 = 4.1750 ringgit)
(US$1 = 69.1750 Indian rupees)
(US$1 = 6.9064 Chinese yuan)