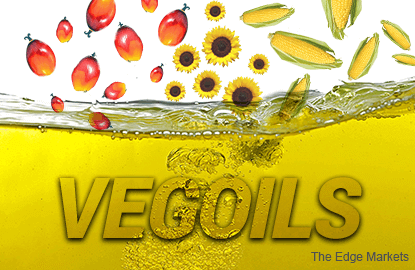 KUALA LUMPUR (Jan 17): Malaysian palm oil futures rose in early trade on Tuesday, tracking gains in rival oilseed soy, and little affected by an industry group forecast of rising production this year, as the market has already factored this in, traders said.
Palm oil output may rise by 12% this year to 19.4 million tonnes, from 17.4 million tonnes in 2016, the Malaysian Palm Oil Board (MPOB) said at a conference in Kuala Lumpur.
  
Benchmark palm oil futures for April delivery on the Bursa Malaysia Derivatives Exchange had risen 0.4% to 3,121 ringgit (US$699) a tonne by the midday break. 
Traded volumes stood at 14,750 lots of 25 tonnes each at noon.
"The market is up mainly on the Chicago Board of Trade," said a futures trader from Kuala Lumpur, referring to stronger performing soyoil. 
"Other factors are already known facts and we have yet to see higher production." 
Palm oil prices are typically impacted by the movement of related vegetable oils, as they compete for a share in the global edible oils market.
The March soybean oil contract on the CBOT rose 0.9%, while the May soybean oil contract on the Dalian Commodity Exchange was up 0.3%. 
Chicago soybean futures also rose, as heavy rains across Argentina's central crop belt raised concerns over yield losses.  
In other related edible oils, the May contract for Dalian palm olein fell 0.3%.
Palm oil is poised to leave a wedge and develop a trend, as it is approaching the upper trendline of the pattern, according to Wang Tao, a Reuters market analyst for commodities and energy technicals. 
Palm, soy and crude oil prices at 0525 GMT
| | | | | | | |
| --- | --- | --- | --- | --- | --- | --- |
| Contract | Month | Last | Change | Low | High | Volume |
| MY PALM OIL | FEB7 | 3218 | +11.00 | 3218 | 3231 | 404 |
| MY PALM OIL | MAR7 | 3159 | +16.00 | 3145 | 3167 | 4392 |
| MY PALM OIL | APR7 | 3121 | +11.00 | 3110 | 3130 | 7460 |
| CHINA PALM OLEIN | MAY7 | 6290 | -16.00 | 6284 | 6374 | 384410 |
| CHINA SOYOIL | MAY7 | 6986 | +18.00 | 6982 | 7064 | 308500 |
| CBOT SOY OIL | MAR7 | 35.92 | +0.32 | 35.66 | 36.07 | 10456 |
| INDIA PALM OIL | JAN7 | 592.50 | +1.30 | 591.00 | 593.9 | 133 |
| INDIA SOYOIL | JAN7 | 732.5 | +1.50 | 732.3 | 732.85 | 1590 |
| NYMEX CRUDE | FEB7 | 52.42 | +0.05 | 52.12 | 52.72 | 136681 |
 Palm oil prices in Malaysian ringgit per tonne
 CBOT soy oil in U.S. cents per pound
 Dalian soy oil and RBD palm olein in Chinese yuan per tonne
 India soy oil in Indian rupee per 10 kg
 Crude in U.S. dollars per barrel
 
(US$1 = 4.4640 ringgit)
(US$1 = 68.0900 Indian rupees)
(US$1 = 6.8860 Chinese yuan)