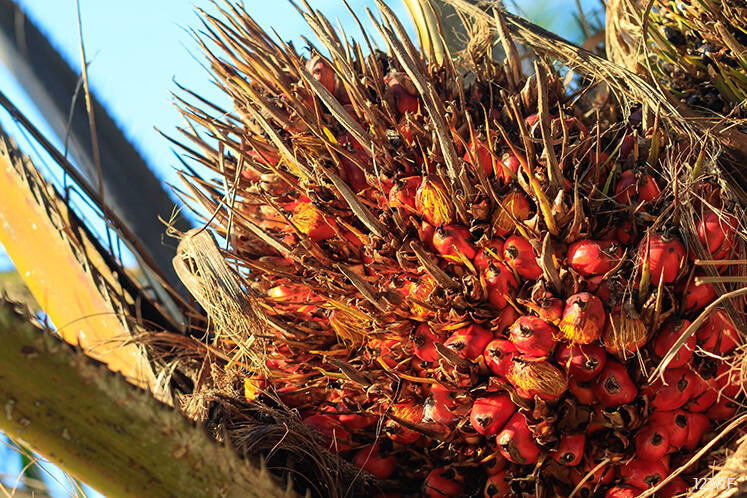 KUALA LUMPUR (March 30): Malaysian palm oil futures were on track to snap two sessions of gains on Thursday, dragged down by weaker-performing rival soyoil on the Chicago Board of Trade.
Benchmark palm oil futures for June delivery on the Bursa Malaysia Derivatives Exchange were down 0.9% at RM2,696 (US$610.16) a tonne at the midday break. Palm is down 1.2% so far this week, in line for their second consecutive weekly decline.
Traded volumes stood at 24,120 lots of 25 tonnes each at noon.
"Palm declined as the soy complex is weak," said a Kuala Lumpur-based futures trader.
In the past few sessions, palm prices have been tracking related edible oils for a direction, as they compete for a share in the global vegetable oil market.
Soybean oil on the Chicago Board of Trade slipped as much as 0.5% over concerns of supply growth outlook.
In other related edible oils, the September soybean oil contract on the Dalian Commodity Exchange declined as much as 1.5%, while the September contract for palm olein on the Dalian Commodity Exchange was down 1.3%.
A Reuters market analyst for commodities and energy technicals had said palm oil may end its current downtrend around a support at RM2,533 per tonne and then resume its uptrend from the Aug 25, 2015 low of RM1,863 over the next three months.
Palm prices have been trading range-bound in the recent weeks due to mixed market signals, weighed down by weak export demand. Shipments for the March 1-25 period fell 1.2-1.5% from the corresponding period a month ago, according to cargo surveyor data.
Data for the full month of March will be scheduled for release on Friday.
Palm, soy and crude oil prices at 0548 GMT
| | | | | | | |
| --- | --- | --- | --- | --- | --- | --- |
| Contract          | Month    | Last  | Change     | Low    | High  | Volume |
| MY PALM OIL       | APR7     | 2859  | -15.00    | 2854    | 2865     | 215 |
| MY PALM OIL       | MAY7     | 2777  | -22.00    | 2775    | 2788    | 2591 |
| MY PALM OIL       | JUN7     | 2696  | -25.00    | 2692    | 2705    | 9349 |
| CHINA PALM OLEIN  | SEP7     | 5364  | -70.00    | 5354    | 5456  | 362722 |
| CHINA SOYOIL      | SEP7     | 6122  | -84.00    | 6116    | 6214  | 451404 |
| CBOT SOY OIL      | MAY7     | 32.1   | -0.11   | 32.06   | 32.32    | 3280 |
| INDIA PALM OIL    | MAR7   | 538.40   | -0.20  | 537.30   | 538.4      | 38 |
| INDIA SOYOIL      | APR7    | 637.5   | -2.30     | 637  | 638.35    | 2280 |
| NYMEX CRUDE       | MAY7    | 49.68   | +0.17   | 49.44   | 49.75   | 28514 |
Palm oil prices in Malaysian ringgit per tonne
CBOT soy oil in US cents per pound
Dalian soy oil and RBD palm olein in Chinese yuan per tonne
India soy oil in Indian rupee per 10 kg
Crude in US dollars per barrel
(US$1 = RM4.4185)
(US$1 = 64.9250 Indian rupees)
(US$1 = 6.8923 Chinese yuan)