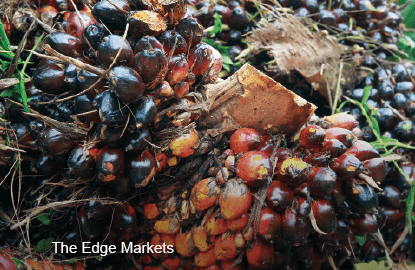 JAKARTA (Sept 1): Malaysian palm oil futures rose for a third day in strong trading on Tuesday, after a jump in crude oil prices overnight and gains in competing vegetable oil markets, while recent data showing weaker exports and a stronger ringgit had little impact.
By the midday break, the benchmark November palm oil contract on the Bursa Malaysia Derivatives exchange was up 1.16% at 2,014 ringgit ($485.07), after trading in
a range between 1,973 and 2,019 ringgit.
Total traded volume on Tuesday was high, at 23,272 lots of 25 tonnes each, compared to the usual 13,500 lots by midday.
"Palm is up purely on the back of external market factors," a trader with a foreign commodities brokerage in Malaysia told Reuters, referring to the 8% gains in crude oil prices overnight and increases in the vegetable oil contracts on China's Dalian Commodity Exchange.
"It's pretty strong," the trader said, adding that Tuesday's more than 1% rise in the Malaysian ringgit, which benchmark palm is priced in, was having no impact on palm oil prices.
"I think it has no bearing," the trader said, adding that recent export data was also having little or no impact. The currency was up 1.002% at 4.15 per dollar by 0510 GMT, stretching its gaining streak into a third session. The ringgit has been Emerging Asia's worst performing currency, losing nearly 17% so far this year, on weakness in global currencies and domestic political woes.
Exports of Malaysian palm oil products for August fell 1.2% to 1,525,389 tonnes, from 1,543,868 tonnes shipped during July, cargo surveyor Intertek Testing Services said on Monday.
 
Wang Tao, a Reuters market analyst of commodities and energy technicals, said palm oil may fall to 1,936 ringgit per tonne, as it has failed to break a resistance at 1,981 ringgit.
 
In competing vegetable oil markets, the most active January soybean oil contract on the Dalian Commodity Exchange was up 0.37%, while Dalian palmoil for January
was up 1.12%. The U.S. December soyoil contract was down 0.74% in early Asian trade.
Oil prices fell nearly 3% in Asian trade on Tuesday, with investors covering short positions and taking profits after Brent and U.S. crude soared more than 8% in the previous session.
 Palm, soy and crude oil prices at 0545 GMT
                                                                
 Contract        Month    Last   Change     Low    High  Volume
 MY PALM OIL      SEP5    1915   -13.00    1915    1915       2
 MY PALM OIL      OCT5    1975   +23.00    1936    1978    1129
 MY PALM OIL      NOV5    2014   +23.00    1973    2019   13405
 CHINA PALM OLEIN JAN6    4322   +48.00    4232    4360  678090
 CHINA SOYOIL     JAN6    5404   +16.00    5344    5440  496396
 CBOT SOY OIL     DEC5   28.02    +4.90   27.80   28.18    4721
 INDIA PALM OIL   SEP5  380.60    +4.90  377.40  382.00     568
 INDIA SOYOIL     OCT5  578.50    +4.35  575.80  579.20   25540
 NYMEX CRUDE      OCT5   47.85    -1.35   47.23   48.19   30838
                                                                
 Palm oil prices in Malaysian ringgit per tonne
 CBOT soy oil in U.S. cents per pound
 Dalian soy oil and RBD palm olein in Chinese yuan per tonne
 India soy oil in Indian rupee per 10 kg
 Crude in U.S. dollars per barrel
 
($1 = 6.3672 Chinese yuan)
($1 = 66.3250 Indian rupees)
($1 = 4.1520 ringgit)