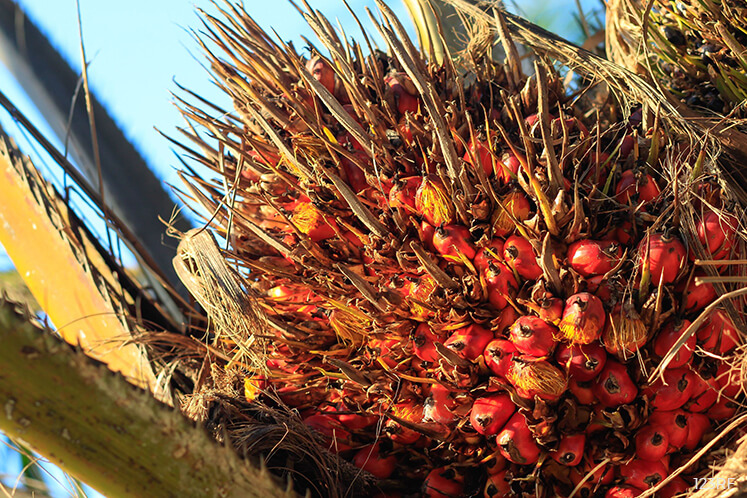 KUALA LUMPUR (April 11): Malaysian palm oil futures rebounded from a six-month low in late trade on Tuesday, snapping three earlier sessions of losses to gain on rising demand and tracking stronger-performing related oils.
The benchmark palm oil contract for June delivery on the Bursa Malaysia Derivatives Exchange rose 0.7% to RM2,612 (US$589.48) a tonne at the end of the trading day. Earlier in the session, it hit a six-month low of RM2,580, its weakest level since Oct 11.
Traded volumes stood at 57,881 lots of 25 tonnes each in the evening.
"(China's) Dalian and Chicago Board of Trade soyoil look supportive... The outlook is not so bearish today," said a trader from Kuala Lumpur.
Another trader added that incoming demand ahead of Ramadan, the Muslim fasting festival, could lend support to the market as well.
"People are expecting Ramadan demand to come in, so export numbers should be better in the coming days," he said.
Ramadan incurs higher palm oil usage for cooking purposes in Muslim majority regions such as India, Pakistan and the Middle East, as Muslims break day-long fasts with communal feasting.
Palm oil shipments from Malaysia rose 20-25% between April 1-10 from the corresponding period last month, according to cargo surveyor data on Monday.
Palm oil prices on Monday closed at their lowest since Oct 11 after a Malaysian industry regulator released production data, which revealed end-stocks outpaced expectations.
Data from the Malaysian Palm Oil Board (MPOB) showed that output surged 16.3% to 1.46 million tonnes in March, its first monthly gain since September, and its strongest on-month rise in over a year.
The data also stated that end-stocks rose 6.5% on-month to 1.55 million tonnes, while exports climbed 14.3% to 1.27 million tonnes.
In related edible oils, soybean oil on the Chicago Board of Trade gained as much as 0.6%, while the September soybean oil contract on the Dalian Commodity Exchange was up 0.2%.
The September contract for palm olein on the Dalian Commodity Exchange slid 2%.
Palm, soy and crude oil prices at 1042 GMT
| | | | | | | |
| --- | --- | --- | --- | --- | --- | --- |
| Contract          | Month    | Last   | Change     | Low   | High  | Volume |
| MY PALM OIL       | APR7     | 2809    | +6.00    | 2800   | 2845     | 171 |
| MY PALM OIL       | MAY7     | 2712   | +24.00    | 2676   | 2770    | 3007 |
| MY PALM OIL       | JUN7     | 2614   | +19.00    | 2580   | 2630   | 27158 |
| CHINA PALM OLEIN  | SEP7     | 5234  | -104.00    | 5178   | 5244  | 585982 |
| CHINA SOYOIL      | SEP7     | 6004   | +14.00    | 5950   | 6034  | 547510 |
| CBOT SOY OIL      | MAY7    | 31.53    | +0.18   | 31.31  | 31.66    | 7974 |
| INDIA PALM OIL    | APR7   | 513.90    | +1.30  | 511.50  | 517.2     | 974 |
| INDIA SOYOIL      | APR7    | 634.3    | +1.45   | 633.9  | 636.3    | 4700 |
| NYMEX CRUDE       | MAY7    | 52.98    | -0.10   | 52.83  | 53.23   | 83559 |
Palm oil prices in Malaysian ringgit per tonne
CBOT soy oil in US cents per pound
Dalian soy oil and RBD palm olein in Chinese yuan per tonne
India soy oil in Indian rupee per 10 kg
Crude in US dollars per barrel
(US$1 = RM4.4310)
(US$1 = 64.5000 Indian rupees)
(US$1 = 6.8995 Chinese yuan)