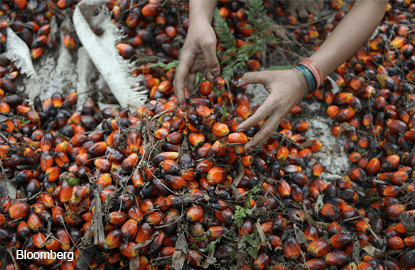 KUALA LUMPUR (March 14): Malaysian palm oil futures rebounded from a near five-month low to gain in late trade on Tuesday, supported by expectations of stronger demand ahead of a cargo surveyor data release.
Benchmark palm oil futures for May delivery on the Bursa Malaysia Derivatives Exchange was up 1.1% at RM2,752 (US$618.71) a tonne at the end of the trading day, its strongest daily gain in nearly two weeks. Earlier it fell to RM2,697, its weakest level since Oct 21, 2016.
Traded volumes were 70,370 lots of 25 tonnes each in the evening.
"The market is moving on expectations that we could see flat demand in cargo surveyor data tomorrow," said a futures trader based in Kuala Lumpur.
"March and April is a window for a demand pickup on seasonal play as consumers stock up from February, which is a short month."
Cargo surveyors Intertek Testing Services and Societe Generale de Surveillance are expected to release export data for the first half of March on Wednesday after 0300 GMT.
Palm oil shipments from Malaysia, the world's second-largest producer, fell 14% for the full month of February from the previous month, data from the Malaysian Palm Oil Board showed.
In other related vegetable oils, soybean oil on the CBOT was up 0.3%, while the May soybean oil contract on the Dalian Commodity Exchange fell 1.2%.
The May contract for palm olein on the Dalian Commodity Exchange was down 0.5%.
Palm oil prices are impacted by the movements of related edible oils, as they compete for a share in the global vegetable oils market.
Leading vegetable oils analysts expect palm prices will decline to around RM2,500 by mid-year as the dry weather effects of a crop-damaging El Nino wear off this year.
Palm, soy and crude oil prices at 1122 GMT
| | | | | | | |
| --- | --- | --- | --- | --- | --- | --- |
| Contract          | Month    | Last  | Change     | Low    | High  | Volume |
| MY PALM OIL       | MAR7     | 2985  | +35.00    | 2950    | 2985     | 119 |
| MY PALM OIL       | APR7     | 2865  | +67.00    | 2780    | 2880    | 3176 |
| MY PALM OIL       | MAY7     | 2754  | +29.00    | 2697    | 2765   | 31290 |
| CHINA PALM OLEIN  | MAY7     | 5754  | -28.00    | 5740    | 5798  | 436712 |
| CHINA SOYOIL      | MAY7     | 6354  | -80.00    | 6334    | 6408  | 418912 |
| CBOT SOY OIL      | MAY7    | 32.23   | -0.04   | 32.03   | 32.36   | 13230 |
| INDIA PALM OIL    | MAR7   | 523.50   | +6.00  | 516.00   | 526.8    | 1935 |
| INDIA SOYOIL      | MAR7    | 647.5   | +2.75   | 643.1  | 650.65    | 7380 |
| NYMEX CRUDE       | APR7    | 48.72   | +0.32   | 48.26   | 48.79   | 91884 |
Palm oil prices in Malaysian ringgit per tonne
CBOT soy oil in US cents per pound
Dalian soy oil and RBD palm olein in Chinese yuan per tonne
India soy oil in Indian rupee per 10 kg
Crude in US dollars per barrel
(US$1 = RM4.4480)
(US$1 = 65.8200 Indian rupees)
(US$1 = 6.9125 Chinese yuan)