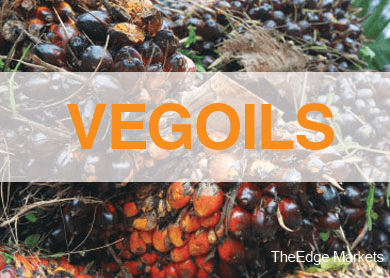 JAKARTA (Aug 28): Malaysian palm oil futures ended higher on Friday, posting their first weekly gain after eight consecutive weekly declines, on the back of other commodity markets and a weaker ringgit.
The benchmark palm oil contract for November on the Bursa Malaysia Derivatives market rose 3.4% to 1,994 ringgit ($475.67) a tonne, its biggest increase since June 1. That followed a 3% gain in the previous session.
Traded volume stood at 55,024 lots of 25 tonnes each, well above the roughly 35,000 tonnes average daily trading volume.     
"The market is going for further retracement after an oversold palm," said a trader in Kuala Lumpur. "In the external market, soy oil, crude oil and palm oil in Dalian are up sharply, our market is following."
The palm benchmark hit its lowest since March 2009 on Tuesday, but later recovered to post a 0.3% gain for the week.            
Wang Tao, a Reuters market analyst of commodities and energy technicals, said palm oil may rise to 2,024 ringgit per tonne, following the completion of a five-wave cycle. The cycle started at the July 3 high of 2,285 ringgit. A Fibonacci retracement analysis reveals palm oil has climbed above a resistance at 1,963 ringgit, the 23.6% level.
A weaker Malaysian ringgit also helped the commodity as it makes palm cheaper for offshore buyers. The ringgit has been emerging Asia's worst performing currency, losing nearly 17% so far this year, on weakness in global currencies and domestic political woes.
In comparative vegetable oils, the US September soyoil contract was 1.1% higher in late Asian trade, while the most active soybean oil contract on the Dalian Commodity Exchange jumped 2.5%.    
Oil prices steadied on Friday after bouncing back from 6½-year lows on recovering equities markets, strong US economic growth and news of low crude supplies from Nigeria.
Palm, soy and crude oil prices at 1033 GMT
| | | | | | | |
| --- | --- | --- | --- | --- | --- | --- |
| Contract         | Month  | Last  | Change  | Low | High  | Volume |
| MY PALM OIL      | SEP5 | 1928 | +60.00 | 1875 | 1928 | 19 |
| MY PALM OIL      | OCT5 | 1956 | +62.00 | 1898 | 1956 | 4166 |
| MY PALM OIL      | NOV5 | 1994 | +66.00 | 1938 | 1995 | 24695 |
| CHINA PALM OLEIN | JAN6 | 4296 | +164.00 | 4200 | 4296 | 1047530 |
| CHINA SOYOIL     | JAN6 | 5408 | +134.00 | 5322 | 5454 | 1052194 |
| CBOT SOY OIL     | DEC5 | 27.54 | +1.70 | 27.21 | 27.59 | 11580 |
| INDIA PALM OIL   | AUG5 | 360.80 | +1.70 | 359.10 | 362.30 | 1009 |
| INDIA SOYOIL     | OCT5 | 572.20 | -1.35 | 570.70 | 576.70 | 29920 |
| NYMEX CRUDE      | OCT5 | 42.52 | -0.04 | 41.78 | 43.46 | 74332 |
Palm oil prices in Malaysian ringgit per tonne
CBOT soy oil in US cents per pound
Dalian soy oil and RBD palm olein in Chinese yuan per tonne
India soy oil in Indian rupee per 10 kg
Crude in US dollars per barrel
($1 = 4.1920 ringgit)
($1 = 6.3865 Chinese yuan renminbi)
($1 = 66.1300 Indian rupees)