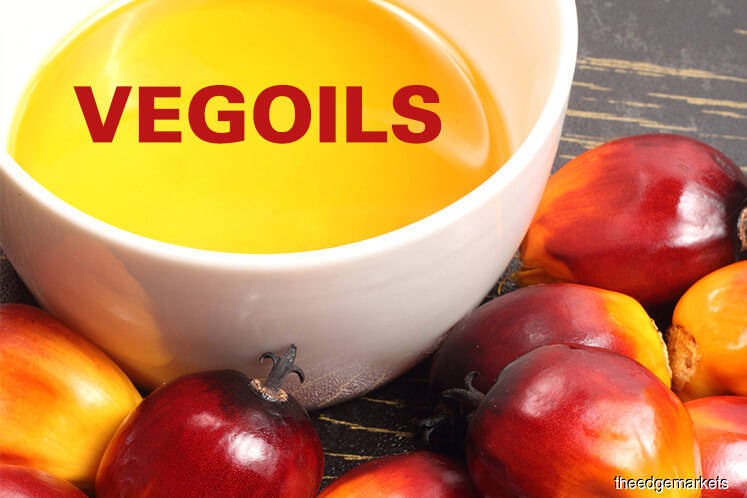 KUALA LUMPUR (Dec 27): Malaysian palm oil futures rose more than 1% during trade on Thursday, snapping four straight sessions of sharp falls, supported by gains in US soyoil on the Chicago Board of Trade (CBOT) and global stock markets.
The benchmark palm oil contract for March delivery on the Bursa Malaysia Derivatives Exchange was up 0.5% at RM2,104 (US$505.04) a tonne at the close of trade. Earlier in the session, it climbed as much as 1.7% to RM2,129.
Trading volumes stood at 24,027 lots of 25 tonnes each at the end of the trading day.
"Palm is borrowing support from the recovery in rival oilseed," said a Kuala Lumpur-based futures trader, referring to CBOT soyoil.
The rally in global stock markets also contributed to palm's gains, said another palm oil trader.  
World stocks bounced off a near two-year low on Thursday, lifted by a dramatic Wall Street surge, though a fall in Chinese industrial profits and renewed Italian banking worries offered a sobering reminder of the problems weighing on the world economy.
US stocks soared on Wednesday with the Dow Jones Industrial Average rocketing more than 1,000 points for the first time.
In other related oils, the Chicago January soybean oil contract was up 0.4%, while the January soybean oil contract on the Dalian Commodity Exchange fell 0.2%.
Meanwhile, the Dalian January palm oil contract was up 0.3%.
Palm oil prices are impacted by changes in soyoil prices, as they compete for a share in the global vegetable oil market.  
Palm, soy and crude oil prices at 1032 GMT:
| | | | | | | |
| --- | --- | --- | --- | --- | --- | --- |
| Contract           | Month    | Last  | Change     | Low   | High  | Volume |
| MY PALM OIL       | JAN9      | 2012   | -5.00    | 2010   | 2039     | 665 |
| MY PALM OIL       | FEB9      | 2060   | +9.00    | 2058   | 2084    | 2888 |
| MY PALM OIL       | MAR9      | 2104  | +10.00    | 2100   | 2129   | 13494 |
| CHINA PALM OLEIN  | JAN9      | 4076  | +12.00    | 4042   | 4084   | 20300 |
| CHINA SOYOIL      | JAN9      | 4916  | -10.00    | 4906   | 4940   | 26764 |
| CBOT SOY OIL      | JAN9     | 27.46   | +0.10   | 27.36  | 27.51    | 1816 |
| INDIA PALM OIL    | DEC8    | 503.70   | -0.30  | 502.80  | 506.1     | 455 |
| INDIA SOYOIL      | JAN9    | 720.85   | +2.10   | 718.7  | 721.5    | 7320 |
| NYMEX CRUDE       | FEB9     | 45.43   | -0.79   | 44.92  | 46.70  | 141880 |
Palm oil prices in Malaysian ringgit per tonne
CBOT soy oil in US cents per pound
Dalian soy oil and RBD palm olein in Chinese yuan per tonne
India soy oil in Indian rupee per 10 kg
Crude in US dollars per barrel
(US$1 = RM4.1660)
(US$1 = 70.3750 Indian rupees)
(US$1 = 6.8650 Chinese yuan)