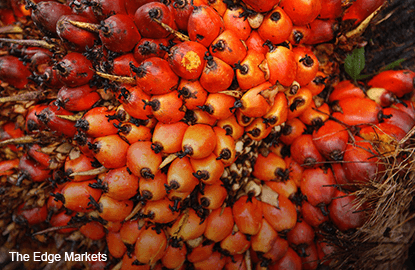 KUALA LUMPUR (Feb 13): Malaysian palm oil futures on Monday hit a one-week low, in line for a second straight session of declines, as prices were weighed down by prospects of improving levels in production.
Benchmark palm oil futures for April delivery on the Bursa Malaysia Derivatives Exchange was down 0.8% at RM3,047 (US$685.18) a tonne at the midday break, their weakest levels since Feb 6.
Traded volumes stood at 31,187 lots of 25 tonnes each at noon.
"Production figures are bearish (on prices) as it is seen picking up in February. Production is coming in and the flood season is over," said a futures trader from Kuala Lumpur, however, adding there may not be a steep decline in prices.
"The market is still holding at the RM3,013 levels. Spot month prices are still very strong."
Increasing output of the tropical oil, as the effects of the crop-damaging El Nino fade out, could ease palm's benchmark prices, which are trading at a more-than-four-year high now.
Production for January declined 13.4% to 1.28 million tonnes, its sharpest drop in a year, according to data from the Malaysian Palm Oil Board on Friday.
Heavy rainfall across the east coast of Peninsular Malaysia also had an impact on output last month, as floods hindered the fruit-harvesting process.
Palm oil may drop to RM3,014 per tonne, as it has broken a support at RM3,089, said Reuters market analyst for commodities and energy technicals Wang Tao.
In other related edible oils, the March soybean oil contract on the Chicago Board of Trade declined as much as 0.5%, while the May soybean oil contract on the Dalian Commodity Exchange climbed as much as 0.3%.
The May contract for Dalian palm olein dropped as much as 0.3%.
Palm, soy and crude oil prices at 0503 GMT
| | | | | | | |
| --- | --- | --- | --- | --- | --- | --- |
| Contract          | Month    | Last  | Change     | Low   | High   | Volume |
| MY PALM OIL       | FEB7     | 3275   | +7.00    | 3275   | 3300       | 26 |
| MY PALM OIL       | MAR7     | 3134  | -22.00    | 3134   | 3175     | 1164 |
| MY PALM OIL       | APR7     | 3047  | -24.00    | 3047   | 3093    | 12191 |
| CHINA PALM OLEIN  | MAY7     | 6228  | -16.00    | 6218   | 6302   | 500718 |
| CHINA SOYOIL      | MAY7     | 6942  | +16.00    | 6918   | 6978   | 325668 |
| CBOT SOY OIL      | MAR7    | 34.45   | -0.16   | 34.44  | 34.68     | 3413 |
| INDIA PALM OIL    | FEB7   | 573.00   | -5.00  | 572.00  | 575.9      | 152 |
| INDIA SOYOIL      | FEB7      | 700   | -3.45     | 700    | 701     | 1260 |
| NYMEX CRUDE       | MAR7    | 53.80   | -0.06   | 53.70  | 53.95    | 14000 |
Palm oil prices in Malaysian ringgit per tonne
CBOT soy oil in US cents per pound
Dalian soy oil and RBD palm olein in Chinese yuan per tonne
India soy oil in Indian rupee per 10 kg
Crude in US dollars per barrel
(US$1 = RM4.4470)
(US$1 = 66.9850 Indian rupees)
(US$1 = 6.8830 Chinese yuan)