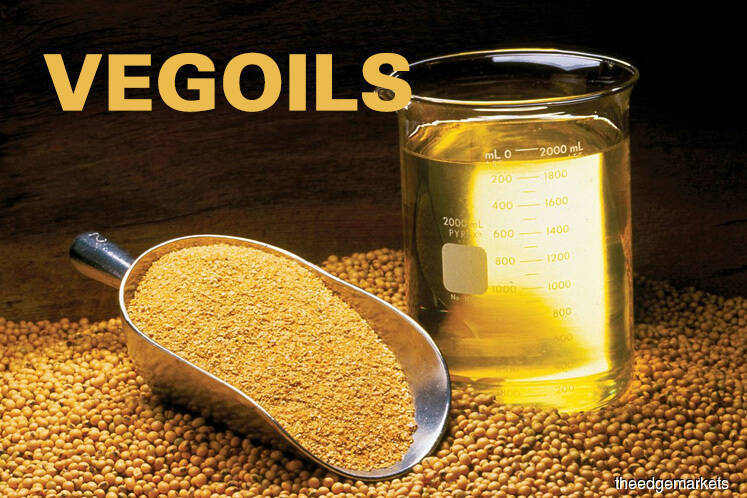 KUALA LUMPUR (June 3): Malaysian palm oil futures fell over 1% to a one-week low in the first half of trade on Monday, due to broad-based weakness in global equities and commodities markets.
Stocks and commodities markets worldwide slumped, following U.S. President Donald Trump's move to impose a tariff on all goods coming from Mexico starting at 5%, while investors remain concerned about intensifying Sino-U.S. tensions.
Benchmark palm oil contract for August delivery on the Bursa Malaysia Derivatives Exchange was last down 1.2% at 2,045 ringgit (US$489.35) per tonne at the midday break, in line for its third straight daily decline. 
It earlier fell as much as 1.7% to 2,034 ringgit, its weakest levels since May 28.
Palm oil may fall to 2,030 ringgit, as it failed to break a resistance at 2,111 ringgit per tonne, said Wang Tao, a Reuters market analyst for commodities and energy technicals.
"Weakness in financial and commodities markets across the board in the wake of trade-war jitters is likely to spillover and pressure palm oil futures prices," a Kuala Lumpur-based trader said. 
"Renewed strength in the local currency could further dampen market sentiment," he added.
The ringgit, palm's currency of trade, strengthened 0.2% against the dollar to 4.1790 at noon on Monday. A stronger ringgit usually weakens sentiment for palm oil, as it makes the edible oil more expensive for foreign buyers. 
Meanwhile oil prices fell more than 1% on Monday, extending losses of over 3% from Friday, when crude markets racked up their biggest monthly losses in six months, amid stalling demand and as trade wars fanned fears of a global economic slowdown.
The Chicago July soybean oil contract fell 0.7% on Friday after four earlier sessions of gains, and was last down 0.4% on Monday. 
Corn, wheat and soybean futures dropped on Friday, weighed down by fresh concerns over demand, after U.S. President Donald Trump threatened to place tariffs on imports of goods from Mexico, in response to illegal immigration.
In other related oils, the September soyoil contract on the Dalian Commodity Exchange slipped 1.6% and the Dalian September palm oil contract fell 1.9%.
Palm oil prices are affected by movements in soyoil, with which it competes for global market share.
            
 Palm, soy and crude oil prices at 0454 GMT
 Contract           Month    Last  Change     Low   High  Volume
 MY PALM OIL       JUN9      2016  -14.00    2010   2016     126
 MY PALM OIL       JUL9      2032  -22.00    2019   2040    1768
 MY PALM OIL       AUG9      2045  -24.00    2034   2055    7150
 CHINA PALM OLEIN  SEP9      4392  -84.00    4382   4464  525002
 CHINA SOYOIL      SEP9      5412  -86.00    5394   5478  402582
 CBOT SOY OIL      JUL9     27.49   -0.10   27.43  27.59    4488
 INDIA PALM OIL    JUN9    514.00   -5.30  513.50  517.2     490
 INDIA SOYOIL      JUN9     752.5   -2.80  751.35  753.8     940
 NYMEX CRUDE       JUL9     52.91   -0.59   52.11  53.43  103734
 Palm oil prices in Malaysian ringgit per tonne
 CBOT soy oil in U.S. cents per pound
 Dalian soy oil and RBD palm olein in Chinese yuan per tonne
 India soy oil in Indian rupee per 10 kg
 Crude in U.S. dollars per barrel 
(US$1 = 4.1790 ringgit)
(US$1 = 69.4350 Indian rupees)
(US$1 = 6.9014 Chinese yuan)