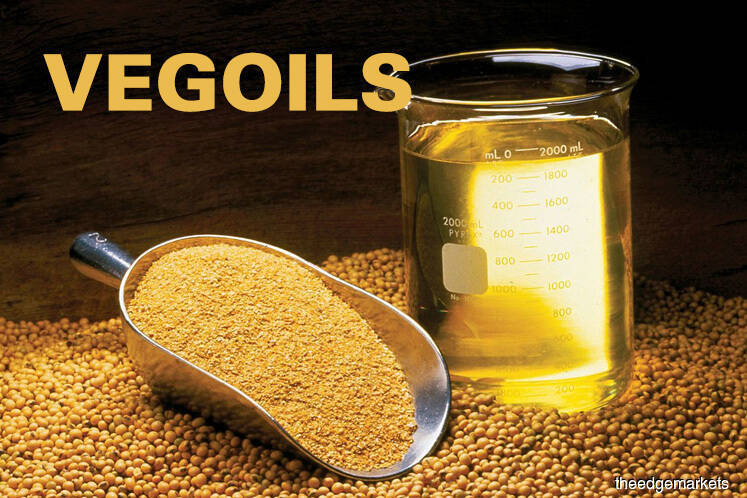 KUALA LUMPUR (May 28): Malaysian palm oil futures rose during the first half of trade on Tuesday, tracking gains in US soyoil on the Chicago Board of Trade (CBOT), and were set to rise for the second straight session.     
The benchmark palm oil contract for August delivery on the Bursa Malaysia Derivatives Exchange was up 0.6% at RM2,037 (US$486.27) per tonne at the midday break.
Palm had earlier risen to a three-day top in its previous session, also aided by gains in US soyoil and better palm oil exports.
Malaysia palm oil shipments rose between 8.3% and 15.6% during the May 1-25 duration versus the corresponding period in April, showed data from cargo surveyors.
"Current gains in soybean oil futures stoked a higher opening of palm oil prices," said a Kuala Lumpur-based futures trader.
The Chicago July soybean oil contract was up 1% on Tuesday in line for a second day of gain.
Above-normal rainfall is expected across most of the Midwest and Plains farm belt over the next 15 days, further delaying planting of corn and soybeans and potentially damaging the quality of the developing winter wheat crop, forecasters said.
In other related oils, the September soyoil contract on the Dalian Commodity Exchange was up 0.4% and the Dalian September palm oil contract rose 0.2%.
Palm oil prices are affected by movements in soyoil, with which it competes for global market share.
Palm, soy and crude oil prices at 0503 GMT
| | | | | | | |
| --- | --- | --- | --- | --- | --- | --- |
| Contract          | Month    | Last  | Change     | Low   | High   | Volume |
| MY PALM OIL       | JUN9     | 1999  | +12.00    | 1995   | 1999       | 21 |
| MY PALM OIL       | JUL9     | 2027  | +12.00    | 2019   | 2029      | 332 |
| MY PALM OIL       | AUG9     | 2037  | +12.00    | 2029   | 2042     | 2938 |
| CHINA PALM OLEIN  | SEP9     | 4398   | +8.00    | 4384   | 4406   | 239596 |
| CHINA SOYOIL      | SEP9     | 5392  | +20.00    | 5372   | 5402   | 161888 |
| CBOT SOY OIL      | JUL9    | 27.28   | +0.27   | 27.18  | 27.33     | 3576 |
| INDIA PALM OIL    | MAY9   | 512.00   | +2.00  | 511.80  | 512.7       | 36 |
| INDIA SOYOIL      | JUN9    | 750.5   | +3.45   | 748.5  | 750.8     | 2930 |
| NYMEX CRUDE       | JUL9    | 59.15   | +0.52   | 58.13  | 59.29   | 309727 |
Palm oil prices in Malaysian ringgit per tonne
CBOT soy oil in US cents per pound
Dalian soy oil and RBD palm olein in Chinese yuan per tonne
India soy oil in Indian rupee per 10 kg
Crude in US dollars per barrel
(US$1 = RM4.1890)
(US$1 = 69.6350 Indian rupees)
(US$1 = 6.9064 Chinese yuan)