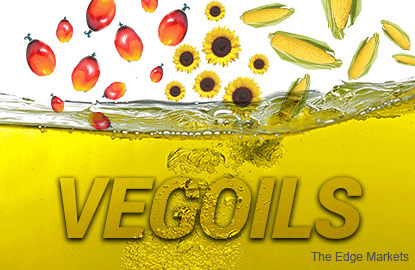 KUALA LUMPUR (Jan 24): Malaysian palm oil futures gained the most in three weeks on Tuesday, ending a four-session losing streak as they tracked strong related oils on China's Dalian Commodity Exchange and on expectations of lower January output.
Output has been hit by monsoon floods, while strong export demand is also lifting prices, traders said.
Benchmark palm oil futures for April delivery on the Bursa Malaysia Derivatives Exchange surged 1.7% to end the trading day at RM3,149 (US$710) a tonne.
They earlier touched RM3,163, the highest since Jan 19.
Palm had previously declined for four consecutive sessions. Traded volumes stood at 49,615 lots of 25 tonnes each on Tuesday evening.
"A stronger Dalian today is the forerunner of the market. The scenario also is that floods are still not receding," said a Kuala Lumpur-based trader, referring to the annual monsoon floods in the east coast of Peninsula Malaysia and Johor, the country's third-largest palm-producing state.
"January could see a marginal decline in output, but exports are looking very good ... The market will remain and can sustain."
Cargo surveyor shipment data for Jan 1–25 is scheduled for release on Wednesday. Traders expect a rise in demand from the corresponding period last month.
Production in January could decline in line with the seasonal trend, and as palm's fresh fruit yields are still impacted by the effects of a crop-damaging El Nino.
In related vegetable oils, the March soybean oil contract on the CBOT was up 1.2%, while the May soybean oil contract on the Dalian Commodity Exchange rose 1.4%.
The May contract for Dalian palm olein surged 2%.
Palm prices are usually affected by movements in prices of related edible oils, as they compete for a share in the global vegetable oils market.
Palm, soy and crude oil prices at 1035 GMT
| | | | | | | |
| --- | --- | --- | --- | --- | --- | --- |
| Contract          | Month    | Last   | Change     | Low   | High  | Volume |
| MY PALM OIL       | FEB7     | 3278   | +47.00    | 3247   | 3320    | 1047 |
| MY PALM OIL       | MAR7     | 3203   | +59.00    | 3163   | 3216    | 4288 |
| MY PALM OIL       | APR7     | 3148   | +53.00    | 3113   | 3163   | 21778 |
| CHINA PALM OLEIN  | MAY7     | 6372  | +126.00    | 6246   | 6408  | 496736 |
| CHINA SOYOIL      | MAY7     | 7066   | +96.00    | 6956   | 7084  | 338142 |
| CBOT SOY OIL      | MAR7    | 35.54    | +0.41    | 35.2  | 35.59    | 8351 |
| INDIA PALM OIL    | JAN7   | 595.60    | +4.10  | 594.10    | 597     | 779 |
| INDIA SOYOIL      | FEB7    | 718.7    | +0.85   | 717.2  | 720.5    | 9280 |
| NYMEX CRUDE       | MAR7    | 53.14    | +0.39   | 52.84  | 53.30   | 70870 |
Palm oil prices in Malaysian ringgit per tonne
CBOT soy oil in US cents per pound
Dalian soy oil and RBD palm olein in Chinese yuan per tonne
India soy oil in Indian rupee per 10 kg
Crude in US dollars per barrel
(US$1 = RM4.4330)
(US$1 = 68.1400 Indian rupees)
(US$1 = 6.8578 Chinese yuan)